Writer Justin Polera explores the Biennale grounds to finds walls, borders, and hybrid identities on display.
The death of painting and figuration have been faked, at least in Venice. What is true (at least as far as truth in 2019 goes) is that "the wall is dead" and also "long live the wall." Or, as it is put in one of the central works of the 58th Venice Biennale by Lawrence Abu Hamdan, "Now no wall is impermeable. We are all wall and no wall at once." This statement, like much of the central exhibition, requires us to hold contradictions simultaneously in our mind. This is an exhibition in which artists blur boundaries and tear down binaries. If the title "May you live in interesting times" asks anything of us, it asks that we embrace ambiguity.
The Venice Biennale's central exhibition is surrounded by 90 national pavilions, each representing a different country, and each competing for the Golden Lion. Rugoff selected to exhibit only living artists, which is very unusual for such a comprehensive survey. He defended his choice by saying a Biennale should be a snapshot of art practices over the last two years. We live in a moment of unprecedented identity politics, for better or for worse, but mostly for the better. This is reflected powerfully in the global discussions around decolonization in the art world and the restitution of looted art objects. Curators must now consider the diversity of voices included in their exhibitions.
This is the first time in the Venice Biennale's history that half of the 79 selected artists are women. The lifetime achievement honor, meanwhile, was given to Jimmie Durham. Prejudice is one profound subject in Durham's work but so is the idealization of Native Americans. Much of Durham's work is assembled from materials and vestiages that refer, recall, remember, or pay tribute to his self-identified Native-American heritage. Moving beyond the first person, although his works are very personal, Durham touches on a collective identity. He eschews the pursuit of Modernist Utopia in favor of articulating an anti-categorical "in-betweenness." Playing with ethnic and primitivist clichés, he creates fake Native-American artifacts "from the future," but with acerbic wit, absurdity, and critical ridicule. Durham's "Self-Portrait" closely resembles the racist chief symbol that adorns many American tobacco shops. However recent controversy has shown that Durham may in fact not be Cherokee. I give him the benefit of the doubt as much as I am sensitive to those concerns of the community. Yet his work nonetheless challenges our conventions, codes, and genres of representing the self. Like gender, identity is as much a performance as a fact. Much great art cannot be resolved and leaves us with more questions than answers.
For me, the main exhibition as a space is haunted by the words of poet Fred Moten: "There are two kinds of spans that I'm constantly thinking about with art. One is a span from lightness to density, and the other is from something more cosmological, in terms of its scope, to something really small. It's a four-fold: lightness and density; largeness and smallness. The ones who can traverse and maintain movement along those axes, are those who I end up thinking of as being great." Perhaps of Motens many phrases that break down barriers the most useful when moving through massive halls of the old Venician Naval factory is artworks that allow us to encounter "difference without separation". That is to say the "thought of outside" and "the other" can only occur from inside, but "what is outside of the outside beyond the binary opposition?" We must have reverence he says for those "that constantly figure out a way to be in two places at once." One way the exhibition suggest to break with separation is to take a wild leap of logic about interdependence. "We live in a world where, because of the internet but even more because of global warming, we have to face the fact that everything is connected," Rugoff says. Being both here and there at exactly the same time is tied to the immigration crisis, pollution, individual mirror or shadow selves, doppelgangers, and most of all the way we interact with science and technology. It is artists that can draw out these connections in ways that inspire, surprise, seem inevitable once we discover them, or leave us devastated.
One series of works that is gut wrenching and sublime to stand before is Arthur Jafa's installation of "Big Wheels" sculptures of shackled and scarred seven-foot truck tires with gleaming rims and bandanas. Jafa has retained a childhood interest in demolition derbies and monster truck stadium shows, and by extension, the metaphors of post-Fordist society with its death of working class America. We are left in awe in front of these massive works, some hanging from gallows, asking us to question which body is in bondage before us. Is this an exploration of ontological Black bodies finally given a voice? Or is this the overpowering hegemonic (hetrosexual white male) voice of the Southern automotive industry being confined? Or it is none of these at all? To make matters even more contradictory, the violent, oversized tires are juxtaposed on a wall alongside an innocent-looking, mixed-race baby with a blue bib, blue book, and blue bowl—if only by color recalling the Delta blues of Jafa's home in Mississippi.
Yet, with all the dismantling of divisions, the first thing you encounter when you enter the Arsenale is a wall. On it is a large painting, "Double Elvis," by George Condo. It depicts two figures painted only in black on a silver background. When you think about an art exhibition, you cannot help but imagine walls with paintings, although the Biennale reveals that video, installation, and sculpture are more important than ever. Condo is one of the oldest artists at the Biennale and an auction darling. He is also a white artist directly quoting Picasso and the French artist's long (mis)appropriation of African Arts. Rugloff has taken a very hands-off approach to curating in this half of the exhibition at the Arsenale. He calls this "Proposition A," because all exhibitions, he says, are meant to propose something. What he seems to propose is that artists be given their own section to make a mini-solo show.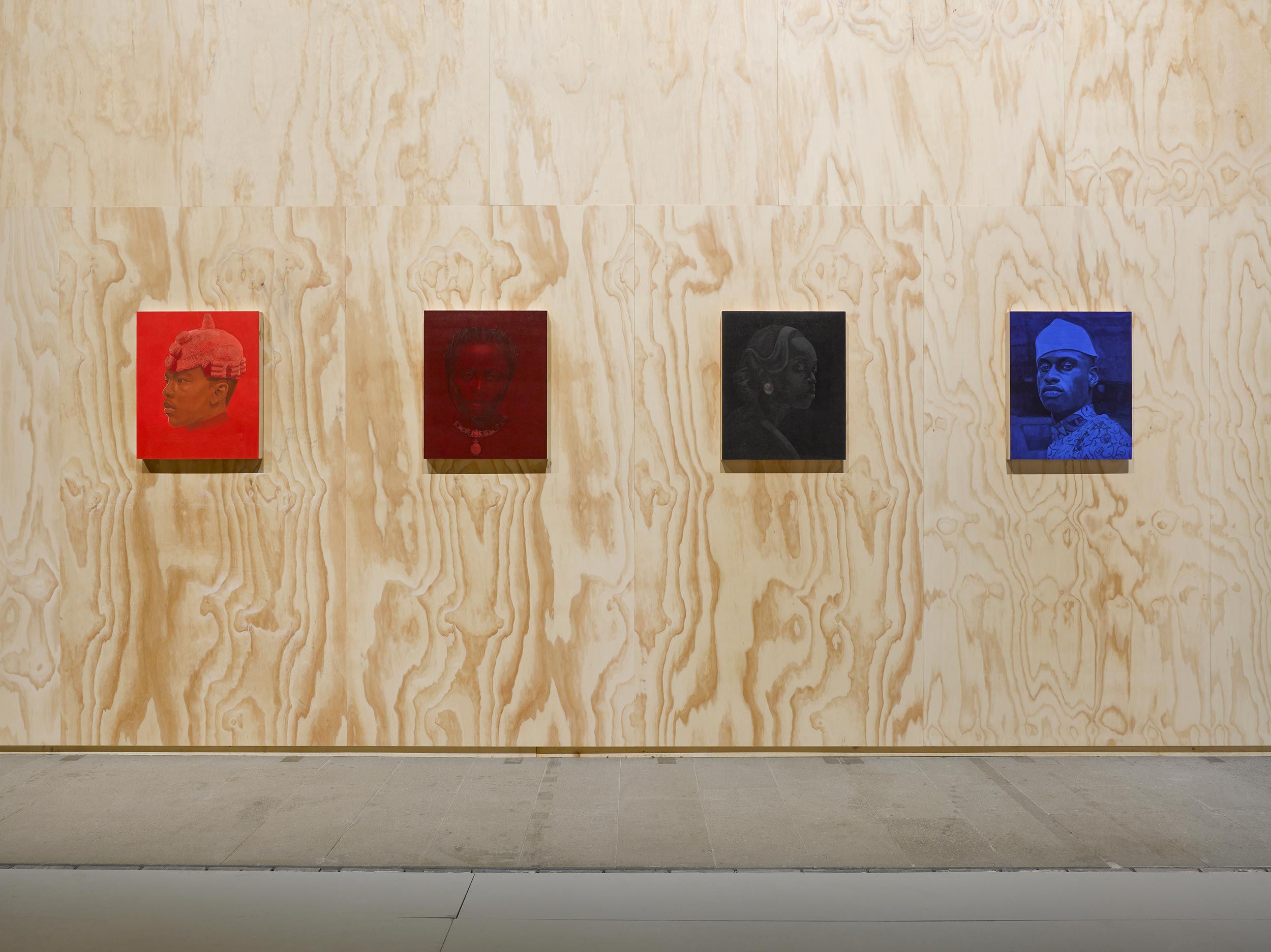 We encounter on their own terms the paintings of the Nigerian born and LA-based Njideka Akunyili Crosby, whose stunning new monochrome portraits of herself and her family stop you dead in your tracks. Nicole Eisenman, who seems unstoppable—she is also in the upcoming Whitney Biennial—makes sumptuous, addictive paintings and sculptures. There is also the queer, brilliant, borderline abstract "painter," Ulrike Müller, who works mostly in tapestry and ceramic. And a suite of paintings from the young Kenyan-born Michael Armitage, who will have a solo at MoMA this year. From Armitage's brilliant figuration, our faith in painting can be restored. The works also embody the ethos of the exhibition, that of Umberto Eco's "Open Work"—we are forced to face conflicting feelings that are urgent, angry, sad, and ecstatic all at once.
The flip side of the Condo entrance wall is a black box room from which the sounds of gunshots seep out. It is a new work by Christian Marclay, 48 War Movies, composed entirely of concentric rectangles of war films stacked on top of each other in the esthetic of multiple windows open on a computer desktop. Like all the pop-up on our screens we feel exhilarated and overwhelmed by the incomprehensible mess of it all—an apt entry into the exhausting and sprawling exhibition.
Then there's the unimaginative (or narcissistic) work of Christoph Büchel, Barca Nostra (Our Boat), which is on the level of a stunt. Büchel drug up a fishing boat, on which hundreds of migrants died, to display for consumption in an art market. He did not get permission from the survivors of the victims. Great art builds connection and communication, and Barca Nostra (Our Boat) withholds just that.
"Proposition B" of the Giardini della Biennale features exactly the same 79 artists, but configured in a completely different way. A wall of nine modular, candy-colored, suction panel image-objects by Antoine Catala is titled "It's Over." Words appear in each panel as the air is vacuumed out of the objects. It is the full catastrophe of life in its most humorous and serious form. "Don't Worry" is written backwards, but still very legible, transmitted through memes, signs, emojis, and text messages. The signs appear individually and collectively until they disappear via suffocation. We think of the famously ambiguous automated SMS, "This message was deleted."
Moving through a corridor so bright it hits you like a wall of light, you enter a dark video room, a calm among the storm. A single floating screen displays a Super 8 film work of Haris Epaminonda, titled Chimera. It is rare to see this almost extinct video format with all its anarchnolistic flaws and poor resolution. We have to quietly lean in to grasp the difficult, dreamy images. The first text that appears in this dialog-free work is "the continents of the world emerge," written above a classical two-oval map of the Eastern and Western hemisphere, and followed by an image of the globe without countries that has the words "Our World" written on it. We are taken on a travelogue, diary, and meditation of time, place, and memory. The title refers to an ancient Greek mythological hybrid creature that is part lion, part snake, part dog, part Hydra—the kind of hybridity present on much of the exhibition. Sunlight beautifully reflects off two transparent surfaces: glass buildings and water. Here Denise Ferreira da Silva comes back to mind. "After breaking through the glassy, formal fixed walls of the 'understanding,' released from the grip of certainty, the imagination may wonder about reassembling the fundamental components of everything to reconfigure the world as a complex whole without order."
We live in a moment of unprecedented identity politics, for better or for worse, but mostly for the better. This is reflected powerfully in the global discussions around decolonization in the art world and the restitution of looted art objects. Curators must now consider the diversity of voices included in their exhibitions.
Significantly there is a long period of monochrome red screen in Epaminonda video, a cinematic troupe also used in Jafa's contribution to "Proposition B," his White Album. This video amounts to the most bad-ass work ever shown in Venice. Jafa uses digital images taken from, among other sources, YouTube—vlog diaries of white people speaking out against the social injustice of racism, trying to make restitution, or ranting angrily about the state of race divisions. In one clip the camera is placed uncomfortably close to the face of an overweight white man shouting "history is whitewashed and falsified." We are disgusted by his apparent white supracist background and in agreement with his attempt to be reformed. It is not an easy work of art, yet it draws us in through a nearly hour long journey, and it is so particularly Jafa's voice even if almost all the footage is found.
Far away from the Biennale on the tip of Dorsoduro is the Punta Della Dogana, the private Collection of Pinault—perhaps the world's greatest art collector, and president of Kering, which owns fashion brands including Gucci, Saint Laurent, and Balenciaga. This is the 10-year anniversary of his opening this private museum, housed in a 15th century triangular building at the tip of the island surrounded by water. In fact, if one word come sum up the hopes of Venice this year, it would be liquidity. To enter the exhibition you encounter a floor-to-ceiling shimmering red-beaded curtain, carrying all water's metaphors of transparency and connectedness, titled "Untitled (Blood)." It is a work by the late master Felix Gonzalez-Torres, who died of HIV related causes. In no forceful way, it is an invitation and a request for visitors to walk through. Passages are important to Gonzalez-Torres work, including, most vitally, the passage from life into death. Moving beyond this liminal space of the entrance into the impossibile heterotopia of an art exhibition, I cried and my heart broke. As the great Etel Adnan says in a work in Venice, "reality filtered by the real is mesianic, apocalyptic, my soul is my terror." This is the power of art at its greatest: ememeral, beautiful, breathtaking, and beyond anything words can say.