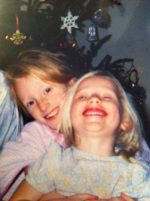 Alice and Molly Goddard discuss dress-ups, Avril Lavigne, and three decades of collaboration
Since childhood, Molly and Alice Goddard have enjoyed a close, at times adversarial, creative bond. From dressing up in tinfoil and emulating 90s pop stars, the sisters' fashion tastes zig-zagged together and apart, as Molly pursued a career in fashion design and Alice in styling, the two developing reputations in their own rights. Molly launched her eponymous fashion line in 2014, while Alice juggled editorial styling with publishing her biannual zine, Hot and Cool. But in the midst of hectic, individual success, the sisters have continued to maintain their collaborative relationship, with Alice styling Molly's London Fashion Week presentations.
In Molly's London studio, the sisters read each other questions sent by Document. Their off-the-cuff conversation spanned early inspirations at Portobello Market, meandering style evolutions, and why, if you can, you should work with your sister.
Molly Goddard—Ok, recording. 'What are your first memories together that involve fashion?' Dressing you up. I used to make you clothes out of, like, everything.
Alice Goddard—Tinfoil.
Molly—Tinfoil, jewelry, put makeup on you. Probably when you were about four and I was about seven.
Alice—Yeah.
Molly—What else do you remember?
Alice—I don't know. Playing fancy dress.
Molly—Yeah, fancy dress.
Alice—And, I don't know, just being your little mannequin.
Molly—[Laughs] Yeah.
Alice—And not really enjoying it. [Laughs]
Molly—I think you did enjoy it.
Alice—Deep down. [Laughs]
Molly—You should answer the next question.
Alice—'Do you consider yourselves to have similar personal style?' I think, now, yes, but growing up, not so much.
Molly—Growing up, not so much. I was quite J-Lo.
Alice—And I was quite Pete Doherty.
Molly—Yeah, you were more indie, I was more…
Alice—Brown tracksuit.
Molly—Yeah, velour brown tracksuit. [Laughs] And Benetton.
Alice—Really? Like what?
Molly—I used to love my Benetton t-shirts.
Alice—And I remember you had those pink driving loafers which were so good.
Molly—Yeah, pink driving loafers, low-slung jeans, Benetton t-shirt. That makes me sound really posh but it wasn't posh. It was like Mike Skinner. And you were more…
Alice—My typical outfit was leopard-print leggings, fake Vivienne Westwood pirate boots, denim mini skirt, Batman t-shirt, and yellow plastic gun earrings.
Molly—That was good. That was when you were like 14, though. That was very good.
Alice—That's what I remember wearing all the time.
Molly—I don't know what I used to wear. I wore a lot of different things. But yeah, now we're more similar. More classy. [Laughs]
Alice—More classy. [Laughs]
Molly—'Who are fashion icons you grew up with that you think inform your work now?' Ugh. I don't like this question ever. I don't know… Fashion icons is hard because it changes, doesn't it. Do you have any?
Alice—Not [ones] who we really grew up with.
Molly—It really varied, I suppose…I would watch music videos. You would watch "Survivor" by Destiny's Child.
Alice—I suppose we both really liked those Vogue Runway magazines. I remember loving Luella [Bartley] and Marc Jacobs. That probably is a lot of what informs our work now to a degree.
Molly—Yeah. I think, also, it's quite hard because you don't sit around thinking, 'This is an icon I admire.' I didn't really have that kind of obsession about things. Actually, thinking about it…I think Portobello Market was quite a big influence, and there were people there who I think were icons in a way. Like Mum and Dad's friend, Evie. She used to wear very interesting clothes, and I'd always try to dress up and think about, 'What would she think of my Red or Dead platforms or my tie-dye t-shirt?' I think growing up in Portobello you kind of weirdly made an effort to look interesting. Do you think?
Alice—Yeah, I don't feel like there was any single icon in celebrity way…I remember that I loved Lara Croft, actually.
Molly—Yeah, you did.
Alice—I don't know if that's really had any influence on me now. [Laughs]
Molly—And I think it's hard because you say one thing and then it kind of sticks. There was a phase where I definitely tried to dress like All Saints but only for one short period of time.
Alice—[An] Avril Lavigne phase I think I had. P!nk phase.
Molly—Yeah, it's hard.
Alice—'Most stylish member of our family.' Our Granny's quite stylish.
Molly—Yeah I think our Granny's quite stylish.   
Alice—She likes a brooch on her fleece.
Molly—[Laughs] Yeah she does like a brooch. She always looks very stylish. Mum and Dad are pretty stylish.
Alice—Yeah they're pretty stylish. We've got quite a generally stylish family.
Molly—Yeah they're not bad. 'What is the best part about being sisters?'
Alice—I think we don't have a choice. [Laughs]
Molly—I think laughing. Like we can be a bit silly.
Alice—Working together. Being able to work together as sisters is pretty good actually.
Molly—It is pretty good.  
Alice—And being able to have fun and spend lots of time together. Aww, it's quite nice.
Molly—It is nice. It makes things very easy because we kind of already know what each other means before you even really have to say it. You don't have to explain shit that you would to other people. And in the time we save doing that, we get to have a laugh.
Alice—[And] talk about our favorite chocolate bars. [Laughs] I always find it funny when I have friends who aren't similar to their siblings at all. Well, I suppose it might be nice to have a sibling who you're not similar to, but it's amazing that we're so similar even when we're not together. And we don't fight at all.
Molly—And everything kind of complements. Like, what you like and I don't like makes it interesting. We tell each other when we're being stupid or annoying.
Alice—Yeah.
Molly—[We] can be very honest.
Alice—'How would you describe each other in three words?'
Molly—Oh dear [Laughs]. I think you are goofy.
Alice—Yeah.
Molly—Clever.
Alice—Awww.
Molly—And stubborn. Are those all a bit rude?
Alice—[Laughs]
Molly—But stubborn in a good way. What's another word for that? Strong-willed.
Alice—Awww, that's nice. I was just going to say ginger, smiley, and nice. [Laughs]
Molly—[Laughs] You can do better than that.
Alice—I don't know, it's quite hard to be nice to each other, isn't it? And serious?
Molly—It is quite hard.
Alice—We weren't brought up to be nice to each other.
Molly—No. [Laughs] That's alright. 'Ginger, smiley, and nice.'
Alice—I think you're very nice and giving to the people that work for you. That's what I think. You're a nice boss.
Molly—[Laugh] Okay, that's alright. Thank you, that will do. 'Discuss your childhood together and what's brought your careers to this point.' We've kind of worked together from the beginning, haven't we?
Alice—Yeah.
Molly—I remember there was a point where I thought you were doing loads—when you started Hot and Cool, that was before I was doing anything. I was in Uni. I remember being very impressed with that.
Alice—Aww.
Molly—We've kind of had a nice balance of, like, gearing up together. And now we get to work together…It's all quite separate, the work we do together and what we do otherwise. Our work together is kind of just purely creative, working on the show….
Alice—I suppose what I mean about siblings who aren't similar is that it must be funny to have a sibling who doesn't fully understand what you do. It's so nice that we both understand completely what we do and can help each other.
Molly—Yeah, and I think you're the only person who actually understands what I want to do, which is what's nice. No one else gets it.
Alice—I think I can do a better three words.
Molly—Alright. Are we done? Are you trying to think of three words?
Alice—Yeah.
Molly—What was mine? Strong-willed…
Molly and Alice—Clever.
Molly—Goofy. Is that good? I think that's quite good.
Alice—Yeah. I'll take that.
Molly—You need to go with the first thing that comes to mind.
Alice—Ginger, smiley, and nice [Laughs].
Molly—Clumsy.
Alice—Clumsy, generous, and…
Molly—Stunning [Laughs].
Alice—Stunning, visionnaire [in French accent].
Molly and Alice—[Laughs]
Alice—Alright, that's enough.
Molly—That'll do.