At the Wiltern, Celine's latest presentation finds futures in a nostalgic past, reinvigorating the music scene that defines Slimane's legacy
Last night, Hedi Slimane forged the fantasies that define his taste into a material reality. Celine's Winter 2023 presentation was dubbed 'The Age of Indieness'—a tribute to, and reinvigoration of, the indie era from which the designer's identity was born. The show unfolded at the Wiltern in Los Angeles—the landmark blue-green terra-cotta complex that has hosted everyone, from Prince and The Rolling Stones to Sonic Youth and The Strokes—and featured performances from Interpol, The Strokes, and Iggy Pop at its afterparty.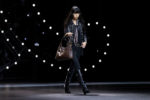 It's customary for Slimane to weave music into his designs. After all, it was stagewear that invigorated his first forays in fashion, citing album covers as sparking his interest in fashion, imaging his designs on-stage, amplifying the narrative of the music. Says Slimane to Lizzie Goodman (author of Meet Me in the Bathroom) on David Bowie wearing his work: "There was suddenly a sense of purpose, almost a relief, something like a Carl Jung idea of synchronicity." He describes dressing Mick Jagger to the early aughts archivist, recalling the Rolling Stones frontman practicing his dances in front of an atelier mirror to ensure the clothes responded well.
Slimane's devotion to music bleeds into the scenes around it, and his latest presentation finds new life in that nostalgic past: the skinny jean (the designer's signature silhouette) reemerged in updated form, tucked into slouchy leather boots, worn alongside the miniature dresses, leather jackets, belted handbags, hand-trimmed denim shorts, and fringed boots that defined the indie era—in elevated form, of course. The runway was soundtracked by The White Stripes's "Hello Operator," commissioned and co-produced by the designer himself. Matchbooks, guitar picks, peppermints, iron-on patches, and pin-on buttons populated the venue's lobby, adding to the collections of its guest list, which included many of the stars that defined the era show embodied—including the likes of Courtney Cox, Paris Hilton, Kim Gordon, Dustin Hoffman, and Cindy Crawford.
"I never felt anything contrived or eager within those bands. They were completely sincere and authentic, among friends," he tells Goodman. "The stage was just like the street. There was a candid feeling of togetherness." The indie revival is upon us, and if Slimane has a say in it, it's going to be good.