Red Hook Labs spotlights 25 globe-spanning artists, selected by a panel including Kim Jones and Edward Enninful.
Each year Red Hook Labs announces an open call to emerging photographers ahead of its Labs New Artists group show. Its prestigious jurors—who include British Vogue editor-in-chief Edward Enninful, Dior Men's artistic director Kim Jones, and Mitchell-Innes & Nash director Courtney Willis Blair—select 25 artists from over 2,000 submissions to appear in the exhibition, resulting in global exposure and career opportunities for the artists. The Labs New Artists III exhibition is on view at Labs Gallery through July 28. Here are five of the most impressive featured photographers from this year's show: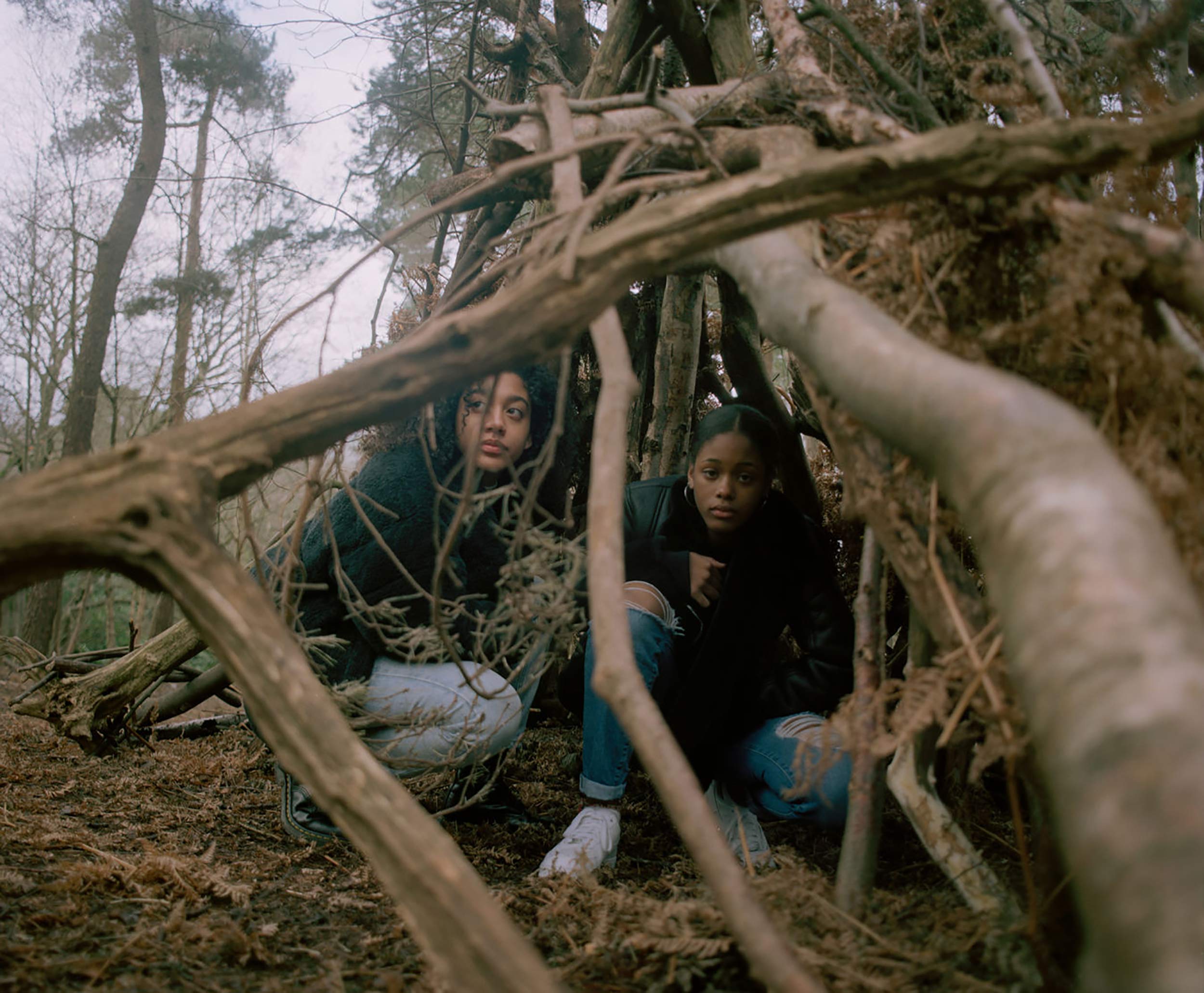 Rhea Dillon
In her practice, London-based photographer Rhea Dillon explores black female identity, taking a sociological approach. Dillon submitted three bodies of work for the exhibition. In the first, titled Process, Dillon looked at the process of black women washing their hair, which she often refers to as a crown, and the identity politics behind it; capturing every stage, from lathering up to rinsing—even photographing herself as she did so. "When I was doing research, I couldn't find any visuals of black hair washed on the screen," she explained. "I could only find one [film] from the 70s—Afro Sheen—and another film that stars Halle Berry." For the second series, SISTAHS, Dillon traveled to Paris, a city still rife with racism. She wanted to dismiss the idea that women don't help one another, by photographing two female friends in a Paris banlieue (suburb). "I want to portray a visual where they do look after each other, and they are supporting each other literally on each other's back," she said. In the third series, Dillon wanted to expand the representation of black people depicted in "urban"—a word she hates—neighborhoods by seeking out black girls attending upper-crust private schools in London so she could capture them in a bucolic setting just "being." Dillon recalled one of the subjects' poignant observations: "'When people think about private school girls, or when people think about young affluent girls, I don't think they ever would think of someone that looks like me.' That really saddened me," said Dillon.
Simon Lehrer
A young boy stands shirtless, proudly holding his hands at his hips while bugs appear to crawl around his bare back, but upon closer examination, the viewer realizes they're fake. The same boy lies on a floor in another photo with a tower of Jenga blocks resting on his stomach. In another photo, textures, light, and shadow in a cave form an abstract composition of color. According to his bio, the Vienna-based "Simon Lehner's work comes from personal experiences and has a documentary core as it explores contemporary issues, social structures, psychology and its relation to human and social developments through direct and embedded observation."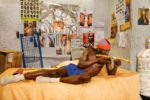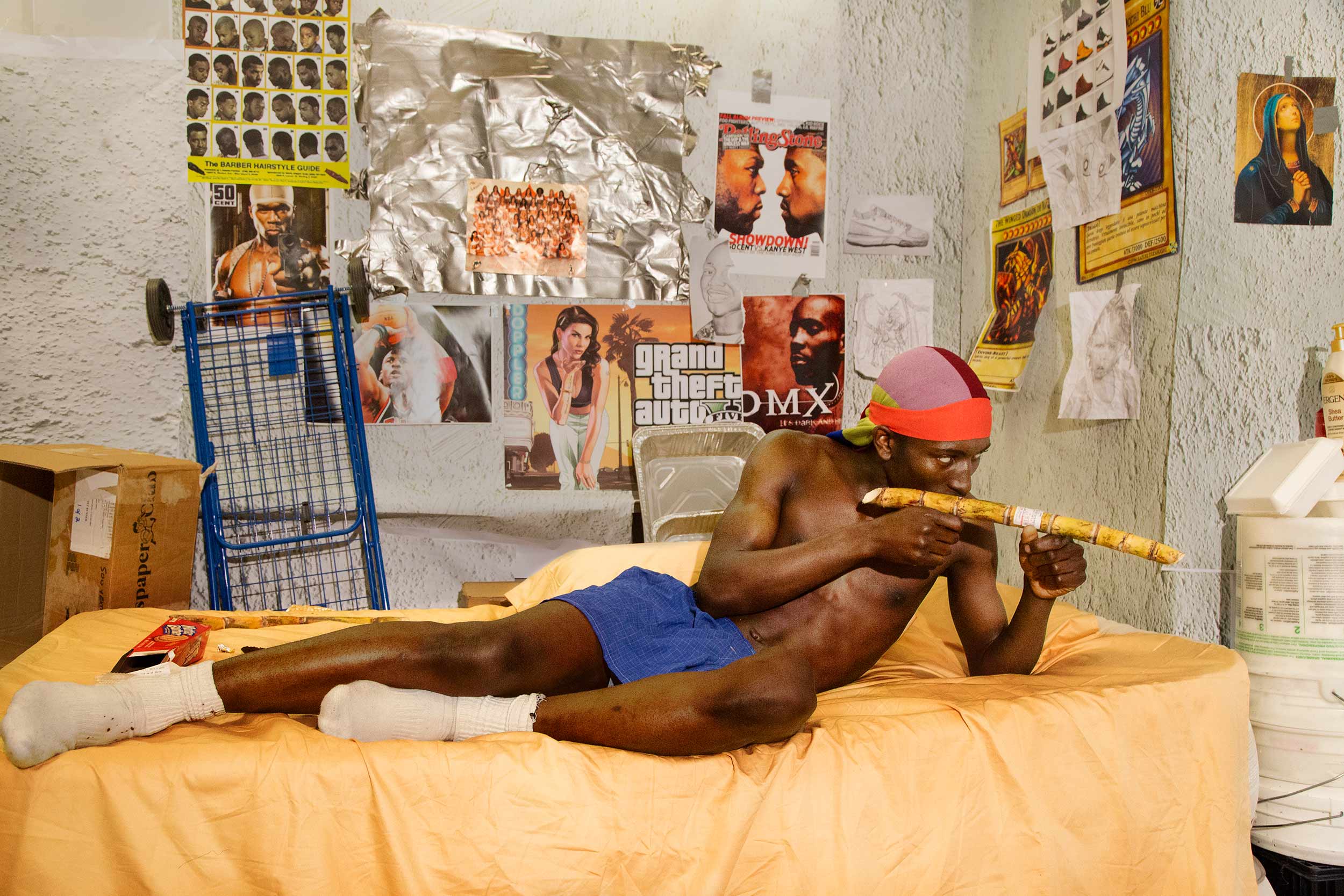 Daveed Baptiste
A curvy woman sits in a dining area covered in brown gingham as a banana peel dangles off the edge of the table. In another photo taken in the same place, a woman crouches on that table dressed only in the white towel that is wrapped around her body and the zebra turban that covers her hair, as she paints the brown gingham wallpaper white. In another scene, a man kneels at his bed, praying in the middle of the bedroom, which is covered in Grand Theft Auto and DMX posters. For photographer Daveed Baptiste, who moved to Miami from Haiti with his family at age six, spending his formative years in South Florida, these are scenes that remind him of home. "The series was about my identity, my Haitian culture, but through the confines of the house," said the photographer, who is also a fashion designer. "I wanted to tell these different little stories inside the home. The home was something that was very sacred to me growing up. So much happened inside the home. I wanted to tell this narrative through the home, and particularly through the materials inside the house."
Jan Hoek, Duran Lantink, and SistaazHood
Drawn to outsiders and overlooked communities, Amsterdam-based artist Jan Hoek asked stylist and fashion designer Duran Lantink and Cape Town-based trans sex worker support group Sistaaz Hood to collaborate on a series that touches on power and visibility. The group constructed bold backdrops consisting of neon zebra stripes, soft pastels, the Statue of Liberty floating in outer space, or hundred-dollar bills, Hoek posed them dressed in Lantink's creations. The result is a group of fantasy-filled photos that may be playful and outrageous, but also powerful at the same time.
Olya Olenic
Olya Oleinic grew up straddled between several cultures, turning into what she refers to "a product of both East and West," since she was born in the Republic of Moldova and now lives in Amsterdam. As a photographer, she makes keen observations before injecting her own fictional narrative into her images. For Labs New Artists III, Olenic submitted a broad selection of her work, abstract and staged, explaining that the commonality between her photos is her "tendency to construct things in either the frame itself or within a larger context of what they're speaking about." In one photo where Oleinic wanted to capture the journey from childhood to womanhood, a group of women sit beneath an illuminated canopy. "It's a social experiment I tried to do with a group of with a group of women that didn't know each other initially before the shoot, and I asked them to perform a certain scenario to see how ritualistic happening would make them interact," she said. A selfie stick sits in a block of clay, in another photo, as if it were a fossil. "It derives from an idea of what people of the future would find if they dug in and searched for fossils from now," explained Olenic. In the largest photo in the group, a fictional cartoon grandmother adjusts a model's clothes. Olenic said that the conceptual photograph looks at the division between nature and nurture. "It's the grandmother that maybe I wish I had next to me sometimes," she explained.