The downtown icon divulges the details of her accidental getaway with a literary legend
Parisian native turned lifelong New Yorker Michele Saunders is a natural-born Renaissance woman with a life dominated by book-worthy glamor and adventure. With work credits as a photo agent, house music manager, and real estate agent, if Saunders had a credo, it would be, "I follow where the music takes me." Guided by a love of grooves, she remembers dancing to her father's jazz records while growing up in post-war Paris. Her passion for music deepened with every passing year, and while enrolled in a strict Catholic boarding school, Saunders became fascinated by a new phenomenon known as rock & roll—which at the time, no one else at her school seemed to care about.
Realizing she was far too free spirited to fully express herself in such a conservative environment, Saunders decamped to the United States to study political science at Mount Holyoke on a Fulbright Scholarship during the 1960s. Every Wednesday, without fail, she took a five-hour bus down to New York to catch the weekly Amateur Night at Harlem's Apollo Theater. Once again, no one quite understood, but Saunders would not be deterred. Her path was untraditional, leading her to traverse different worlds with verve and panache.
In 1974, while working at a modeling agency in Amsterdam, Saunders hit the nightclubs to let loose after a divorce. There she met brothers Fernando and John Casablancas, who had just started Elite Models in Paris. "They took a few models back to Paris, and I went along with them," Saunders recalls. "I moved in with my parents and started going to the clubs every night. There weren't that many in those days, just Régine, which was very chic and fashionable. There was a lot of posing but not much dancing."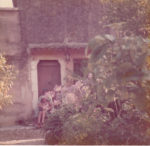 Then Saunders went to Le Sept, the gay underground disco that set Paris ablaze in the '70s. "There was total freedom to dance, feel free, and have a good time," she remembers. "I was all over the floor doing my thing, dancing like crazy. One night, I met a handsome young Black man named Johnny, who was from Harlem. He told me he was staying at Relais Bisson, a very expensive hotel on the Left Bank, and invited me for coffee. He was staying in an extraordinary suite and said, 'I can get some tickets to go to Saint-Paul de Vence. My friend has a house there.'"
That weekend, Johnny purchased a plane ticket for Saunders, and she flew down to the medieval town located in the South of France. A Bentley arrived to pick them up from the airport. One look from the chauffeur and Saunders could tell something was wrong. But she kept her spirits up, determined to have fun—and unknowingly arrived at James Baldwin's private villa.
Seeking sanctuary from the relentless onslaught of racism and homophobia he received from American audiences to his work, Baldwin moved to Saint-Paul de Vence in 1970 and would live there until his death in 1987. Here he entertained the crème de la crème of arts and culture, luminaries like Miles Davis, Ella Fitzgerald, Nina Simone, Harry Belafonte, and Sidney Poitier.
As Saunders took in the sights, the chauffeur introduced himself as Baldwin's assistant and told her where she was. She immediately realized she was an uninvited guest and spent a fitful night, resolved to leave in the morning. Rising early, Saunders was determined to enjoy what little time she had left and took a stroll on the grounds. Passing through an orange tree grove into the vineyards, she happened upon Baldwin himself.
Seated in the gazebo, smoking a cigarette and drinking scotch, the legendary writer gazed at Saunders with curiosity. "It was one of the weirdest moments of my entire life," Saunders recalls of that unexpected encounter in the early light of day. Then Baldwin invited her to sit and join him. Saunders did just that. They got to talking and what started as a legendary faux pas turned into a near three-month long summer stay.
"We spoke for hours that morning and the conversation became warmer and warmer. When his assistant arrived to take me back to the airport, Jimmy said, 'Oh, maybe after lunch,'" Saunders recalls.
They went to La Colombe d'Or, a celebrated haunt of artists and intellectuals, where the conversation continued. Baldwin kept up with the latest happenings across the pond, with a regular stream of visitors who had their fingers on the pulse. Saunders, who knew many American jazz musicians living in Paris, fit right in. "Jimmy realized I was friends with these people and they represented a certain underground of New York," she says.
Although Johnny may have overstepped his guest privileges, everything worked out for the best as Saunders and Baldwin enjoyed instant camaraderie. "Jimmy signed two books for me. He gave me a copy of If Beale Street Could Talk at the end of the first week, and wrote inside it, 'Michele, so far so good,'" she says with a laugh. "He kind of adopted me and I decided to stay. It was summer in France and in those days, you took off from the first of July to mid-September."
With a front row seat to one of the greatest writers of the 20th century, Saunders observed a man who she describes as curious, funny, and extremely social. "Jimmy loved to have people around him," she says. "The lunches and dinners would take forever because we would just talk and talk. We would get there at one or two in the afternoon and then leave at five. Sometimes famous people like Simone Signoret and Yves Montand would join us, which was huge for me, but mostly it was musicians, artists, and other fun young people. Jimmy has this circle and it was amazing to be a part of it."
Saunders made the perfect guest. Her warmth, wit, and charm sparkled like a glass of champagne, and she intuitively knew how to stay in her lane. If the conversation went in another direction, she did not feel the need to comment or opine; she simply listened to the discussion with grace and elan.
While staying at the villa, Saunders met David, Baldwin's brother, and they later became close when she moved to New York City in 1976. It was the beginning of yet another magical chapter of Saunders' charmed life. "I remember my first day in New York. Literally off the boat, I went straight to Central Park to see LaBelle in concert," she says, following the music once more. "I had a wonderful time in Paris but I was always looking for something more. It's in your face in New York. It's just right there."