Kenzo's Fall/Winter 2022 presentation returns to the venue of its inaugural show for a "real-to-wear" reinterpretation of house heritage
Streetwear legend Nigo, the first Japanese designer to front the house of Kenzo since its esteemed founder Kenzō Takada, has introduced a debut collection fusing the Maison's heritage with influences from his own upbringing in Japan amid the subcultural revival of 1950s's Americana. The resulting collection mines the tension between contrasting style codes to produce a compelling fusion of East and West: from nylon aviation jackets reminiscent of the US military, to reversible souvenir bomber jackets with wool and kimono-inspired fabrics, embellished with a map of France on one side and Japan on the other.
"Nigo and Kenzō Takada share an inherent cultural language, but it's their attitude to fashion that connects them above all: a belief that what you see on a runway should manifest in real life," the brand states in a press release. This sensibility is evident in Nigo's choice of garments: "impractical workwear," or the seemingly contradictory clothing intended to reflect the reality of contemporary dressing. In his latest offering, Nigo bridges the gap between form and function by pairing utilitarian staples and casual tailoring with Kenzo's signature poppy print and deconstructed silhouettes. Nigo also carries on the legacy of the late designer in the form of graduation jackets covered with prints of Takada's original sketches.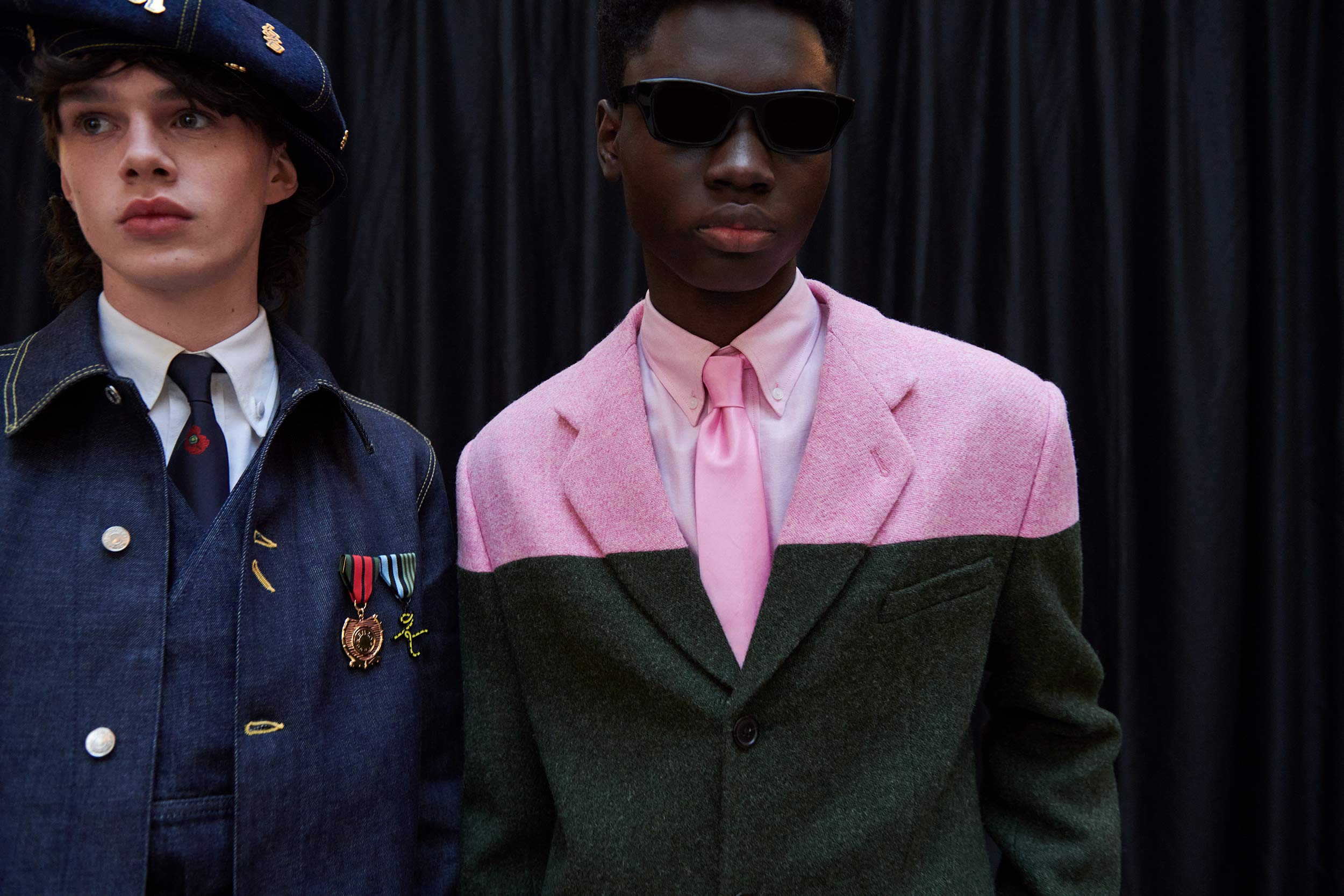 The runway presentation was soundtracked by an exclusive preview of Nigo's own upcoming album I Know NIGO, featuring contributions from A$AP Rocky, Kid Cudi, Pharrell Williams, Pusha T, Teriyaki Boyz, Tyler, the Creator, and Lil Uzi Vert, many of whom were in attendance. Like the reimagined elements of house heritage in the collection, the show's staging at Galerie Vivienne united past and present, honoring the founder's legacy by returning to the location of his inaugural show. Some five decades after Kenzo's 1970 debut, Nigo—who was born that very year—ushers in a new era for the label by reimagining the historic arcade as "a tunnel toward the future and beyond the borders of fashion."