The indefinable singer-songwriter shares a new video with Document, and tells us why she prefers busking on Berlin's streets to performing on-stage.
It's one of those gloomy winter nights in London where everything is grey, and Alice Phoebe Lou is playing at the Village Underground wearing all pink—pink trousers, a pink belt, and a pink tank top. The red light makes her blonde hair look pink too.
"The next song is about respect, love, and understanding," she says as she adjusts her guitar strap. "The world that I am singing about is one that is good for everyone." We sway around for the next two and a half minutes listening to Alice's sultry vocals deliver lyrics about "your patriarchy, your misogyny," and by the end, we're all chanting in chorus to, "I'm gonna put it in the backyard. And set fire to it."
The song—"Skin Crawl"—is from the South African-born, Berlin-based artist's latest album Paper Castles. Alice wrote it after an incident in New York; she was drugged by a stranger, and while she was physically unharmed, a few hours from that night are remembered only as a blur of confusion. Fear sat with her for a few days, until she decided to look it in the eye, and went out on her own again, this time to a Fela Kuti concert—where the energy was electric but where she was acutely aware of men trying to invade her personal space. The first iteration of "Skin Crawl" was written that night.
For most of the audience at Village Underground, this was our first time hearing the song. It was a few days before the March 8 release of Paper Castles and most of the songs were ones she had not performed live before. "As an artist but mostly as a person, I can't be replaying parts of myself that are over," she explained to us. "I have changed."
Over Skype, Alice tells me she wants her songwriting to help catalyze other people's feelings: "I want to move through my feelings and inspire others to have a deeper emotion." I laugh because I think that's exactly what she's been doing all along. Her lyrics are intrinsically connected to who she is—choosing to sing one song or the other is not a matter of indulging her audience but a way of telling us, This is who I am. This is who I am becoming. So who is this Alice now?
For starters, there's her latest project Strong Boi, which she officially released on her 26th birthday in July. "It's where I am completely unapologetic," she explains. "I am able to express a side that I have repressed because of the stigma around it and how society views a woman being confident and maybe a bit more sexual. I'm actually trying to be very verbal about how I'm feeling." With Strong Boi she wants to challenge people's assumptions over her youth and the way she looks: petite, white, and blonde. She uses the new project as a way to contest the idea that looking a certain way means putting out music that sounds a certain way too. "People started referring to me as 'pure' and that word really triggered me," she says. "I am not fucking pure, I do not want to be pure," so out came Strong Boi.
There's the incredibly self-aware Alice Phoebe Lou, who writes songs that sway from poetic to overtly political, but whose music is "not just me in an echo chamber expressing these subjects to people who are already talking about them." It's her apparent 'softness' that has aided Alice in "reaching places where those messages would not be able to go otherwise."
And there's the Alice Phoebe Lou who has consistently gone against the mainstream music industry. The one who's never signed with a big label, the one who refuses to be boxed into one genre, the one who earned a loyal following by busking on the street, the one who still sometimes crashes with fans when she's on tour and money is tight.
Alice grew up in a village called Kommetjie, in the Western Cape province of South Africa, surrounded by surfers and native shrublands. In her household, there was music—"anything ranging from Ethiopian jazz to German hip hop"—playing at all times. There was Janis Joplin on the record player, along with other "fiery, expressive women": Morcheeba, Grace Jones, PJ Harvey. Alice credits her mother for this early education, and for being a huge contributor to her evolving art. "She has such an excellent and eclectic music taste," says Alice. "Thanks to her, I learned very quickly that I didn't have to fit into a specific sound." Paper Castles might be a folk album, but it's also jazz, soul, indie rock, and electronic.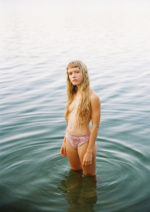 Alice doesn't want to be boxed into one career either. When I ask her whether she would ever consider doing anything other than making music, I expect to get a very resounding no. But instead she throws a curveball. "We're all multifaceted human beings and I don't think we're born to do one thing until we die," she says. "There is so much pressure around the capitalist idea of career—one thing and one thing only—that if we change our minds and we want to start something new from scratch it feels like a failure because we start from zero."
For Alice, zero is a great number, a clean slate. The opportunity to start something different. It's part of the reason why she ended up moving to Berlin. Today, the German city is her home, and the streets are still her favorite stage, her favorite sound being "a guitar on a shitty amplifier," she says. "It's a great sound because it's the sound of someone trying to make it in a big city." A sound that Alice knows all too well.
Music written and performed by Alice Phoebe Lou. Styling Stefanie Klopf. Hair and Make Up Patricia Heck. Camera assistant Benjamin Heinrich. Styling assistant Camile Franke. Poppy footage Lilly and Aljoscha Fabregas.