"The 2008 financial crisis killed mall goth. Facebook killed MySpace. Adulthood killed emo."
Before the clock struck midnight on January 1, 2020, tweets circulated wishing for the RAWRing '20s. It was a continuation of their desperate hopes for 20ninescene. When revisiting these tweets years later, I faced the retweet button glowing in green, and realized I was (sadly) already one of those 39.5k people yearning to bring the MySpace days back from their grave. Emo was never "just a phase."
Technically, these flashbacks reference scene—emo's twin sister, who preferred Invader Zim over Pon and Zi. Both girls had overly teased hair, razored layers, and side-sweeping bangs. Scene queens threw in a few raccoon-dyed extensions, too. Black and red online profiles played The Used; glittery hot pink layouts played Blood On the Dancefloor. They were two sides of the same coin—outcasts in skinny jeans, studded belts, and heavy eyeliner.
Those tweets actually manifested into reality. These alternative suburban mall eras have crawled back into the zeitgeist, marked by the popularity of When We Were Young Festival, Live Nation's answer to the death of Vans's Warped Tour. WWWY was orginally a one-day festival in Las Vegas. After the announcement broke the internet and tickets immediately sold out, it was announced that the day would be replicated twice to accommodate the fans's dedication that still exists a decade later.
Among the 65 bands performing were cherished throwback mainstays: Avril Lavinge, Boys Like Girls, Dance Gavin Dance, Dashboard Confessional, Jimmy Eat World, Taking Back Sunday, and 3OH!3. Many of them played the better half of their discography as the crowd sobbed and moshed. Headliners were My Chemical Romance, who performed in their Three Cheers for Sweet Revenge signature uniform; and one of the few leading girl bands, Paramore, opened with the live debut of their bleak ballad for every lonely heart, "All I Wanted." Over the course of two weekends, the city transformed from a casino fever dream into emo millennial's wet dreams.
The festival first appeared in the spring of 2017, hosted by the Observatory (most likely a replacement for the Growlers's Beach Goth 2016 apocalypse). The venue was a mecca for the DIY, garage-surf-punk, and now-defunct Burger Records and its adjacent scene in Santa Ana. For that first year of WWWY, the Observatory brought established acts like AFI, the Descendents, and Morrissey alongside emerging cult favorites like Joyce Manor, the Regrettes, and Turnstile. It was a two-day celebration of underground nostalgia and the forthcoming acts continuing its legacy. But after that one weekend, the festival turned into ashes.
It took about four years for WWWY to rise like a somber phoenix. It used to be a niche festival, created for the Observatory's distinct fanbase. The 2022 alteration was also made with a particular crowd in mind: but—I hate to say it as it's the subset of emo that I embody—a mainstream, commercialized one.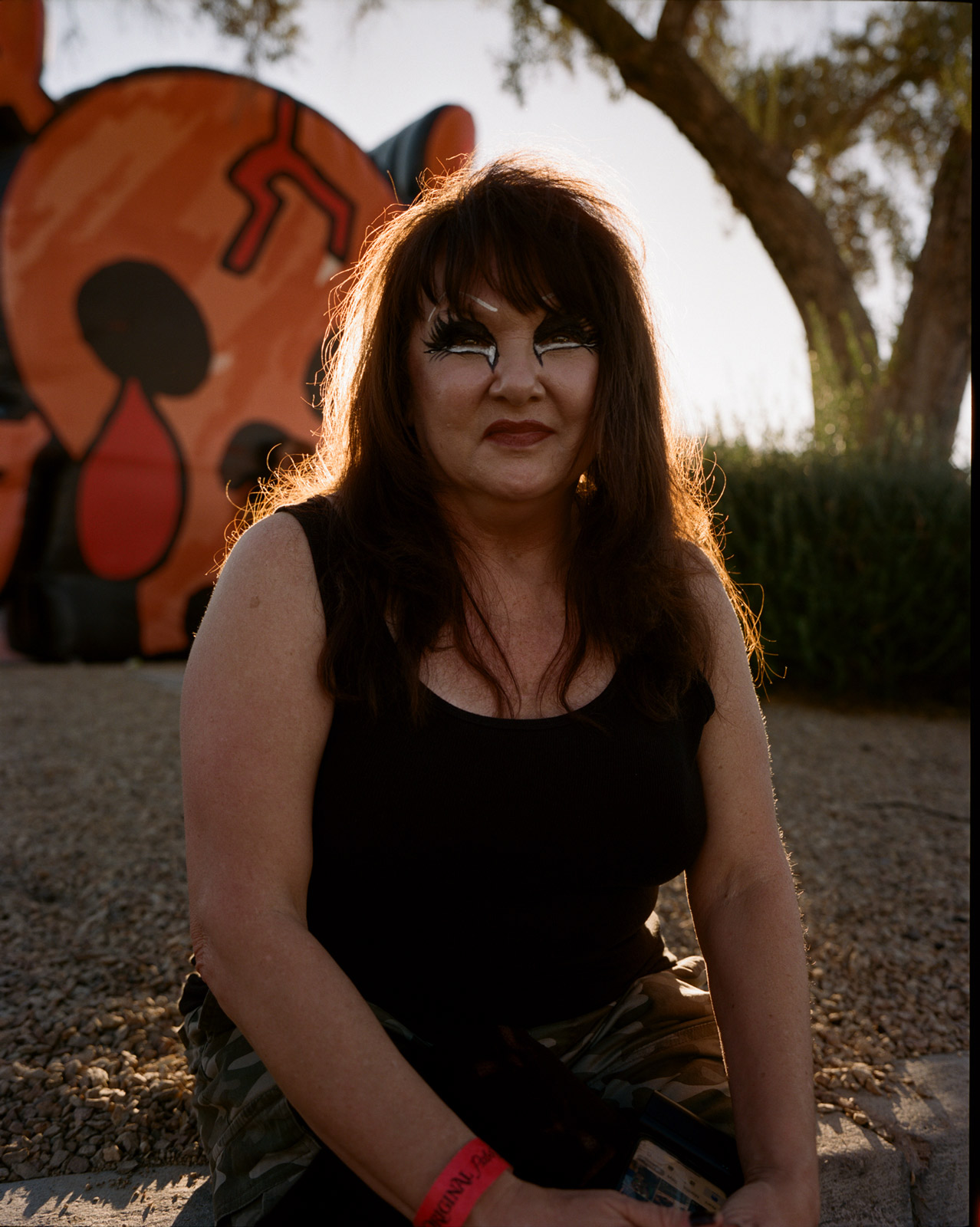 The origin of emo is controversial. People argue about its definition, and about what wave each band falls under. There was emocore in DC during the mid-'80s, Midwest emo in the '90s, and then, the emo pop that filled Hot Topics during the early-'00s. The one thing the subculture's disciples can agree on is that the metamorphosis began with Rites of Spring. Well, everyone except for the band members themselves who hated the label. In 1985, Guy Picciotto began writing interpersonal, (emo)tional lyrics for the band's self-titled debut. He was the first to sing-scream about heartbreak and existential crises. Before Picciotto, punk-hardcore bands focused on political, anti-establishment choruses. A wave of doppelgängers came after him.
With this timeline as a guideline, emo goes from Rites of Spring to American Football to Motion City Soundtrack. It goes from hardcore to mathrock to pop punk. It goes from dressed-down, working class attire to nerdy normcore, to the infamous MySpace wardrobe we so often associate with the word emo. It's a tendency we all have, a tendency the vast majority hate. But 2002's high-angle, high-contrast selfie exists because it was the turning point for emo, the first time the music surpassed the underground.
Teenagers were, by and large, the force behind this pop culture shift. The adolescents of the 2000s weren't afraid of the word 'emo' like the fans of other decades were. The bands were still unsettled with the label, but teenagers were already basing their entire identity around it. It was the decade of hanging out at malls, downloading music on LimeWire, and curating your top eight friends. It was the beginning of the internet as we now know it: a place to meet others just like you. With MySpace, LiveJournal, Hot Topic, Spencers—and actual good music by MCR—emo became a phenomenon with a new defintion.
In the early-2010s, this legacy slowly started to decay. The 2008 financial crisis killed mall goth. Facebook killed MySpace. Adulthood killed emo. Swag, twee, indie sleaze, and soft grunge welcomed in the new era—the exact trend cycle we're currently living through.
Music follows a similar pattern, which is why a festival like WWWY is able to sell out in 2022, and continue in 2023. Blink-182 and Green Day are signed on to headline next year's edition, cementing its reputation as a festival devoted to beloved pop punk icons. It even includes acts like Tigers Jaw, Citizen, and Turnover; bands rebirthing underground emo—who, much like their classic precursors, have nevertheless hit their peak with early albums, only to dwindle on, occasionally coming out with a release that will never quite hit in the way their earliest tracks did. Now, the genre has grown into popularity as admirable emo rap, and whatever Machine Gun Kelly thinks he is.
In its essence, WWWY is commercializing nostalgia for an already commercialized time. Don't get me wrong, this isn't a bad thing—I was actually selfishly praying for the festival to become a variation of Fyre Fest so I wouldn't have to be jealous of the attendees. It seemed impossible for a festival of such size to succeed after Astro World's disaster, especially when most bands haven't toured in a while. Disaster did strike, but not in the way I hoped for; only the first day was canceled due to the intense winds, forcing its would-be attendees onto the street. The other two days went as planned, allowing crowds to time travel.
During quarantine, everyone yearned for pre-pandemic days. We couldn't escape our homes, locked in for the foreseeable future. For millennials, it was a flashback to their high school days, exploring the early internet from within the four walls of their bedrooms. Gen Z spent even more time being exposed to UNIF and iGirl pushing alt as the new hegemonic fashion. Hyperpop and nightcore remixes reigned where DJs live streamed their mixes on Zoom. It was a perfect mixture of sentimentality and romanticization for emo and scene to prevail once again.
Once emo and scene leaves pop culture again, the festival may not be able to reach the same mass audience. Gen Z will daydream about a new era they were too young to live in—and, well, millennials are now about 30 years old. Banking off memories can only go so far when attempting to create multiple lineups with the same 2000s bands, with members who are well into their 40s. WWWY will lose its commercial touch; a revival of a different subculture will take its place. But as the genre has continued to evolve since the '80s, emo can't ever really die.