From soul-crushing indie centerpieces to drama-clad flops, Document diaries a week of features, glamour, and family
There is nothing sluttier than sitting alone at a restaurant while sipping a glass of wine and scribbling in a notebook. That's what I was doing as I waited for the first screening at the Venice International Film Festival: journaling about seeing Julianne Moore on my flight. So far, staring at the back of her head through the mesh curtain that divides business class and economy had been the most glamorous part of my trip. When I got to my hostel, I realized that I'd accidentally booked a co-ed dorm, so I spent the first couple hours of my trip trying to find somewhere to paint my toenails without any men watching.
At such a prestigious event—it's the oldest film festival in the world—most of my energy went into looking like I know what I'm doing. In truth, I felt like a lost second grader on a field trip. Except instead of Civil War-era roleplayers hanging around Jamestown, it's Cate Blanchett and Steve Buscemi.
My first screening was the much-anticipated White Noise by Noah Baumbach. Set in a colorful small town, the film stars Adam Driver who plays a college professor married to Greta Gerwig, a dance instructor. Along with their kids, they engage in offbeat dialogue that blends together into, well, white noise. Poetic and punchy one-liners jump out: "To break off from the crowd is to risk dying as an individual. To risk dying alone," and "Maybe there's no actual death as we know. Just documents changing hands." The film sets itself up for endless possibilities. Is it a marriage story? An apocalypse story? A psychological drama? But after much of the external plot resolves itself in the "second act," the final third fizzles out into existential proselytizing about death. I'm not a picky viewer. I was having fun the whole time, and honestly, what else can you ask for?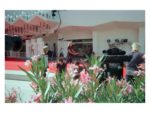 Outside of the screening, I had to ask a 13-year-old girl how she knew when the red carpets were, and who was walking them, and she enthusiastically schooled me. A crowd began to gather and I was hesitant to stick around—more out of anti-clout-chasing sentiment than genuine disinterest.
Blanchett pulled up to the carpet in a Lexus following the screening of Tár, directed by Todd Field. It's a story of a famous composer: what it takes to be great and what parts of our humanity we sacrifice to get there. Fans scream Cate! in their Italian accents. One holds up a realistic drawing of her face. But unlike other B-list celebrities—or Italian actors I can't name—who approach the fans to sign autographs, Blanchett doesn't even look in their direction.
After a couple of days and nights at the festival, casting director and filmmaker Sarah Benjamin came to town, and introduced me to some local creatives she knew. That night, we all met up at The Color of Dreams, a gallery show curated by Mary-Lou Ngwe-Secke featuring mixed media work from Thandiwe Murju, Hassan Hajjaj, and Derrick Ofosu Boateng. After a couple of glasses of champagne, we piled into a water taxi and followed Massimo, a DJ, to a Campari party on Giudecca, an adjacent island. "Who are you wearing?" a woman asked me. "Zara, and I got it second-hand at Goodwill," I replied. It bodes well for me that they don't have Goodwill in Italy.
"Film festivals could be like Christmas for a film family, and maybe this was my first holiday season." 
Inside the party, the men wore tuxedos and the women looked rich. While I was absolutely mesmerized by the pretty people and the free drinks, Massimo was disillusioned with the whole thing. I guess living in Venice, you get used to chic festival parties? At the end of the night, people crowded the dock trying to catch a water taxi. It was the same energy as trying to find your Uber outside of the club. In the taxi, my hair flew around in all directions and the salty spray felt like skin care. I was drunk and the boat was hitting the surface of the Adriatic Sea at a steady and intoxicating speed.
Next to me, my friend was yawning. It was just another Uber ride for him, but that means everything is relative. If he can be disenchanted, that means I can be so enchanted, even by the parts I feel like I'm getting wrong. Sara (a photographer I met, not to be confused with Sarah) was talking to the boat driver. When you're drunk, I think you always want to talk to whoever is leading you home.
It was in a hungover and vulnerable state that I viewed The Whale by Darren Aronofsky the next morning. I'm sure you saw the standing ovation that moved Brendan Fraser to tears. All I can say about that film is that I, too, was ugly crying—audibly and gutturally. It contained most everything I could want from a film: meaning-makers present at the beginning that circle back at the end to take on entirely new significance, emotional transformation, and a strong message. It's a story of a man at the end of his life, looking around for what he has left to redeem himself with. It hits. And yes, there will be backlash and critique, and it will be inarguably valid. But my god, it hits.
In front of me, a fella wrapped his arms around his girl and she watched the film resting her head on his shoulder. There's something like viewing back-to-back films on two hours of sleep that makes you want to be cherished and adored. It's a growing feeling I can only describe as going to bed every night in a room full of people—which, by the way, I am.
We all know about the drama surrounding Don't Worry Darling, and after the screening, I wondered if it was an intentional ruse to make up for the underwhelming impact of the film itself. Florence Pugh could do no wrong in my book, and Harry Styles's acting was good, if not life-changing. Directed by Olivia Wilde, the film made heavy use of archetypes from the dystopian genre: creepy ballet numbers, '70s California housewife aesthetics, simulations—but in the end, that's what made it entertaining. You know what you want from a movie like this, and you get it. It truly did feel like a real movie that you see in a theater. And instead of mocking Styles for sounding like he has only two brain cells, let's all think of it as a commentary on cinematic expectation and reward.
What no one could foresee, however, was the perfect ridiculousness of Bones & All. I couldn't count the number of elderly Italian women who walked out in a tizzy. After the film, Luca Guadagnino and the cast came on stage, and Timothée Chalamet led a chant: LU-CA! LU-CA! LU-CA! The gossip around me was mixed. It seemed like everyone was fixated on the shock value of the "eating scenes." And while I, controversially, loved those scenes, what endeared me to the film was not so much the gore, but the coming-of-age relationships that drive the plot. It's a love story, more Romeo and Juliet than Hannibal Lecter.
"In between the blockbusters, however, was the true heart of the festival: the foreign and indie films that will never reach us at the Williamsburg AMC."
In between the blockbusters, however, was the true heart of the festival: the foreign and indie films that will never reach us at the Williamsburg AMC. Some favorites included Blue Jean, a heartwarming movie about a lesbian finding herself in the late '80s; L'immensità, about a woman holding a family together, starring Penélope Cruz; Bi Roya, a surrealist mind-meld about a woman whose whole family forgets her; and Aru Otoko, about a woman who finds out that her recently deceased husband had faked his identity.
That night, I had dinner (two bottles of wine) with a cinematographer friend, Anna, and her two friends—Valeria, a model and actor, and Stefan, who worked on the soundtrack for All the Beauty and the Bloodshed. I told Stefan that, although I was digging all the films, it seemed like many of them used grief and loss as an instant connector. He concurred, and added that pain was the easiest way to get sympathy from an audience. We agreed that not only did it make for a flat film, but that we were interested in movies where loss was layered with joy—you can't drive one home without the other.
We all predicted that The Golden Lion award would go to All the Beauty and the Bloodshed, and not just because Stefan had worked on it. The film features never-before-seen footage of iconic photographer Nan Goldin, and chronicles her career and journey as an activist, taking down the Sackler family, whose pharmaceutical companies are largely responsible for the opioid crisis.
In the next couple of days, I saw Blonde (an absolute train wreck) and three French films: Pour la France, Un couple, and Athena. Anna, who went to French school, was a happy contrast to my viewing methods; see, I just like watching movies, and it takes a lot for me to dislike something. Un couple, a French film where a woman reads a love letter to the screen as she transverses the French countryside moved me to tears. Anna walked out in the middle of it, because "she'd seen enough of that at French film school." Respect.
With half the festival under my belt, and new friends to boot, the lost-at-a-field-trip feeling was beginning to fade—despite the fact that I was missing press conferences and screenings left and right. When I found out that Paul Schrader, who was in Venice premiering Master Gardener, had won the Golden Lion for Career Achievement, I kicked myself for missing the last showing of his film.
Schrader's assistant—and associate producer on Master Gardener—Taylor Jeanne and I went to The New School together, and when we caught up about the festival, it was a relief to hear that even she was a little intimidated going into it. If I knew that I was going to be photographed paparazzi-style upon my arrival to the hotel, I would grow a God complex big enough to wane off any nervousness. But just like me, Taylor had to get used to it all. Paul, as she calls Schrader, had to get the hang of it, too. With TikTokers at screenings and "everything going digital," even the critically-acclaimed filmmaker was a little out of his depth. I asked her something clichéd, about whether she found any magic in her experience. "Paul was talking about how festivals are the time when you go and see everyone you know in film, but that you don't talk to all year. It's a time when everyone comes together," she said. It made me think that film festivals could be like Christmas for a film family, and that maybe this was my first holiday season.
Maybe I haven't found belonging on the red carpet, or met my mentor, or even managed to make it to all the right screenings—but I have experienced something special. On my final Friday night, a man tried to tell me that "Miami is like New York, except it's by the ocean," to which I replied, "New York is like New York, except it's by the ocean." It's a whole island, just like Venice. And although I was just starting to have fun, I was also starting to miss home. On my last walk back to my hostel, I saw a seagull slip in a puddle. It made me realize that even the most skilled in their craft could stumble. No matter where we are in the layers of belonging, we're all just finding our footing.