The founders of the blockchain-based platform meet with Renee Cox and gallerist Hannah Traore to discuss collaboration, royalties, and why creatives can't work for free
"When you've been working for 30 years, it's imperative to stay current!" says Renee Cox, multihyphenate American artist. "I want my work to rule the world and have that world created by me."
We're speaking over Zoom with a few others. There's Hannah Traore, the twenty-something founder of her own eponymous art gallery. Based in the Lower East Side, its mission is to advocate for creatives historically excluded from the mainstream cultural narrative. "I realized, not only do I care extremely deeply about these communities," she says, "but if I have the opportunity to be the person that these artists can work with and feel safe, then I should do that."
Then there's Max Kendrick and Charlie Jarvis: a former diplomat and a freshly-graduated computer scientist, respectively. They're co-founders of Fairchain—"a title management, authentication, and transaction platform for fine art, organized around a high-impact social mission," according to its website. In other words, Fairchain works with artists and galleries to create digital certificates of title and authenticity, tracked via blockchain technology. If a work changes hands, the certificate will transfer only after its new owner agrees to pay a previously-determined percentage of the sale to the original creator, and potentially the gallery that listed the work in the first place.
Cox, who's currently showing Soul Culture at Hannah Traore Gallery—an exhibition of deconstructed, three-dimensional portraits merging photography with collage—is among Fairchain's inaugural class of high-profile proponents, joining the ranks of Frank Stella, Hank Willis Thomas, Laurie Simmons, and so on. She recalls a recent inquiry, where she was asked to make a work in exchange for a thousand dollar donation to the charity of her choice. "When did I tell you about wanting to be a philanthropist?" she recalls wondering. "I said, 'Yeah sure. Give to the RVC Foundation'—my full name is Renee Valerie Cox. How can you be asking artists, during a freaking pandemic lockdown, to be donating their money?"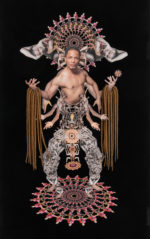 It's part of a long-standing tradition: an entitlement, a warped assumption, that figures creatives can and should produce work for free. In more insidious ways, it extends to the systems in which artists are forced to surrender their control and their rights at the very moment something they made sells. You think of the "Amen break," one of the most sampled tracks in hip-hop history, written by Gregory C. Coleman in 1969. He never received royalties, dying homeless in the early 2000s. Or the controversial practice of collector "flipping"—an Artnet profile recalls Rauschenberg seething at Robert Scull in '73, a millionaire who made tens of thousands of dollars in profit by auctioning a work he originally bought for $900: "For Christ's sake, you didn't even send me flowers!" the artist cried.
Jarvis recalls meeting Cox about a year ago, when Fairchain was just getting its footing: "The minute we started talking, she brought up the example of SAG, and how actors had unionized to create conditions for better treatment." She then asked Cox why something similar hasn't happened for visual artists.
"We're a bit disjointed [as a community]," Renee replies. "Everybody spreads out and does their own thing. All those conversations—'How much do you charge for reproduction? How are you dealing with a gallery? How are you coming up with your prices?'—you end up not having with your colleagues. Some of that might be by design, because of this little competitive thing that's there. But at the end of the day, I don't think it really serves the purpose of the visual artist. It's about getting them to come together, basically."
"We see the opportunity to be really intentional about how tech influences this industry, and make sure it's a standard that we believe in."
Kendrick goes on to clarify that Fairchain is for all creatives—not just the up-and-coming, not just the mid-career, not just the established. "What Hannah is doing is fantastic, in that she's actively going out and pursuing these artists with practices that have been overlooked, or not given the focus and attention they deserve," he says. "One of the things we focus on is the idea that this mission is for all artists. To be survivable is not to be tastemakers, but [to be] supporting the voices that are emerging and reemerging today, [as well as] those we haven't learned to identify. We actually don't know what the underrepresented and externalized voices of tomorrow are."
Cox has always been an artist at the forefront of new technology. Soul Culture, she says, references Afrofuturism, fashioning "a sacred space where Black and Brown people are part of the matrix," their likenesses embedded in the fractal forms the artist creates. "[The works produce] layered texture and illusionary vignettes," reads the gallery's press release, "creating another universe and metaverse where Black folks maintain control over their representation."
Control, it seems, is the key word in this conversation as a whole: Control over artists' livelihoods, over their image as cultural figures, over the work that they create, and what happens to it once it exits their purview. The paradigms are shifting—we can only hope that when the dust settles, the most vulnerable groups are protected, so that they can continue to produce meaningful work in earnest. "We see the opportunity to be really intentional about how tech influences this industry, and make sure it's a standard that we believe in," says Jarvis. Continues Traore, "I truly believe that Fairchain is the future. Always having the artist and their needs and wants in mind are at the forefront of everything that I'm doing. It's a collaboration, and I really want to make sure they're creating the work that they want to create. That's where the best work will materialize."
Soul Culture is on view at Hannah Traore Gallery through May 28.