Choreographed at a distance with live camera footage, Natacha Ramsay-Levi's collection draws on Corita Kent's poetry in celebration of the female gaze
Chloé's Natacha Ramsay-Levi invites us to renew our collective consciousness through the female gaze in her Spring/Summer 2021 collection entitled "A Season in Hope." Speckled with sunlight and human interaction, Chloe's presentation emphasizes community in an era of isolation.
In the brand's video presentation, models sauntered between spectators throughout the Palais de Tokyo. The presentation emphasized both the clothing and the lifestyle and culture behind the collection's concept. In addition to shots of models walking, cameras also captured them interacting with each other and the world around them; perched on ledges, snapping pictures of the environment, and otherwise socializing. We've witnessed many fashion houses grapple with the predicaments of presenting during the pandemic, but the design of Chloé's show was singularly humanistic.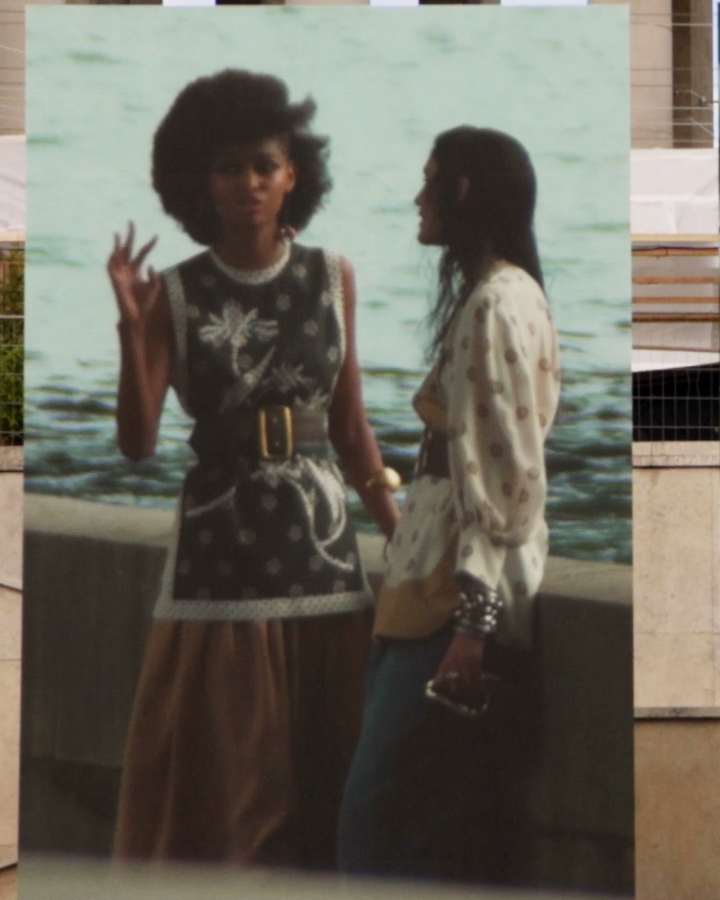 The collection was a mixture of various bohemian style influences: low-cut shirts, flowy dresses punctuated with trench belts, strapped sandals, gold and silver accessories wrapped around models' necks and wrists, and a confluence of floral prints with more simple ones, often on the same piece. Standout pieces were decorated with visual poetry by Corita Kent, an American poet and activist known for her commentaries on the female gaze and its observations. There was a white bodycon dress with a bright red "HOPE" across its side, a blazer adorned with pins over a shirt urging spectators to "GET WITH ACTION," and a purple and brown sweater with the words "I CAN HANDLE THIS" across its torso. These slogans act as reminders from Ramsay-Levi and Kent that although our year has been turbulent, we have entered a season of rebirth.