'There's a sense of wanting to progress from boyhood to manhood.' The designer on staying true to his roots while branching into luxury menswear.
Samuel Ross is all grown up. The 28-year-old A-Cold-Wall* designer is so focused on his work that it doesn't leave much time for partying or socializing. "I have a two-year-old daughter, I have a fiancée—I'm very much steeped in adulthood at this point, and I'm very interested in being this bridge between communities—between menswear, and taking the old consumer into menswear versus keeping them in the streetwear conversation," the A-Cold-Wall* designer told Document on the eve of his first show in Milan, a city known for its deep history in suiting and menswear.
At five years old, A-Cold-Wall* is growing up too, and its debut in Milan—after three seasons showing in London—signals a new era for the menswear brand. "I feel that Milan represents such an homage to menswear with such a deep history in menswear, and it feels like now is the correct progression the brand's history," said the Brixton-born Ross, a protégé of Virgil Abloh who studied graphic design and illustration at De Montfort University in Leicester, before attracting Abloh's attention after repeatedly emailing him. Ross worked remotely as a creative assistant for Off-White and Yeezy at night while keeping a job in advertising during the day.
Ross felt compelled to birth A-Cold-Wall* in 2015 as an ode to his working-class roots. He has since earned a number of accolades like the British Fashion Council/GQ Designer Menswear Fund prize, as well as being named a NEWGEN recipient and a finalist for both the LVMH Prize and ANDAM Award. But, Ross is no longer the wide-eyed 23-year-old eager to get a piece of the streetwear pie; now that he has it and is older, he wants to take A-Cold-Wall* beyond streetwear, and into the realm of luxury menswear. "It feels like a shedding of skin of sorts, and ushering in a sense of refinement," said Ross of his Milan collection.
The catalyst for the Fall/Winter 2020 A-Cold-Wall* collection? "The inspiration is split between more abstracted references, which look at agriculture, ecology, the movement of people across vast landscapes throughout human history, but it's also mirrored with the reality of how we move across modernity and how we operate and congregate living in cities and hubs across the world from from London to Tokyo, and looking at how geography really plays a part in how people dress," explained Ross. These ideas are translated into pared down silhouettes and a rich color palette that take form in A-Cold-Wall*'s Fall/Winter 2020 collection "in asymmetry of course, which is a signature of the brand," said Ross."They take form in texture and wash, but you're seeing a new sensitivity and a new sense of fine-tuned articulation, which maybe I hadn't explored so heavily before, in this collection."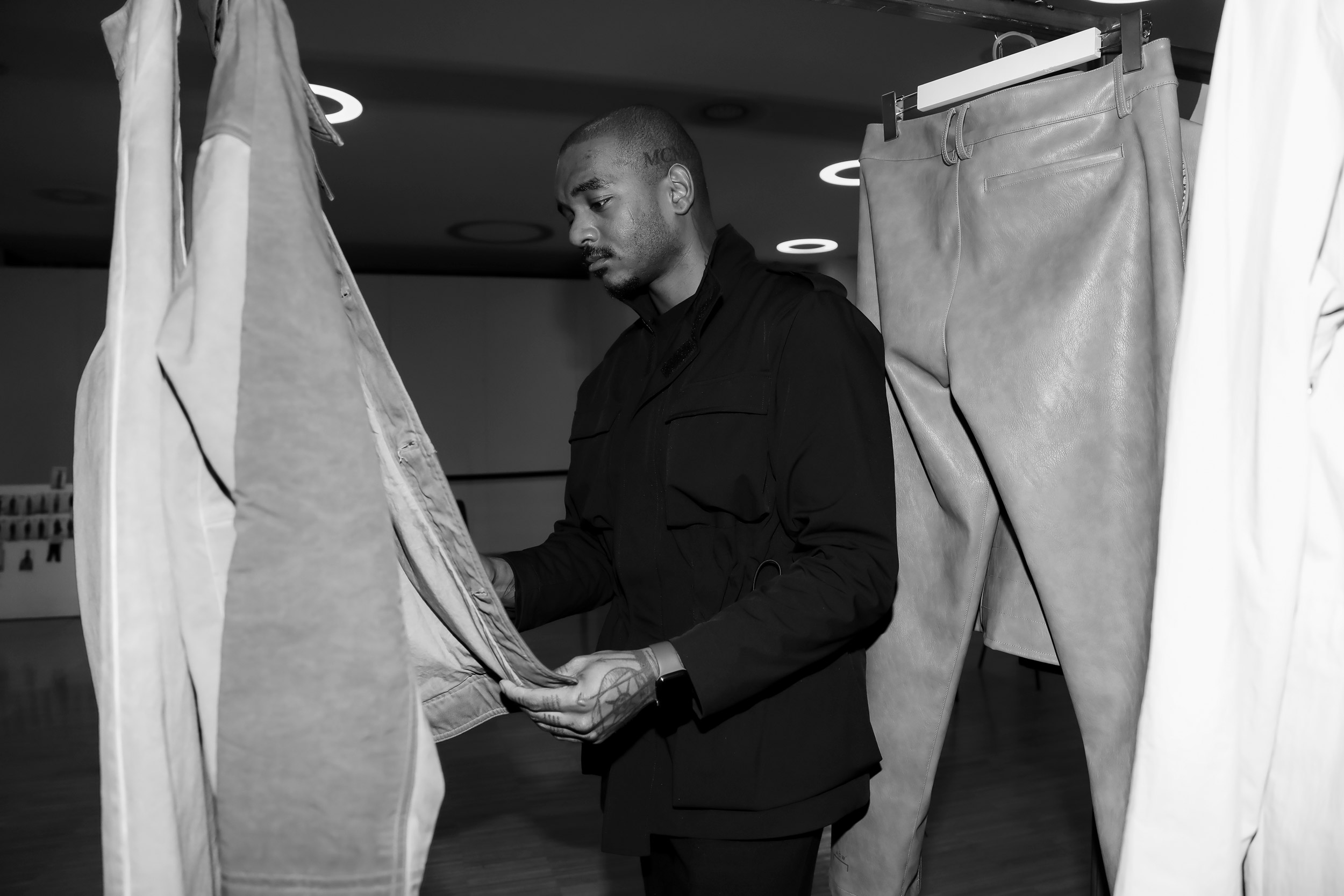 The hoodies, tactical vests, and utility zippers of A-Cold-Wall* may have been born out of the London youth culture scene in which Ross came of age, but, said Ross, "There's a sense of wanting to progress from boyhood to manhood, which is quite prominent globally. I've just done an underground installation in Shibuya-ku, on the outskirts of Tokyo, and hopped across the continent to Innersect in Shanghai….even just doing the M-65 installation in London a week ago, there's this really interconnected spirit and consciousness of wanting to mature, wanting to refine."
As the streetwear consumer matures into adulthood, his tastes evolve, and Ross is ready to guide him and his wardrobe into manhood, even taking it upon himself to survey that customer and ask what he wants when on the street. "That consumer is ready for—it's not just a new wardrobe, or a new aesthetic or new garments, it's more so they want to have an intellectual conversation with designers and they want to be able to deep dive into the philosophy and understanding of why a product actually exists," said Ross. "There's this aspiration of what does modernity need from reductive suiting, and what does a modern man want from a suit?" 
Ross predicts that the grown-up streetwear consumer will want suiting that is minimal and reductive and he hopes to work with a tight-knit group of tailors as the label delves further into that category. "The modern man wants to have a conversion of intellect and information being the new equity," said Ross, who hinted that the bold logos of his youth may give way to a more pared-down aesthetic. "There is a slight introversion that's definitely coming forth, after such saturation of hypable graphics and haphazard garments. People want to feel stable and reductive and quite proficient at this point."
For Ross's younger fans, there's still Polythene* Optics, the more youthful, affordable sister brand to A-Cold-Wall*. "Polythene* is really deeply rooted in streetwear and that community and it will stay in that community," said Ross. "I almost see that as a first point of entry, or the first contact, before the user or individual moves on to A-Cold-Wall*."
With A-Cold-Wall*'s DNA deeply rooted in art and architecture—Ross created a jacket inspired by Piet Mondrian and Brutalism has been an influence—the designer cited the Jil Sander flagship store in Tokyo, designed by British architectural designer John Pawson, as speaking to him the most at the moment. "That store is such a beautiful space, and I think it echoes a sensibility that's really resonated with myself over the past six months, alongside some of my reading—this idea of minimalism and systems, function, and open source, manifesting in spatial design, and the metaphysical as well as the tangible, it's very, very interesting to me," he said.
Like his mentor Abloh, Ross believes that collaborations with more established brands are an integral part being an emerging label. So far, A-Cold-Wall* has collaborated with Nike, Oakley, and Diesel, and he sees each experience as an education in opening up new categories for his label. "We didn't release any in-house footwear until after we released shoes with Nike," he said. "The same with Diesel, it was two seasons into Diesel, we really had the understanding and more knowledge in how to delve into denim as a whole." Ross said it's the same with his next collaborator, but is mum about the brand, only revealing that it's a British shoemaker. "We're taking a strong push into menswear shoes and boots and brogues and derbies, and that's come about off the backlog, the confidence formed from a great collaboration." 
As Ross takes his bow in a black M-65 jacket from his London exhibition, a pair of black Nike Frees and a pair of black tapered pants, the intellectual designer will also herald a new chapter for A-Cold-Wall*. "It's the ushering in of a new era of A-Cold-Wall* and it's this real concise understanding that A-Cold-Wall* is a forward-thinking menswear brand and this collection very much shows that confidently," said Ross. "There is no pandering or compromise here. It's quite intense, it's very concise. It's rich and opulent, and it's very much so menswear."