Using the recordings, lyrics, and art his mother produced over her lifetime, the artist collaborated with Teengirl Fantasy's Nick Weiss and cellist Patrick Belaga on a moving tribute.
Love Will Find a Way Home, a full length album produced by Jacolby Satterwhite and Nick Weiss of Teengirl Fantasy, is the product of a roughly ten-year effort to do justice to the recordings, lyrics, and art pieces Satterwhite's mother Patricia Satterwhite created over the course of her life. The projects she took on, even as she contended with worsening schizophrenia, made an impression on Jacolby who remembers her process as his first formative exposure to a serial, interdisciplinary practice.
Satterwhite and Weiss, together as PAT, culled through her trove, building a narrative around her work and expanding upon its potential. The liner notes incorporate Pat Satterwhite's abstract drawings of sugar cubes and toothbrushes. Her voice and melodies carry through the album alongside gospel-eque choruses, sultry synth beats, and orchestral flourishes, for an experience as rich as it is intimate.
As work on the album progressed, Satterwhite built a visual universe. First, a three-part suite of animated films incorporating dance and Surrealist iconography with commentaries on queerness and domesticity called Birds of Paradise. The series became a point of origin for Satterwhite's first full-scale solo show, You're at home, which conjured an intimate sensory experience complete with video projects, virtual reality, and live performance.
"It was just a very uncanny and emotional result. And I'm proud of the visceral kind of like, product that came from it," Satterwhite says. "The feature film that comes with it, the virtual reality, the way it solidified into a body of work…I'm proud that it became interdisciplinary and [to the] fullest extent it could possibly be."
Shortly before the album release last month, Document spoke with Satterwhite, Weiss, and Patrick Belaga, a composer and cellist who lent several arrangements to the project and worked closely with the pair, to discuss the unique collaborative process of working with Pat Satterwhite's recordings and the mechanics of undertaking such an expansively interdisciplinary project.
Clara Malley: Jacolby, I saw that your mother is named in a few places as a collaborator on the album, and I was really just fascinated in how you saw her role as an active participant.
Jacolby Satterwhite: Well, she was really a collaborator on the whole thing, in my opinion. She was the primary collaborator. Lyrics, you know.
Clara: It feels very organic.
Jacolby: Because no one knows that woman like I know that woman. I started making art because of her. [She's] the reason why I thought that it was normal to have a serial practice. Before I was old enough to comprehend that mental illness was developing, I thought she was an entrepreneur making rhymes, and patterns, and lyrics. And so I was like 'I wanna do this as well, can I help you?' And she said 'You're going to have to learn how to draw in order to help me.'
We lived in a small house in the backwoods of South Carolina, and that was 90 percent of my life outside of school—watching her obsessively make songs, drawings. So I know the intent of her aesthetic. I know what she likes even with experimental music, techno. I asked her for the tape when she was alive. She gave permission.
Nick Weiss: We began our work on the record while Patricia was still alive. Jacolby played her some of our first singles on one of his visits back home. I know he played her "Birds in Paradise" which remains one of my favorites. I wasn't there so I can't describe her reaction exactly, but at least second-hand Jacolby's main description was that she was really excited and also surprised at how far we'd pushed the sound. It must have been bizarre to hear her recordings from years before, such a different time in her life, in such a new context.
Jacolby: She was shocked when songs were made. I mean, she didn't understand the idea that consumer technology exists, and you can kind of do something without having a Columbia Music record studio.
She used to wish she was gonna play at Madison Square Garden, and it was kind of cool, because, in a way, that's gonna happen.
Nick: Everything is anchored in Jacolby's understanding of his mother and their history, even if he's working outside of it or not directly making work about their relationship. I think it honors her creativity and his, maybe in a parallel sense where they are each making the other shine brighter.
Clara: Patrick, what your experience has been getting to work with Jacolby on this?
Patrick Belgaga: Nick and Jacolby had already done a lot of work on the project before I came in. They had already begun to create these scaffoldings—identifying the emotional tone qualities, the historical references and musical references they were going for. It becomes this practice of reinterpreting old texts, you know, and creates something new that utilizes the past but also expands upon it. It just really feels interdisciplinary in as many ways as we can manage, just trying to incorporate as many new things.
Jacolby: For me, whenever I enter a collaboration it's kind of like, what material can come back to me from giving a person open range to respond to something however they choose, you know? I meditated on this cello fifty percent of the day. I'd listen to this album on the subway, in order for me to really come up with the world that I'm building. I would listen to this album more than most people know. It started to score my life. Kind of embarrassing, but whatever. [Laughs] Those arrangements were massaging in my head, my hip bones. I think that merging myself so deep into a process allowed me to have a very quick visual vocabulary. I know my lexicon now through collaboration, through meditating over arrangements offered from friends.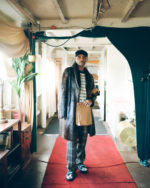 Patrick: You were saying your lexicon, the thing that matched with your vision and the things that don't. I was sending Nick these like 45 minute recordings of me just improvising. He would isolate pieces of the track that he thought were particularly usable, and he would listen to them with Jacolby. He would incorporate them into the track, and slowly, like magnifying glass, microscope, we just got more and more specific about what was working and what was not. That process took a year, two years, but was really rewarding and interesting, and gave us more language around what we were trying to do. That just got more and more specific, we learned each other's vocab.
Jacolby: Making a solo exhibition of the track, "Birds in Paradise" was really interesting, to have a song become art pieces for the museum. That was really really weird for me.
Nick: I love "Second Time Around." That was an experiment where we wanted to try to create a vocal arrangement around Pat's voice, in the way a gospel choir would. It felt like a homecoming for the record and just really right that Pat's words were being stacked and harmonized in that way and in such a lavish setting.
Jacolby: [The album] is definitely an accessory through a world that has many different forms—has a visual form, a virtual reality form. So I hope a lot of people who experience the music get to experience the show first, and really have that stuck in their head for a long time, and then the next time they listen to the album they're put in that world.
Patrick: It's like, back in the 1800s, for operas and whatnot, they would include program notes. So yes, you were going to see the music, but you would also have a program that would explain to you the intentions behind certain aspects of the music and the plot lines and the words. It's almost like the music is the program note to the visual components of the project. You can just read the program notes and get a good understanding of it, but like Jacolby was saying, experiencing the music with all the visuals is very important. It's not essential, necessarily, like you can enjoy the music without it, but it is a very important component, and if you can experience them at the same time, it's kind of ideal.
Jacolby: That makes it interesting too because visual, fine art only travels in this really weird way. It's a museum project, it's gonna live in museums for the rest of its life, it's gonna be in collections. So this album is more, you know, a consumer product that everyone has access to. The tension behind that kind of public and private experience, conceptually for me, I think that's another rich layer.