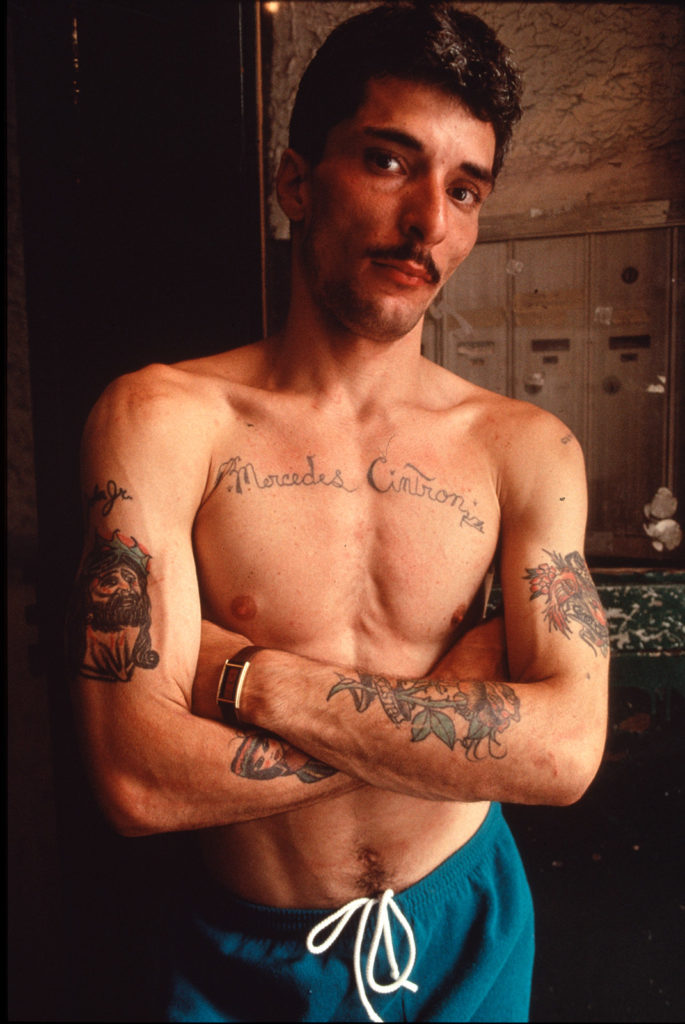 During the '70s and '80s, Gottfried captured the soul of local communities from Poet's Café to Coney Island.
In August 1969, American artist Arlene Gottfried (1950–2017) took her first photographs at Woodstock and was instantly hooked. For the next five decades, Gottfried walked the streets of her native New York with a camera in hand, ever ready to capture a fleeting glimpse of the beautiful souls who crossed her path.
A new exhibition, Arlene Gottfired: Retrospective (1950-2017), opening June 29, celebrates the extraordinary woman who stayed true to the city of her birth. Hailing from Coney Island, Gottfried came of age in Crown Heights, Brooklyn during the era of white flight, creating a profound sense of empathy and connection to those who have been systemically marginalized, if not outright erased.
Gottfried studied photography at Fashion Institute of Technology, graduating in 1972. That same year she moved to the Village and later worked at an ad agency, which afforded her access to a professional darkroom where she printed the pictures she made on the weekends.
In her personal time, Gottfried was drawn to characters from every walk of life, whether partying at legendary nightclubs like Studio 54, Paradise Garage, and Plato's Retreat, hitting up the Gay Pride, Halloween, and West Indian Day Parades, or living it up on Coney Island and Brighton Beach.
"New York had a different energy. It was very raw but it was affordable and we were all in it together," Gottfried told me in 2014. "It wasn't fancy. It was a much more topsy-turvy time but it was more enjoyable that way. There were so many things to get your attention."
In her photographs, Gottfried captured the soul of New York City before it was gentrified. She possessed an uncanny ability to find personalities made for film, and many of her random encounters sparked life-long friendships.
"Arlene's photographs keep that era of the city alive," says her brother, the comedian Gilbert Gottfried. "I feel like the sounds and smell of the city are coming out of the pictures. You can hear the police sirens, ambulances, and fire trucks, people screaming and laughing. Many of the people she photographed died soon afterwards, but they are still alive in the pictures."
Gottfried describes his sister as independent, noting that she was always ready to try new things. "There was always a fearlessness about her," he says proudly. "Arlene would walk around with a camera and she wasn't afraid of going up to the scariest or saddest looking people. She wanted to take photos of them. Her pictures never criticized or looked down on them."
The author of five books, Arlene Gottfried's archive embraces everyday people living extraordinary lives. Her formative experiences shaped her views. "I got very in touch with the African American and Puerto Rican communities. I felt very comfortable going to the Lower East Side to hang out," Gottfried explained in her final book, Mommie (powerHouse, 2015). "There were a lot of ethnic types, working class people, and I felt a connection. They weren't exotic or different. I knew them as neighbors and friends. They have an expressiveness and color. I like the emotional connection and the passion the people have. I was drawn to it and I felt comfortable. I didn't feel like I was outside looking in."
As an insider, Gottfried was able to tell the story on her own terms, capturing a slice of life that has vanished forevermore. "Now the only way to know what New York was like is from fleeting glimpses in movies made years ago like Taxi Driver, Death Wish, or Midnight Cowboy," Gilbert Gottfried observes. "I remember there were neighborhoods you didn't want to be in and we lived in a few of those. Arlene had already been living on her own when me, my mother, and my other sister Karen moved to Avenue A. People were saying, 'You're nuts.'"
Arlene Gottfried flourished amongst her own, whether palling around with poet Miguel Piñero at the Nuyorican Poets Café, kicking it at Brooklyn's famed Empire Roller Skating Center, or trooping uptown to the streets of El Barrio. Wherever she went, there she was, ready for whatever would come her way.
"I met Miguel Piñero at the Poet's Café. I loved to dance and you could really dance over there!" she told me in 2014, roaring with laughter at the memory of her youth. "Salsa. R&B. There was a lot of good energy there. It was rough and raw. Not trendy. And that's an amazing thing—that the Poet's Café has lasted so long. I loved it. I stayed there until the sun came up, literally. That doesn't last forever, these moments in time."
Though Gottfried and many she photographed have passed, their legacies live on in her warm and loving photographs. Gottfried followed her heart and went with the flow, documenting everything from her years singing gospel with the Eternal Light Community Singers to her long-standing relationship with Midnight, a man suffering from paranoid schizophrenia.
For Gottfried, the camera was her diary and confidant. "I don't know exactly when Arlene started taking pictures, but I know she got into it and then it was all the time," her brother says with a laugh. "Sometimes we were both on the bus with my mother. I would be helping my mother off and Arlene was taking pictures. I was thinking, 'Put down the camera and help me help her out of the bus!'"
Gottfried's archive holds vast treasures of New York at a time when everyone was a character yet no one would stare because that would suggest you were a tourist, unfit to make it here. Her photographs are a tribute to Old New York, to a city of myth, magic, and madness that many did not survive. Yet in her pictures, their lives are restored to the pantheon of grit, glamour, and glory.
It is a city the lingers like wafts of weed smoke on a warm summer day, a city that still exists if you look for it. Gilbert Gottfried remembers, "A year or two ago I was walking with my wife and we saw these two homeless men. One was fixing the other guy's hair with his hand, and my wife said, 'Ahh. That's an Arlene picture.'"
Arlene Gottfired: Retrospective (1950-2017) is on view at Galerie Bene Taschen in Cologne, Germany, through July 30, 2019.