As part of her annual zine 'Gay Tees,' writer Emily Manning goes through 16 playful and poignant t-shirts and the stories behind them.
Last year, I made a zine called Gay Tees—pictures of great gay t-shirts I saw throughout the year. I photographed them at parties, at protests, and in my bedroom. I had so much fun making the zine, I decided to do another one this year. I intend to publish them annually.
My first zine only featured one vintage tee. On the back, there's a transcript of former Boston City Councillor David Scondras's address at the National March on Washington in August, 1987. I think it's fascinating to see such a searing and poignant text—delivered in the midst of a worsening AIDS crisis—screen printed on the back of a Hanes blank. T-shirts can be radical and playful. They can mean nothing, or everything.
This year, I made an effort to hunt for more vintage gay tees. They are unique artifacts of queer community, celebration, and resilience.
Gay Tees, and two other zines I've made, are part of Fredericks & Mae's group exhibition The Homosexual Objét, which opens on May 17. All three zines will be available at F&M's beautiful Brooklyn shop throughout Pride Month. Below, I've shared the stories of this year's tees.
THERE'S NO PLACE LIKE HOME (above)
According to the Library of Congress, The Wizard of Oz is the most-seen film of all time. It belongs to everyone. Yet it's so deeply connected to queer culture and history, in surprising and complex ways. For example: the New York Public Library has a vast ACT UP archive, including a series of Wizard of Oz-themed posters which take aim at Rudy Giuliani (Tin Man), Bill Clinton (Cowardly Lion), Newt Gingrich (Wicked Witch of the West), and George Pataki (Scarecrow). Another example is one I learned recently: In the early '80s, while investigating homosexuality in the Midwest, Navy intelligence officers learned that gay men referred to themselves as "friends of Dorothy." However, the officers didn't understand the phrase's meaning and connection to The Wizard of Oz. And so: "[The Naval Investigative Service] believed that a woman named Dorothy was at the hub of an enormous ring of military homosexuals in the Chicago area. The NIS prepared to hunt Dorothy down and convince her to give them the names of homosexuals," Randy Shilts reported in his 1994 book about LGBT people in the US Military. That's so insane! Erin's shirt is a 1992 souvenir from the National Museum of American History in Washington, D.C., where the Ruby Slippers have been exhibited continuously since they were anonymously donated in 1979. I had to make it the cover.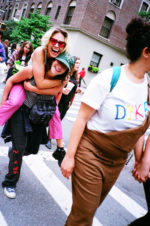 The Dyke March
I took these photos of my friends Kindall, Austin, and Masami at last year's Dyke March. The Dyke March is my favorite Pride event because it is truly a march, not a parade. There are no floats, corporate sponsors, or hierarchy of any kind.
OSCAR WILDE TEMPLE / SPEED OF LIFE
I am a big fan of Marc Hundley's artwork—particularly his t-shirts. I have given my brother four Marc Hundley tees as birthday gifts over the last seven years, ha! This Christmas, I decided to make my own versions for a few friends. The purple tee was for George, and it commemorates The Oscar Wilde Temple. In 2017, artists McDermott & McGough transformed the Church of the West Village basement into a Victorian-era chapel inspired by Wilde's visit to America in the 1880s. It was a beautiful and healing space. You could light a votive candle and write someone's name who died from AIDS-related complications in a large book. I only found out about the Temple on the last day it was open, and so did George. We went separately, but the experience drew us closer together. The grey tee was a gift for Conor, my brother and fellow Peter Hujar fan. I also made a shirt for my friend Dan using phrases from Us Swerve, a performance by Alex Baczynski-Jenkins at the Swiss Institute in 2016. Another, for my friend Stephen, had the first two lines from This Mortal Coil's "Kangaroo."
Tea Dance / Julius
Left: Here's Kindall and Kate dancing at the Boatslip Resort's legendary Tea Dance in Provincetown last summer. I was born and raised on Cape Cod, so Provincetown has always been a special and affirming place for me, my family and friends. It's so much fun to bring my New York pals and show them around. I actually have another version of Kate's t-shirt myself—my skeleton is wearing a top hat and bowtie!
Right: Julius is my favorite bar in New York. I have taken so many photos inside, I will probably do some kind of zine or show. My boss got me this tee for my birthday. Sometimes, when I am there with my friend Stephen, my favorite bartender greets us by saying, "Welcome home." It means the world to me.
BIG FAG / VOGUEING
Left: This was taken at one of J.D. Samson's great PAT parties. Easily the best Black Flag bootleg I've ever seen.
Right: Alex has an incredible collection of everything, but his t-shirts are especially fire. He used to man the Procell shop on the weekends, so he may very well have sold you one of your own best tees.
SCREAM AGAINST HOMOPHOBIA / Tom of Finland
Left: This is the most recent gay tee I purchased on eBay. That was my face when the seller accepted my $20 offer.
Right: Erin used to live in Chelsea and got this tee at one of the gay sex shops on 8th Ave. She swears that's the best place to get Tom of Finland tees.
Stonewall 25
Simone on her roof in my Stonewall 25 t-shirt, on the eve of Stonewall 50, sums it all up for me. I will be donating all proceeds of this zine to SAGE, the nation's largest organization working to improve the lives of LGBT+ seniors. SAGE has five centers in New York City, and is opening inclusive affordable housing developments this year. This zine is a small thank you to people who paved the way!