Spanning photography, collage, painting, and video, 'Phosphor: Art & Fashion' celebrates a chameleonic practice across three decades
Born in Amsterdam in 1975, Viviane Sassen first stepped into the photography world from "the back door" while studying fashion design at Arnhem's University of the Arts in the early-'90s. "I always had an eye for graphic shapes, lights, and shadows," she tells Document, recalling that she gravitated toward the medium because of her fascination with fashion photography. "It all started when I was working as a model, back in my student years," she says. After stumbling upon the work of legendary photographers Helmut Newton, Guy Bourdin, and Richard Avedon, she realized that her desire to hold creative control was what spoke to her more than anything else. She transferred to a photography degree, absorbing the influence of its documentary-driven curriculum, which planted the seed for her decades-spanning, eclectic career. Opening at the Maison Européenne de la Photographie in Paris on October 18 is Phosphor: Art & Fashion—the first French retrospective dedicated to Sassen's career—breathing new life into her experimentations across photography, collage, painting, and video.
Later, with the discovery of mavericks such as Man Ray, Nan Goldin, and Nobuyoshi Araki, Sassen unveiled "a much more intimate, emotional kind of photography." She lent her imaginative gaze to boundary-pushing magazines like Dazed, i-D, and Purple. "It was an exciting time to emerge," she says. "Suddenly, photography was moving away from its most traditional connotations—leaving same-size frames and black-and-white shots behind—to embrace the inventiveness posed by graphic design." As unconventional edits and daring layouts took over the editorial industry, Sassen chased the opportunity to "carve out [her] own style." Describing her eye as "wired in such a way so as to pick up on shapes, primary colors, and their opposites," the photographer summarizes the thematic and aesthetic core of her work as "a play of contrasts."
Stripped down to its fundamentals, Sassen's work captures the ambivalence of human existence: "My photographs are about life and death—the subtle balance we are called to maintain between order and chaos, darkness and lightness, and all the other opposites that make up our experiences." The photographer's journey, similarly, has been punctuated by both joy and grief. "I was only 22 when my father passed away, and for a very long time, that event filled me with an overwhelming, existential fear of death," she says. Searching for ways to process the loss, Sassen began to look at her creative experiments as a "catalyst for fear." She embraces the extremes of her emotions—"because the fear of death is not that far removed from the fear of life.
The daughter of a doctor, Sassen spent her early childhood in Kenya, where her father worked, before returning to Amsterdam at age five. The shift, she recalls, was a "shock to the system." "Up until that moment, Kenya was all I knew. Because I had never consciously been in the Netherlands, going back to it felt like experiencing a diluted, much greyer version of life in itself," she says. Sassen felt unrooted—a stranger in her own land. She found herself stuck between fading memories of a distant home, and the reality of her country of birth. At 15—a decade after her departure—she returned to her Kenyan village for the first time. "You know how it is with memories," Sassen says. "As time goes on, your recollections begin to blend with those of your parents, and your parents' stories become your 'memories.'"
The visit felt like coming full circle for her: "I could finally verify some of the things I thought I knew—the taste of sugarcane, the route from my family's house to school, the church, the hospital, and the market. Kenya was, and will always, feel like home to me." Her earliest projects were lensed between South, East, and West Africa, evocative of her relationship to the continent. Series like Die Son Sien Alles (2002-2004), Flamboya (2004-2008), and Parasomnia (2007-2011) cemented Sassen's ability to see and to portray her sitters in an arresting, yet fundamentally human way. The image-maker captured her muses—mostly people she knew, or friends of friends—as one with surrounding urban and natural landscapes. In a mixture of spontaneous and performative portraits, she rendered the fluidity of movement and the emotive charge vibrating through the entangled limbs of her subjects.
"To have art as a canvas for my hopes, wishes, and uncertainties has been the most precious gift life could have given me."
At once fashionable and mysterious, familiar and ethereal, Sassen's photography belongs to the mystical realm. Commissioned by Rotterdam's Nederlands Fotomuseum, her 2014 UMBRA series grapples with the shadow as "a metaphor for the anxiety and desire, memories and expectations, imagination and illusion that manifest in the human psyche." The project takes Sassen's graphic eye to the forefront in a rebus of sorts, juxtaposing minimalistic sceneries like deserts, seashores, and mountainous views with human silhouettes that break up the compositions. Depicting the body across life stages, UMBRA draws poetic parallels between human and non-human shapes. Through the blending of these two worlds, Sassen seems to address the cyclicality of the human condition and our inevitable return to the elements—air, water, earth, and fire.
If the antithesis between realism and abstraction is one of her leitmotifs, nothing is more scrutinized, celebrated, and documented by Sassen than the human body. In her series Roxane II (2017), for example, she created an anthology of the female form in collaboration with her long-term muse, Roxane Danset. At once emphasizing and recasting the sinuosity of her model through symbolically-placed patches of bright paint, Sassen unleashes a "mutual portrait" of womanhood. While the photographer tends to present the bare body as a bold manifestation of one's inner dimension, her own relationship with it has evolved over time. "As a teenager, I used to be very self-conscious," she recalls. "I was quite prudish, and hadn't quite managed to feel comfortable in my skin." It was during her fashion school years, faced with fit models in their underwear, that she found a way to not only accept herself, but also to unveil the myriad possibilities in inhabiting the body.
"Long before starting to take photographs, I would stand in front of the mirror to see what sorts of weird poses and shapes my body could morph into," Sassen explains. Although she wasn't holding a camera, "I would 'shoot' those images simply by closing one of my eyes—that was the beginning for me." As she started to look for subjects outside of herself, the photographer fell for those with whom she established an instant connection. "It doesn't take much more than looking them straight in the eye," she says. "When there is chemistry and intimacy, you can go on a journey together."
While every shot marking her prolific career unleashes the same irrational wonder, Sassen's process and production are constantly expanding in new directions. "I love to explore different ways of seeing, looking, and making," she says, referring to her studio time as a fundamental, uplifting part of her life. "When I am grumpy, my husband tells me, 'Why don't you go make something?' Since the very beginning, art has been a way out for me—nothing makes me happier." Sassen has amassed numerous accolades, including the Dutch Art Prize and the Prix de Rome, the International Center of Photography's Infinity Award for Applied, Fashion and Advertising Photography, and a nomination for the prestigious Deutsche Börse Photography Prize. She's established herself as one of the most expressive, eloquent voices in contemporary photography.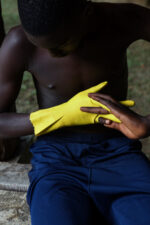 Yet, there is always margin for improvement, regarding future artistic challenges and a more critical understanding of past creations. "I am a white woman," Sassen says, "and my camera is a tool of power." As the discussion around representation became more prominent over the last 10 years, she began to look at some of her oldest works—lensed over recurring trips to Africa—in a different way. While these photographs were taken with the permission of subjects, who knew her intent, Sassen confesses that, "with hindsight, I probably wouldn't have shot some of them." Speaking on artists' social and political responsibility, she says that—rather than openly advocating for specific issues—"the job of creatives should be that of cultivating imagination and raising the right questions."
With her latest series Venus & Mercury (2020), Consequences / Cadavre Exquis (2020), and Paint Studies (2021)—incorporating techniques like painting, collage, video, and sound installation—the photographer's craft honors that spirit of continuous transformation. "To have art as a canvas for my hopes, wishes, and uncertainties has been the most precious gift life could have given me," Sassen says. "Like in a dream, it made my inner and outer worlds meet, allowing me to play, experiment, and create every day."
Viviane Sassen's Phosphor: Art & Fashion is on view at the Maison Européenne de la Photographie in Paris through February 11.