Founders Jessica Jung and Dami Kwon turned to their childhoods for Seoul Fashion Week, recalling and reforming the architectures and uniforms of their pasts
We11done, the Korean fashion label founded by Jessica Jung and Dami Kwon, held its debut runway show during Paris Men's Week in January 2020—but we all know what happened after. With the pandemic shutting down the world, as well as the factories in Korea, We11done took a three-year break from the catwalk. Now, they're back with a return to the runway in Seoul. "It's very easy," explained Jung on why they picked the South Korean capital for their second show. "We are Korean."
Seoul Fashion Week and Seoul Art Week fell at the same time this September, so it was even more fitting that We11done found inspiration in the work of Korean-born, London-based artist Do Ho Suh. In past collections, the art-loving founders referenced Édouard Manet and Fernand Khnopff; this season, they staged their show at K-POP Square at COEX, the city's cultural epicenter and home to Frieze, which houses a convention and exhibition space, numerous hotels, and a mall.
If you're not familiar with We11done, you should be. The smart yet edgy line has been spotted on the likes of Billie Eilish, Kylie Jenner, Justin Bieber, and G-Dragon, the so-called king of K-pop who also happens to be Kwon's little brother. Jung and Kwon are the masterminds behind Rare Market, the now-shuttered Seoul concept shop that stocked labels like Martine Rose, Peter Do, Kiko Kostadinov, Marine Serre, and Jacquemus. We11done taps top international talent like stylist Olivier Rizzo, photographer Willy Vanderperre, and supermodel Mariacarla Boscono, who worked on their creative for Fall/Winter 2022.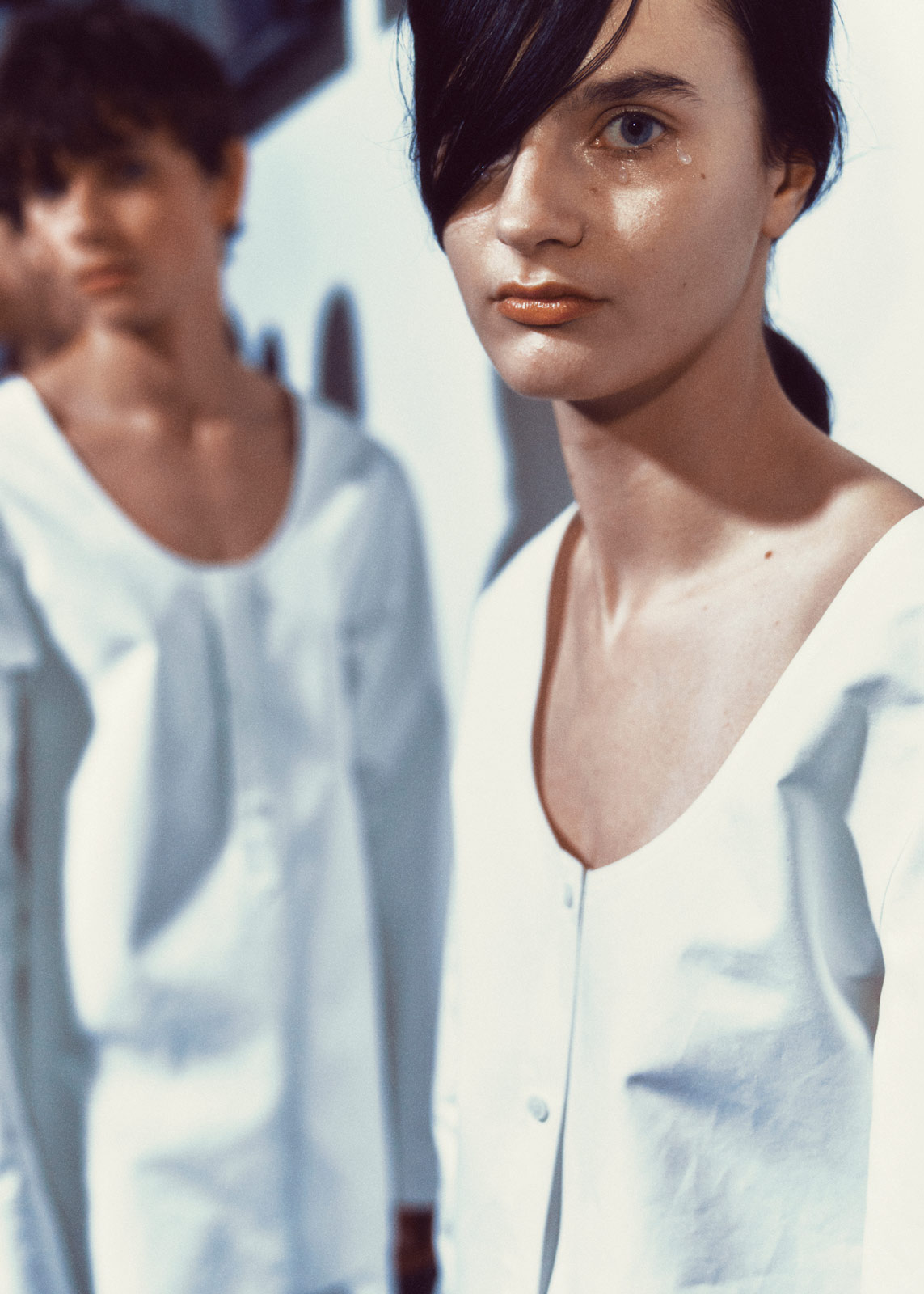 Do Ho Suh is known for creating ethereal, architecturally-informed sculptural works based on the concept of memory. Jung and Kwon took that idea and made it their own, with their collection Remnants of Home. They searched through their childhoods for references for Spring/Summer 2024: Linoleum wood grain from their family room floor appeared on shiny, oversized patent tops; crisp, strapless dresses wrapped around the body like baby blankets; pleated skirts, glossy backpacks, and prim white-collared shirts recalled school uniforms. Elsewhere, conical bra tops extended from their lingerie-inspired Touch bag.
The pair directly referenced Suh's work as well, adapting his 2010 site-specific installation Bridging Home—the artist sandwiched a traditional Korean residence between two larger brick buildings in Liverpool, England—for a slick red bag. An electric-yellow sweater emulated the fragile nature of the materials used in many of Suh's works; even the color palette of red, mint, yellow, and seafoam alluded to his oeuvre.
Jung and Kwon have big ambitions for We11done, anticipating a return to the Paris Fashion Week schedule. "We want to lead the new culture of Korean fashion brands," said Jung. "People will start paying attention to Korean fashion."