Ideated by renowned artist Jeffrey Gibson, the landmark artbook builds roots from the Indigenous creative community
An ornate headdress worn by a figure whose eyes are concealed by beaded fringe fascinators. A piece of stoneware painted so carefully it feels like the structure itself bleeds. A person's disembodied arms inked with a series of numbers, the bluish cast orbiting each digit like a ghost. This is the stuff of An Indigenous Present, a book collating the work of 60 contemporary artists of Native North American descent. Conceived by Jeffrey Gibson, a renowned artist of Mississippi Choctaw and Cherokee heritage, the book centers on the embodied creative practice of Indigenous peoples, spotlighting individual practice while acknowledging the power of shared histories.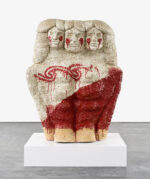 "Historically, books about contemporary Native and Indigenous art have often been composed of academic essays illustrated with artworks by Indigenous makers," says Gibson in a press release. "The writing often references previously published texts that can be problematic and outmoded. In the last decade, many exhibition catalogs have worked to change this." A landmark edition all its own, An Indigenous Present creates a visual experience foregrounded in diverse approaches to artwork and making, an idea that embodies the diversity among Native North American people whose work is often overlooked, featuring work that asserts itself as the bedrock of its own conversation, unconcerned with a predominantly white art space.
Narrative breaks follow sumptuous art photography throughout An Indigenous Present, manifesting the project's mission to marry concept, form, and medium as well as connection, influence, and conversation. Around the 250-page mark, Gibson interviews Candice Hopkins—a curator, writer, and citizen of Carcross Tagish First Nation—on the topic of creating space for Indigenous collaboration in art in today's cultural landscape. Hopkins speaks on the larger impact a momentous symposium and residency called Communion and Other Conversations—a movement in 2003 that brought Indigenous people together from broader North America as well as Australia and Aotearoa New Zealand—had on the discourse for Indigenous art, remembering Making a Noise!, a book edited by Lee-Ann Martin after the fact, dedicated to the work people shared at the residency. "The symposium and the book demonstrated a kind of transition point between different strategies. The strategy up until that point was artists creating collectives for the purpose of activism, because they had been very consciously excluded from major universities," she says, noting the fact that Indigenous artists in Canada had been advocating for their inclusion since the 1960s, leading to the creation of the Society for Canadian Artists of Native Ancestry (SCANA), a major comprehensive influence on the community to this day. "If it hadn't been for these artists organizing," she continues. "I don't think we would have the kinds of discourses that we have now in Canada, or their impact in the United States."
This interview is but one example of the power of self-representation for Native North American and Indigenous people in the arts, and the necessity of publications like An Indigenous Present to facilitate the collaboration between groups. "I wanted to make a lavish picture book—sexy was a word I used a lot to describe this project—that invited an audience to consider the creative and conceptual spaces artists need to think freely, disrupt the flow, take chances, make mistakes, and even fail in the process of creating something new," says Gibson of the greater aesthetic aim of An Indigenous Present beyond representation. Like the many movements aimed around the representation of Native and Indigenous peoples around the world, An Indigenous Present starts with the most simple, revolutionary act: unity.