LDGR's latest show explores the trope across eras, featuring artwork from the likes of Francis Bacon, Mickalene Thomas, Egon Schiele, and Andy Warhol
Last night on the Upper East Side, Rear View opened at LDGR—"a transhistorical selection of over 60 paintings, sculptures, works on paper, and photographs that explore representation of the human figure as seen from behind." In other words, a gallery show centering the ass, featuring work from the likes of Francis Bacon, Mickalene Thomas, Edgar Degas, Carrie Mae Weems, Yoko Ono, Lucian Freud, René Magritte, Egon Schiele, Andy Warhol, and more.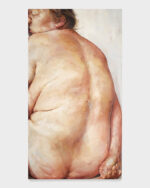 The show meditates on the trope of the Rükenfigure (literally, "figure from the back")—a compositional device coined in the early-1800s by German painter Caspar David Friedrich. Giotto was among the first to employ it in practice, "turning the backs of Christ's mourners" to create depth of field in his 14th-century religious frescoes. "[The Rükenfigure] functions as a placeholder we can imaginatively occupy, allowing us a virtual existence in the landscape," Artsy quotes historian Julian Jason Haladyn. "[The] distance, however, requires us to be more actively involved in the experience of the painting if we are to enter its world." Put simply, the paradox of the trope forges connection; drawing us in close, only to remind us of our separation from the artwork.
Rear View is expertly curated, spanning movements and styles: Francisco Botero's The Bathroom is surreal and vibrant, featuring a woman who gazes at herself in the mirror, wearing nothing but heels and a headband, waiting for her tub to fill. Barkley L. Hendricks's Pat's Back is more minimalistic—a standing figure, grasping one arm behind her back, against a pure white backdrop. There's Impressionist work, and highly abstract work, and pieces that stretch the bounds of what a Rükenfigure can be; Domenico Gnoli's Back View ignores the human figure altogether, depicting, simply, the backside of a frame.
The show is the counterpart to Full Frontal—exploring, of course, artworks featuring frontal nudity—housed on the gallery's second floor. Viewed in tandem, they're a reflection of the naked body's place in visual culture, in terms of politics, sexuality, morality, and censorship. "Rear View provides a lens onto this specific genre as it pertains to artists' desire to capture a range of human states and emotions—contemplation, longing, voyeurism, refusal, fetishism, and defiance," reads a statement from LDGR, "while drawing our attention to the act of looking itself and to the viewer's role in constructing meaning and identity."