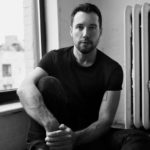 What does New York mean today? For Document's tenth anniversary, we simultaneously took a local and global approach to exploring what a city that changes like the seasons represents in a world that is hardly recognizable from the one we knew several years ago. Where can emerging cultural phenomena and new ideas be found? Can they be found? These questions took us back to the burgeoning punk and avant-garde art scenes of the '70s and throughout the city's storied literary landscape to discover the animating spirit that weaves together New York's legendary past and its unpredictable rebirth.
In this issue, Eileen Myles charts New York's history through the creation and impending destruction of East River Park; McKenzie Wark highlights the importance of the corridor along the G train as a nexus of transcreative communities; Drew Zeiba explores one of the fundamental journeys and joys of life, sex; and, bringing us right back to our roots in the printed page, ten writers explore the legacy of the late Joan Didion, whose singular perspective burrowed into the collective local consciousness of the '60s with the publication of her seminal essay about loving and leaving New York.
In terms of New York's visual culture, we unearth images by Jimmy DeSana—arguably the most revolutionary and undercredited artist of New York's '70s and '80s avant-garde art scene—with the help of the foremost experts on his work, the artist Laurie Simmons and the curator Drew Sawyer, ahead of the first retrospective of DeSana's oeuvre at the Brooklyn Museum this fall. Without losing sight of the local, we also introduce a new section, Places, foregrounding global culture through a Document lens. Editor Aaron Hicklin travels to Ukraine to share personal stories from witnesses of and participants in the war; and world travel photographer Frédéric LaGrange synthesizes the most memorable moments of his career into a series of faces belonging to those in far-flung places who opened doors, homes, and hearts to a stranger.
Creative and fashion director Sarah Richardson has crafted a striking range of inspiring fashion for the anniversary issue, with the help of stylists Olivier Rizzo, Panos Yiapanis, and Camille Bidault-Waddington, and visionary image-makers Glen Luchford, Mario Sorrenti, Juergen Teller, Gray Sorrenti, Jack Pierson, Willy Vanderperre, and Nan Goldin to help us all remember to dream.
How does one celebrate ten years in print? Our most ambitious cover series ever, 13 in total, ranges from New York icons Sigourney Weaver and Iggy Pop to new voices like Ocean Vuong, Ashton Sanders, Oliver Sim, Ever Anderson, and Little Simz. "If you fail to seduce the audience, if you fail to entertain them, you're fucked," Iggy Pop tells Ottessa Moshfegh, as the Godfather of Punk and the author-provocateur discuss making use of established cultural paradigms to shock and seduce, and survey the gritty, chaotic punk scene of Wuhan, China. Actor (and diehard Angeleno) Ashton Sanders tells the art critic and curator Kimberly Drew about his musical theater roots and Broadway ambitions, expounding on his belief that the greatest art is born from the chaos around us. Across the pond, Oliver Sim tells Xavier Dolan about the long, painful process of creating his new record by putting the "ugly, monstrous things I feel about myself into the forefront" to change the world of someone in a way that nobody did for him; and Little Simz speaks to the importance of using her power of delivering words for the greater good.
Document was born as a collection of disparate ideas and voices gathered together on the printed page to help us understand the world, to make sense of where we've been and where we're going—a record of our times, an archive of culture, a blending of perspectives with a similar fascination and regard for beauty. For this tenth anniversary issue, that far-reaching ambition began with looking at our immediate world more closely; and finding that New York's past, present, and future may exist all at once.
Document Journal Summer/Pre-Fall 2022 Issue No. 20 is available for pre-order now. New covers will be unveiled over the coming days.