Document takes an intimate look at the makeup artist's process as she channels Carlo Mollino and Italian singer Mina
A cohesive makeup look is essential to any good fashion campaign—a fact that Lucy Bridge knows well. The Blackburn-born artist has worked with a handful of the industry's greats: Jil Sander, Loverboy, Louis Vuitton, Viktor & Rolf, Missoni. Most recently, Bridge collaborated with Dries Van Noten for the Belgian label's Fall/Winter 2022 presentation, set up in an empty Paris mansion. She shared a few behind the scenes shots with Document, providing an insider's look at the all-important creative process.
The Van Noten collection channeled Carlo Mollino's polaroid series—erotic, elaborately staged photos of women, which were found in a shoebox in his Turin apartment upon his death in 1973—as well as the Italian singer Mina, known for her lush voice, bad girl image, and sex appeal. Bridge referenced the latter inspiration quite directly: Models wore layers of Mina's signature top-and-bottom false lashes, with heavy black eyeliner all the way around. Their eyebrows were bleached, mirroring Mina's affinity for shaving her own. The presentation showcased Van Noten's new beauty collection, which sets itself apart with a vibrant lipstick line; Bridge used shades Latin Carmine and Antwerp Vermeil for old school, two-toned lips, or stuck to the neutrals, drawing attention to her dramatic eyes.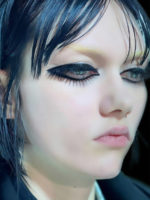 As the setting combined with the clothing, and the clothing with the makeup, Van Noten's presentation became a merging of eras, held together by a certain gritty, risqué charm. It was the mansion's peeling wallpaper, the nostalgic, big-eyed gazes, that let the garments stand in context and in their fullest glory.