In collaboration with Nike Every Stitch Considered, Document highlights innovative creatives who are expanding our cultural landscape through acts of exploration, process and education.
"The role of my work is not to dream up new objects or products, it's to think about process and power," says creative multihyphenate Salome Asega. "As artists, it is romantic to think about ourselves alone in the studio, making our great work. But what's exciting for me is the messy process of how we get to the future."
Asega, who was recently tapped to direct the New Museum's cultural incubator, NEW INC, engages in this process on multiple levels—working at once as an artist, researcher, and advocate for systemic change in creative industries. "NEW INC is a team of people who are really over the status quo—the standard way of working—and are interested in creating a new structure that champions collectivism and cooperation. In promoting this kind of creative thinking, it's our responsibility as organizations to support people who are the front lines of dreaming up potential futures and also showing us new ways forward," she says. Asega is also a co-founder and board member at POWRPLNT, a network of artists committed to providing the resources, mentorship, and education to support creators under the principle that in our increasingly digital landscape, access to technology is a right, not a privilege.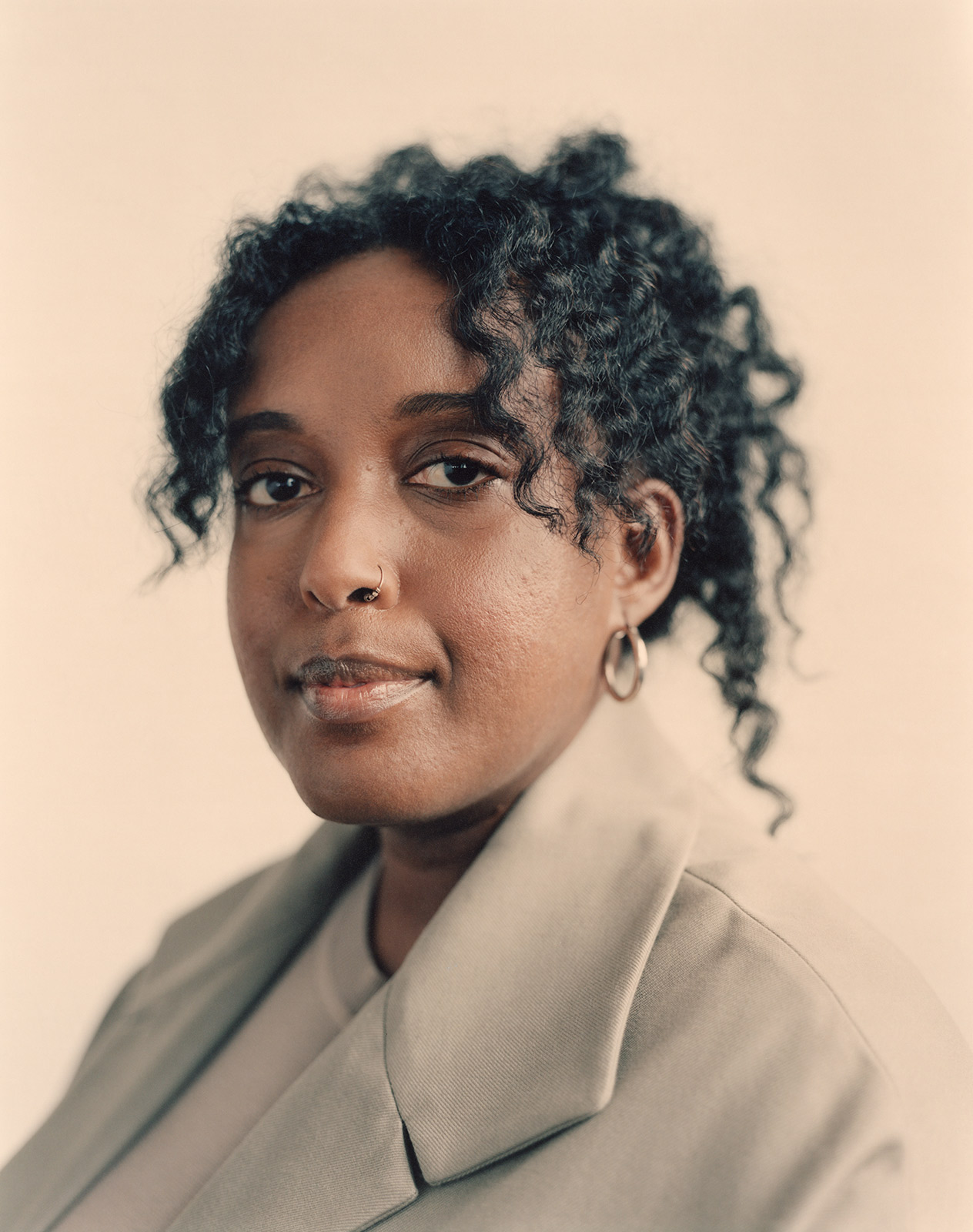 These values are closely aligned with Asega's own creative practice, which often utilizes technology as a tool to build connections and foster a sense of community. In one project, The Crown Heights Mic, Asega created a broadcast network collaboratively built by neighborhood stakeholders and residents. "Through several sound funnels scattered around the neighborhood, we are able to hear the health of our neighborhood through each other's voice," she writes. "This network creates a safe and anonymous forum that is determined, used, and sustained by those of us present and on the streets." In another recent project, Iyapo Repository, Asega collaborated with Ayodamola (Ayo) Okunseinde to create a resource library for digital and physical artifacts that affirm and project the future of people of African descent. Developed through a series of participatory workshops, the project "encourages participants to become archivists of a future history they envision"—offering new ways to conceptualize, preserve, and celebrate cultural objects.
Equally central to Asega's work is the use of technology to explore cultural mythologies. In an ongoing research project POSSESSION, which is currently on view at Montclair State University as part of the exhibition Tech/Know/Future, Asega utilizes VR to explore the connections between virtual reality and spirit possession in West African and Caribbean spiritual systems. The VR experience—the first in a series Asega hopes to expand to feature different deities—takes you to the underwater fortress of Mami Wata, a gendernonconforming deity venerated throughout much of Africa and the African Atlantic. A seductive siren-like spirit, Mami Wata is thought to call people to the sea to possess them, offering them wealth and attractiveness. "I was very interested in these sculptural figures I was seeing, these tiny figures of people that were holding something above them," she explains. The figures represented Orishas: mediators between the human and spiritual realm that are thought to possess individuals, melting them from the head. "So I was thinking about VR headsets as these possessive tools that, when they are on your head, can possess your experience and take you to other places," Asega says.
In another project, Level Up, Asega collaborated with dancers Ali Rosa-Salas and Chrybaby Cozie to create an interactive videogame using hacked Kinect software. In it, players were taught to perform the real Harlem Shake, a street and hip-hop dance that originated in 1980s Harlem before being eclipsed by the viral meme version in 2013. When this phenomenon became so widespread that videos of the authentic dance move became hard to find, Asega got an idea: to gameify the Harlem Shake and reclaim its origins by rewarding individuals for how close they came to replicating the dance move as it was meant to be performed.
"I like being places I'm not supposed to be, and bringing creativity where that kind of thinking isn't always encouraged."
These themes carry through to Asega's upcoming project for The Shed, which sees her collaborate with fellow artist Keenan MacWilliam to expand a previous project about hand games—a kinetic and oral tradition associated with Black girlhood, which scholar Dr. Cornel West once described as a way to "survive and dream of freedom." In its first iteration, the project saw teenage drum and dance line The Marching Cobras take New York's highline by storm, before turning to the audience to engage them in a hand clapping game. "That was about young people's right to public space," Asega explains. "We're making a film, and have also developed an interactive visual sequence where people can develop their own hand game—we basically broke down the basics of hand clapping choreography into something you can sequence and export to create your own iteration."
Finding ways to bridge the gap between cultural tradition and new media is crucial to Asega's work, which continues to evolve and take different forms based on the communities and spaces she works with. "I am interested in unlikely partnerships. I like being places I'm not supposed to be, and bringing creativity where that kind of thinking isn't always encouraged," she says, explaining that the most successful aspects of collaboration often linger long after she leaves—whether in the form of lasting relationships between people, or an altered perception of the spaces they inhabit. "When I collaborate with a community organization or art organization for my work, I am thinking about place, and really seriously thinking about who exists next to the space I am working on, and how can I invite them in to make it less of a scary place to enter," she explains. "We all have our own experiences, so I want to take my viewpoints, and fold them into someone else's to build a shared world."
Nike Every Stitch Considered celebrates athletes and individuals across arts, culture, music, and literature who use their platforms to explore, educate and ask vital questions about what it means to be creative today.
Hair Erol Karadag at Saint Luke. Make-up Mimi Quiquine at She Likes Cutie. Cinematographer Paul Rasmussen. AC Alex Dzialo. Gaffer Dave Steffey. Key Grip Cal Robertson. Song "Ted's Interlude" by Baltra. Sound Mixer Thomas Wynn. Editor and Colorist Matt Briones. Photo Assistants Mike Broussard, Michelle Peralta. Stylist Assistant Grace Beck. Hair Assistant Zach Dierks. Make-up Assistant Bobby Haas. Head of Post Production Michael Czeizinger. Production Matte Projects. Production Director Madeleine Kiersztan at Ms4 Production.