For Detroit Month of Design, Jack Craig hosts works from creatives across disciplines
Jack Craig's studio, the site of the Cranbrook Chair Show, may be the easiest archetype of the pneuma of Detroit's design community. On the city's East Side, the airy cinderblock building once functioned as a tool and die shop for metal stamping and fabricating. Craig came across it after years of abandon, during which it served as a junkyard of sorts. Three years of laborious effort culminated in the studio as it stands today—an expansive room flooded with light, some of which comes from a large doorway. It was repurposed from a massive hole, left behind by a fire truck that crashed through the cinderblock.
The infamous aftermath of Detroit's deindustrialization allowed the decay of social infrastructures and urban blight that have now come to dominate its reputation. Often left unseen to outsiders is Detroit's open-handed community, driven by collaboration and experimentation. Often at the center of these innovations are practices of reuse and repurposing, like that of Craig's studio.
The only US city named a UNESCO City of Design, Detroit is defining its rise toward an impending cultural renaissance, which seeks to rebuild the city in idealistic forms. Driven by Design Core each September, Detroit Month of Design foregrounds future-thinking creatives and spawns innovation in the city.
As part of the Month of Design's 2021 programming, students and alumni from the acclaimed Cranbrook Academy of Art revived the tradition of the Cranbrook Chair Show. Designers may transcend the functionality of the 'chair' to create works of art. Hosted by Craig, an alumnus of the program, the show featured works from artists who specialize in a variety of disciplines, from sculpting, to film, to architecture.
Craig's BCF Chair examines the largely artificial landscapes that we live in, harvesting the materials of the interior and applying them beyond their intended purposes. His chair pieces together locally sourced carpets that he flame fused into coral-like structures. "[Carpets] are at this intersection of an economy of distribution, but have to have this mass appeal. The mass appeal itself taps into a more primal thing," Craig explains. "It's trying to be animal in its comfort and warmth, but it's a false flesh."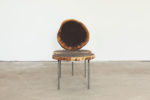 Across the forty featured pieces, chairs take a variety of unique forms: a chair featuring hand-stitched leather is built from starkly bent steel (Iris Eichenberg, Alberte Tranberg), a metal spring chair draws from the aesthetics and feelings of pain (Kelly Agius), slices of wood are arranged into a long lounger, placed in front of a filmic steel backdrop (Mandy Moran), and strange carvings serve as untraditional gestures on an otherwise traditional green chair (Aaron Blendowski).
A powdery pink plush toilet, designed by Jenna VanFleteren, takes inspiration from her grandmother's monochromatic bathroom and an expansive definition of 'chair' as anything that can be used for sitting. Toilets have long been on VanFleteren's brain, as the daughter of a plumber—her Soft Stool is an early iteration in a longer series of millennial imaginings of what a toilet can be.
For the Cranbrook Chair Show, the chair is rethought as a structure. Artists draw from materials still living from the city's past, and explore new futures for them.