Driven by an activist spirit, the artist and MIT assistant professor creates participatory installations that reveal urgent truths about our unjust world
Ekene Ijeoma's art is multifarious: a public light installation here, a musical performance there. His works are housed in museums and on the internet. They're visual, then auditory, then tactile, then all three at once—expertly pivoting around material and medium.
"With every work, I'm trying to reduce all material and form down to the essence of the message," Ijeoma says. "A lot of the issues I'm talking about are intersectional, so I've been thinking about how to take an interdisciplinary approach to each piece." The Nigerian-American artist narrows his intentions down to a couple of terms: Sometimes he's 'critiquing' a thing, and sometimes he's 'proposing' an alternative. Beyond that distinction, Ijeoma works intuitively. "I don't think that everything can be expressed in one medium. So when I have an idea, I'm not constrained."
Ijeoma's past projects are united by a commitment to social justice, as well as a heavy reliance on data and qualitative research. For instance, Wage Islands is an interactive sculptural series which submerges a topographic map of New York City in a pool of black water—the map's elevations are determined by the median monthly housing costs of any given location. Viewers are invited to select an hourly wage, and the water drains or rises, providing a black-and-white representation of the stark economic disparities among the city's various neighborhoods.
Then there's Pan-African AIDS—another data-driven sculpture which comments on the hypervisibility of the AIDS epidemic in Africa, compared to the one that exists in Black America. Between 2008 and 2015, infection rates in the former decreased, while they rose within the latter. Ijeoma layered a series of plexiglass sheets, transitioning between representations of the two demographics at the exact rate of increasing infection in Black America.
Ijeoma was once fondly called a "data nerd," during a spot with NPR. The segment was covering his ongoing project, Deconstructed Anthems—a performance art piece, in which a self-playing piano or musical ensemble repeats "The Star-Spangled Banner" a handful of times, removing notes successively at the rate of mass incarceration in a given region, for a given year. The result is a stilted, eerie composition, which trails away in sharps and flats, concluding in a strained silence. The absence of music reflects an absence known within Black communities and families—it's an absence inflicted by the prison system, matter-of-factly transposed into a distilled, sonic form.
I can understand why Ijeoma was bestowed with such a label—data nerd. The artist privileges fact, information, and education in everything he puts out into the world. When Ijeoma isn't in New York, he's in Cambridge, teaching Media Arts and Sciences at MIT. He's the founder and director of the university's Poetic Justice group—an assemblage of "critical thinkers and makers who are exploring new forms of justice through art." Ijeoma studied information technology during undergrad, and he worked in professional design before turning toward studio art. These credentials—combined with a deadpan manner and a thinker's commitment to vocabularic precision—would place anyone under the 'preoccupied academic' archetype we all know well.
But as we tuck ourselves more deeply into a post-truth society, Ijeoma's data-driven art hangs in the balance. The notion that art should concern itself with factuality is relatively new—maybe, revolutionary. It implies that factuality has run away from the sources people at one point sought it: news media, politicians, state-related institutions in general. Ijeoma's work has an urgency to it, in any case. He's an artist who has personally assumed the responsibility of taking data and rendering it legible, accessible, with a whole slew of diversified techniques—an artist who needs us to realize that data points translate to real lives. That responsibility shouldn't be trivialized as a personal quirk. Ijeoma uses data because it's as close to undeniable as he can get, within a political-cultural quagmire characterized by misinformation and fake news.
In the case that Ijeoma isn't working with data, he's usually creating it. In 2019, the artist began work on A Counting—a project that arose in response to the impending US Census, which has historically underrepresented America's linguistic and ethic diversity. "We're creating an archive which includes all the languages that have ever been recorded," Ijeoma explains. "There are over 1,300 spoken across the US. Over about 700 are spoken in New York. We select those that are less heard, and less represented in our data set, and we actually display those more." The artist asks that participants count to one hundred in their native language, over the phone or through a website. You can stream a few specific cities—New York, Houston, St. Louis, and Omaha—or the US as a whole, including signed languages. Each iteration is continually remixed, and never repeats a participant in a single count.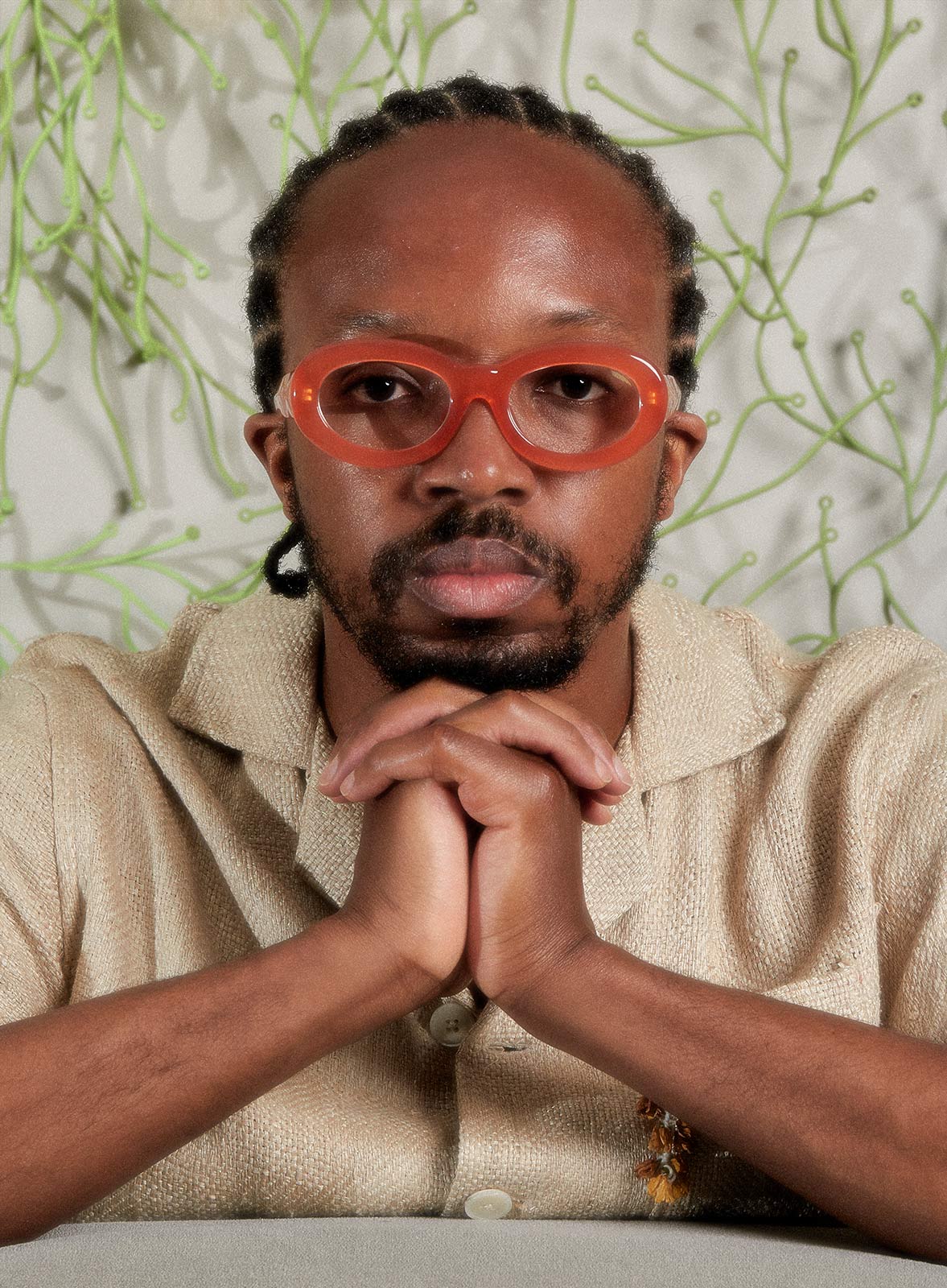 The artist's last public artwork was Breathing Pavilion. It was on display in Downtown Brooklyn earlier this year—designed amid losses from the pandemic, with a mind to systemic police brutality against Black Americans. The artwork was all-encompassing and multi-sensory—a circle of illuminated, air-filled columns, which Ijeoma likens to a 'contemporary Stonehenge.' The inflatables' warm light modulated to reflect deep breathing techniques, which passersby were encouraged to go along with. The fans that supported them generated a white noise, and the gravel on the ground brought mind to a Zen garden. "All those things combined create a sense of calmness in the chaos of the city," Ijeoma says. His Breathing Pavilion was not a critique. It was a proposal. It was a new way of moving through the world—centering calmness, sanctuary, and public reprieve.
"We're going to continue to make large-scale, participatory public art works," Ijeoma says in regards to his next steps. One piece will be physically in place—a memorial for COVID-19 victims, which Ijeoma reveals will be 'living,' and in development in the coming months. Later this summer, the artist will launch Freedom Radio in collaboration with the Poetic Justice lab and the Nelson Mandela Foundation. The artwork will take the form of a global sound archive, which algorithmically combines the voices of participants as they answer questions about what freedom means to them. Ijeoma is still collecting responses via automated phone call, at +1 844-335-3588.