Riccardo Tisci taps Anne Imhof and Twitch for an ethereal marriage of technology and nature
From social unrest to global pandemic to Brexit—there's a lot to feel blue about. With its latest collection, dubbed "Bloom," Burberry's Spring/Summer 2021 line reclaims the hue, adding a bit of light and forestial mystique. The fashion itself is a tribute to British summer nostalgia, employing modernist, oversized trenches and boxy silhouettes. The color palette is a stark departure from Burberry's typical autumnal tones; Creative Chief Officer Riccardo Tisci has opted for bright cobalt and orange—a soft, lustrous sheen redolent of luxury automobile hoods.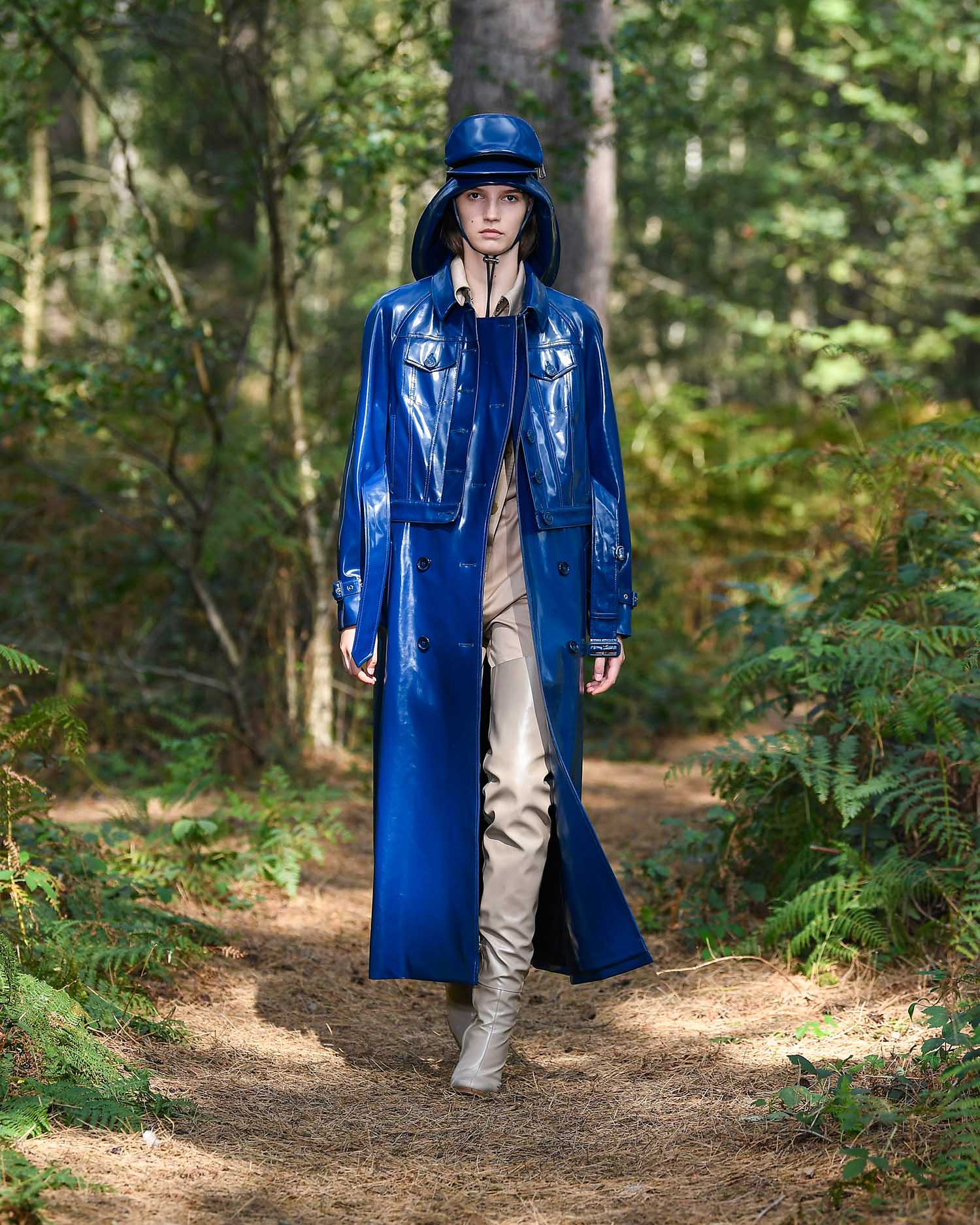 Tisci tapped acclaimed artist Anne Imhof to choreograph the show, which live-streamed on Twitch and featured Erykah Badu, Rosalía, Steve Lacy, and Bella Hadid— "in the first collaboration between a luxury fashion brand and the live video streaming service." With pandemic-induced concerns about large gatherings, brands are finding new ways to maintain some level of normalcy while retaining fashion show spectacles. It's interesting: is this present innovation fashion's future or an asterisk in Burberry's trajectory?
For Tisci, the collection is "focused and refined." But there's a hint of restrained modesty there. The collection is much less refinement and much more renewal. It marries Burberry's DNA—trenches and knee-high boots—with new tones and indicia; Tisci has called upon the elements to underpin the collections' creative narrative—graphic circular patterns and allusions to water are present throughout. The symbols, Tisci says, stand for "newness, freshness, and cleansing." And who wouldn't welcome that?