The writer talks to Document about cassette nostalgia, the year 1980, and the heritage of Black American storytelling
Whether it's before the storm's eye, inside its raging pupil, or after the lids are closed, Hanif Abdurraqib will be there to deliver his soul-bearing account. He is a writer whose essays and poetry rise from an unrelenting belief in survival. Abdurraqib's writing is anchored in the experience of not shrinking under the rock of one's human value while raising it higher, sometimes arm-breakingly high, in effort to show its gorgeousness and equal worth.
In one of his most striking essays, "They Will Speak Loudest of You After You've Gone", Abdurraqib considers the value of life that is living and flourishing, namely the life of black and historically oppressed peoples, within an economy-media system that rewards virtue signaling in the face of crisis, inequality, or injustice. White liberals stand to emotionally profit (e.g. a securitized self-esteem; an orgiastic feeling of righteousness) and monetarily profit (think brand partnerships; influencer dollars) via their performance of outrage, contrition, and grief. The result, Abdurraqib writes, is an "inability to see a body as worthwhile if it doesn't have a value you can trade in on, some sentimental cash out."
For many, the reasons and motivations to live and keep living have frequently been crushed to ashes, requiring quick reassemble and reignition in the post-2016 era. This kind of spiritual agility is demanded, acutely, by our global pandemic. When our mortality moves to sharp relief and the promissories of a brighter future seem to melt, to who and what do I owe, and where can I find the energy to act? Right now, the asking of these questions, the emotional toils and the fruits, are no better expressed than through Hanif Abdurraqib.
There is a collection from Abdurraqib's most recent book of poetry, titled in earnest, "How Can Black People Write About Flowers at a Time Like This." As a writer and citizen drawing courage from the black community, his family, and all communities seeking equality, Abdurraqib strives for a language that uplifts reasons to live and to stay. Though as the collection title indicates, he reflexively admits the doubt and shame that attends any attempt to praise, preserve, and multiply beauty during crisis. At the same time, Abdurraqib knows he must continue this attempt; to keep living, he must believe his best and bravest language. That language is a bulwark against the market of moral chatterboxing—the way this market profits off of our world's perishing, and in the process, revalues and monetizes despair and disappearance (namely that of oppressed peoples), rather than lifting evidence of human vitality and flourishing.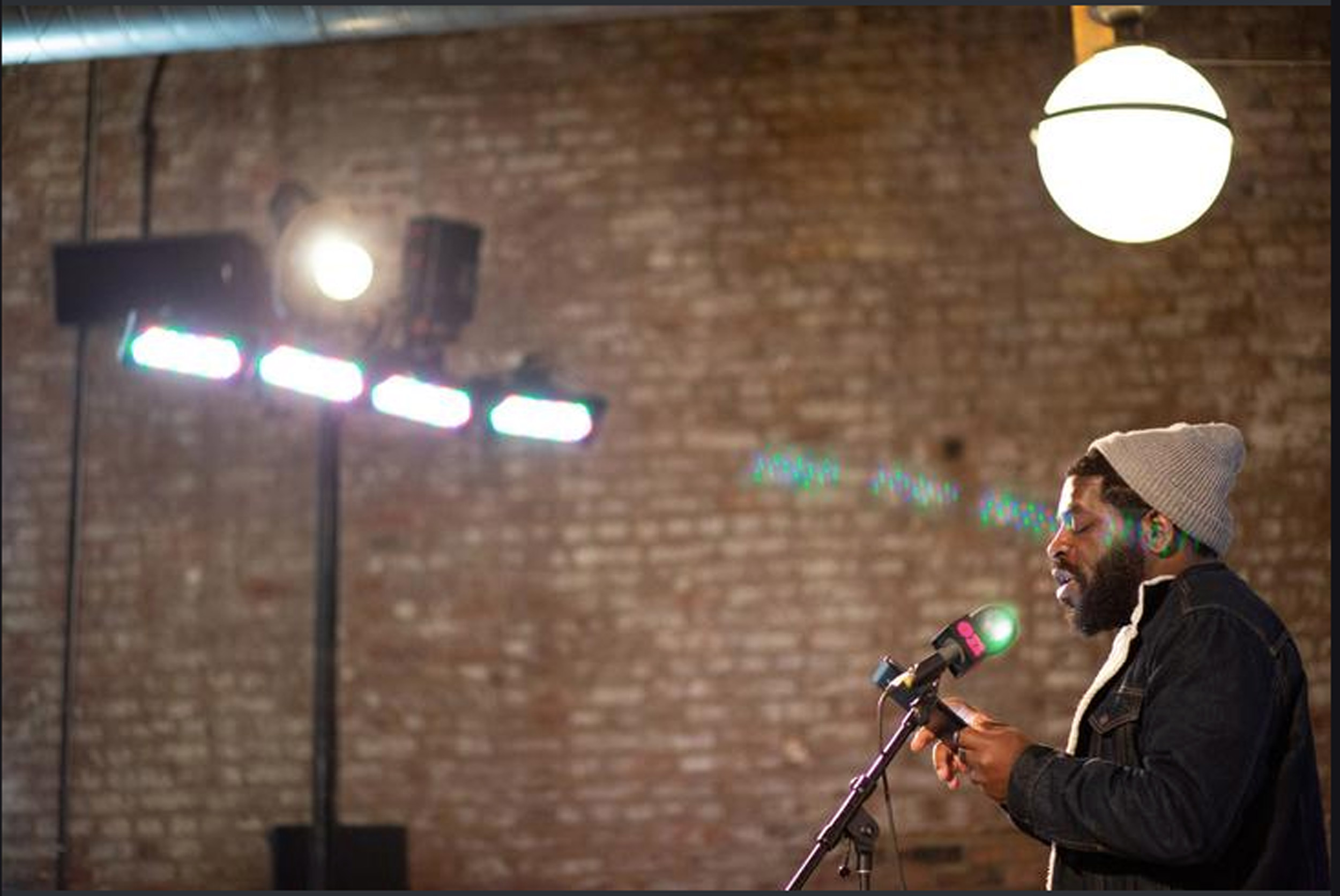 It's only been about two and a half years since Hanif Adurraqib entered the literary spotlight, after his first book of essays, 2017's They Can't Kill Us Until They Kill Us racked its boatload of Book of the Year awards. Accordingly, shoe-gazing academics and crustaceans of east-coast intelligentsia may have cornered Abdurraqib as a late bloomer and poetry misfit. Sure, Abdurraqib has lived a little while, albeit not a long while but long enough to have accumulated experiences that suggest well-trodden distance between the lives he has already lived and the Abdurraqib of recent literary success: A former college soccer player and soccer coach; a scene kid of early and mid-aughts midwest punk (he saw Fall Out Boy play their first concert in '02, the night they literally were dubbed Fall Out Boy); a lifelong sneakerhead; a former record store clerk; a poet who found poetry in his later 20s, never routing to MFAville; a reviewer who dogged his way into a columnist stint at MTV; a fiend for Marvin Gaye…
A mature sense of urgency and responsibility sharpens Abdurraqib's storytelling. Abdurraqib has a unique penchant for weaving personal narrative, nail-on-the-head analysis, and geeked-out love for all things (and types of) music, into prose that swiftly refracts his life and our world into tendered, mesmerizing portraits. The lyricism of Hanif's essays is mirrored in his verse—Hanif's now the author of two highly praised books of poetry, 2016's The Crown Ain't Worth Much and last fall's A Fortune For Your Disaster. And by the way, in winter 2019, Abdurraqib wrote the ode so many Native Tongues's head-nodders wished they could have written, a New York Times Best-Selling piece of nonfiction titled Go Ahead in the Rain: Notes to A Tribe Called Quest.
About a week before "social-distancing" firmly docked into the US lexicon and coronavirus released its invisible storm, podcasters, producers, and audiophiles were convened at Brooklyn's Wythe Hotel for the fourth annual On Air Fest. Hanif Abdurraqib took the stage as the newly announced host of Lost Notes—the award-winning music podcast from KCRW. Before an audience of Purel-chapped hands, and elbow-bumped pleasantries, Abdurraqib was joined by The Mixtape Museum's Regan Sommer McCoy for a live conversation about, that's right, the art of mixtapes. Abdurraqib opened the conversation with an excerpt from Go Ahead in the Rain, gloriously describing his childhood affection for cassettes and obsession with legendary hip hop sentinel, The Source magazine.
Coronavirus has swept the city and nation, but the enthusiasm of Abdurraqib's storytelling has continued to play itself inside me, warm like a cassette baked boom-bap that I'm holding close in this new storm. I sat down with Abdurraqib during the festival to talk about democratizing poetry readership, the heritage of Black American storytelling, his current hip hop favorites, and the year 1980.
Jordan Aaron Guy: Poetry has an established oral tradition. I've been wondering if there's potential for an audio tradition in poetry. More generally, I've been thinking about the different ways poetry could be shared. How have you thought about this with your own work?
Hanif Abdurraqib: I think about the Tracy K. Smith podcast, The Slow Down, where she just reads a poem every day. The whole podcast is just her reading the poem, and talking about it. It's maybe 7 minutes total. I think that with poetry, and any sort of audio produced type of thing around poetry has to be like that.
I think if you have poets talking about poems it feels a little inside, and if you have poets doing too much heavy-handed dissecting of a work, that's also too inside. I think any kind of audio tradition with poetry that isn't attempting to bring people in…Maybe [it needs to be about] just the poem. Letting the poem do the work. You know that's what it is with slam [poetry]. I came into poetry through slam, and in slam, that's the job—the job is not the poet, the job is the poem, and the poem does the work to connect the audience. You have to go into it with the understanding that the audience isn't going to be all poets. A slam audience can often be only 20% poets. The audience is sometimes just the person who is in the bookstore, the person who is coming off the street from work. What I love about slam is that it really depends on that audience connection. It depends on the poem to do the work.
"I come from—most Black Americans that I know—come from a long line of oral historians. People who made really vivid and really beautiful landscapes with the language they had at their disposal."
Jordan: Because of how we're receiving and consuming information, my generation and younger generations are reading differently. Words are processed differently. I wonder if, in the future, people will still enjoy sitting down and reading a book of poetry.
You were also speaking to the insularity of certain poetry communities. Do you think the form of a book, rather than, say, a piece of audio, a performance, or a video, creates more opportunity for that insularity?
Hanif: It can, but I think poetry books can [adjust] to the reader. With A Fortune for your Disaster, I tried to frame it around entry points that I thought could be comfortable for a wide range of readers, while not distilling the energy I wanted to bring through my work. Yes, undoubtedly, poetry is always going to suffer with being insulated, and I think with book form too.
But, I also think some of that has to do with the way the market views the poetry book. Oftentimes, you see the market view the poetry book as something only for other poets. But that's just not the case anymore. So I can't speak for the poet's ability to sit down with a book these days. I do still see a lot of readers, but when it comes to poetry, I think poetry needs to be pushed and marketed to folks who aren't just poets.
I got into poetry in 2011 by reading books of poems. But it was so hard for me to even access those books at first, to know what books I should even be reading.
Jordan: And by 'access' you mean, literally, where…
Hanif: …where to find the books! Poetry book sections, even though they're a little more robust now, they still need a lot of work. I think some of that starts with the way poetry is seen by the public because of the way poets, myself included sometimes, talk about poetry like it's some mythical mountain that cannot be climbed, or only climbed by a select few. It is meant to keep folks at an arms-length, so they [can] achieve whatever they need to do to have that educational access to it. And that's just not the way I came into poems.
Slam was such a democratization of the form for me, and after immersing myself in that for a while, it was like, ok, these poems can be for everybody so how can we make that a part of the language, how do we articulate that? And now we see this groundswell of teachers who teach living poets. Like how do we teach the work of living poets so that the folks who are coming up and reading poems don't feel like the only poets are old and dead and don't look like them and don't talk like them.
"I'm not saying that hip hop is at its final form, but I do think we've hit a point where I think evolution of pre-existing sounds is taking place over the evolution of new [sounds]—which is fine for me."
Jordan: You know, there's a moment in Rachel Kaadzi Ghansa's essay on Kendrick Lamar…
Hanif: …the Blues essay, right?
Jordan: Yeah, she throws in a bit from this David Foster Wallace piece, where he basically says, hip hop has had way more power than capital P-Poetry in its ability to inspire kids to start rhyming. Hip hop is poetry, period. You are a fan of hip hop, and I wonder how you see your poetry in relation to the hip hop tradition. And as a music fan and lover, would you consider your poetry to be a kind of music?
Hanif: I hope that it's musical, and I hope that it's rhythmic. But I come from a tradition of oral archivists and oral mythmakers that even predates hip hop. My father's a storyteller, his father's a storyteller, my mother was a storyteller. I come from—most Black Americans that I know—come from a long line of oral historians. People who made really vivid and really beautiful landscapes with the language they had at their disposal.
I feel like my work is just the latest in the long line of that. It's honoring those traditions first, and hip hop just so happens to fall in that tradition as well. Because all these hip hop artists are also sitting on the shoulders of the storytellers before them. Like, Slick Rick didn't just materialize out of thin air, Pusha-T didn't just materialize out of thin air—these people learn to tell stories somewhere, and they learn to map their own language and stylistic work onto [this art of] storytelling. So I think it's more important for me to look broader and say my work is in conversation with the long lineage of Black American storytellers that hip hop also so happens to be in conversation with.
Jordan: What storytellers or MC's are coming up and making some kind of impression on you? Or, that you find are innovating?
Hanif: Innovating is interesting. I'm not saying that hip hop is at its final form, but I do think we've hit a point where I think evolution of pre-existing sounds is taking place over the evolution of new [sounds]—which is fine for me. Even folks who are leaning into old sounds, like I think about the Griselda dudes, who I like. They're kind of leaning into that boom-bap, street rap shit that's existed for years and years and years, but they're kind of finding a new way into it.
I love Tierra Whack because I love the short form work. I love this idea of the song as something that an artist is attempting to escape. It's like she's dropped into a song and she's automatically trying to figure her way out of it. I like that kind of frantic, anxious—and [of course] I don't know if that's going to be her whole career. I love treating song length as a type of tension, like that to me—as a writer—that's some writer shit!
Jordan: Earl Sweatshirt's been experimenting with the short form too…
Hanif: I love the last Earl album. Some Rap Songs was alright to me, but that last one…
Jordan: The one he dropped in November, Feet of Clay?
Hanif: I loved it. On that note, I love Mavi, who was on that album. I loved his tape last year, and I didn't know about him until I heard him on the Earl album. So there's this really great way I think that rap is still doing the work of—you know, I loved being young and listening to cassettes or listening to CDs, and hearing a guest verse from somebody I didn't know much about, and then finding out [about them]. I mean there's something exciting about that. That's what the whole first Wu-Tang album was essentially, where it's like, you're hearing all nine of them, and you're listening and you're like 'Oh, I think I like that one the most, or maybe I like that one the most—can't wait for his solo album to drop!' So there's something about rap that's still doing that for me too.
Jordan: Do you ever write to music?
Hanif: Yeah, I struggle to. I have a hard time doing it. I'm really trying to get better at it though. I listen to music, mostly, all day long. Writing to music is hard for me, because I struggle with doing language in, language out. I write to instrumentals. I've gotten good at writing to jazz. Atmospheric stuff. I write really well to kind of atmospheric metal.
Jordan: Atmospheric metal?
Hanif: Yeah. With no lyrics. Because I really struggle with hearing words then putting words on the page, but you know, the way I see it, I listen to music all the time, like all the time, so if there's a point in my day where I can say, like, 'well, I'll sit out a couple of hours and work in silence' that's also fine.
"But, for as long as there are people who live for an era, there will be people attempting to romanticize it and map it onto the present era."
Jordan: You'll be hosting the Lost Notes podcast this season, and the theme is 1980—was it a joint decision to pick this theme?
Hanif: No, it was mine. It's just the year 1980 because it's been 40 years since, and I got really obsessed with two things. One: the birth of the Walkman. And two: At the end of 1980, John Lennon was of course murdered, but what people often don't know is that the night before, Darby Crash killed himself, and I was interested in that story. I was interested in the concept of one death being consumed by another.
So I kind of went to them [Lost Notes], and was like, 'What if we did a whole thing on 1980?' Just the year 1980, and figure how to make it work in like six or seven episodes. It was a pivotal year for bands in terms of like, rebuilding. AC/DC—the death of one lead singer replaced with another. Ian Curtis committed suicide, so Joy Division crumbled, and New Order kind of came in the ashes of that. There's a lot of reformation and rebuilding of bands.
Jordan: In terms of music and fashion, we've really nostalgized the '90s. But you turned to the start of the '80s. What is worth salvaging from 1980?
Hanif: I mean I do think musically, a lot of what Sommer McCoy [of the Mixtape Museum] and I were [just] talking about [was] the idea around rigorously curating, crafting, archiving the music you love. I think all those were impulses that were born in the '80s for me. I got to watch them [these impulses], and understand them through my older siblings. But from a fashion standpoint, I got nothing.
Jordan: Sonically, we're still hearing '80s drums…
Hanif: Oh yeah, I think sonically, and we're seeing it visually. Maybe not fashion-wise. But I think sonically and aesthetically, even music videos are borrowing from '80s aesthetics. Percussively, and synthesizers are once again breathing pretty heavily throughout a lot of sonic landscapes. For better or worse. Probably worse.
But, for as long as there are people who live for an era, there will be people attempting to romanticize it and map it onto the present era. Whether or not it works to great effect is up to how well it's done, but I think undoubtedly, there will always be people—if you live through an era, you will miss it enough to want to map it onto the era you're living in, and that is the birth of nostalgia.