Julia Cumming takes designer Michelle Duncan to her favorite East Village record store, where the pair discuss Karen O, Ladytron, and why a timeless suit is as rock n' roll as it gets.
Which came first, the dress that inspired the song, or the song that inspired the dress? Fashion and music have been in a constant dance with each other seemingly forever, and I feel that there is less judgement about this connection than ever before. Kids are unafraid to plaster both photos from their record sleeves and the pages of Vogue on their walls. So when my friend Michelle (founder and designer of DUNCAN New York) told me her Fall/Winter 2020 collection was inspired by artists like Ladytron and Karen O, I knew the perfect place to discuss it was my favorite record shop, Academy Records on Avenue A.
When we meet up, it's a few days before Michelle's second NYFW presentation—a candlelit dinner at Waverly Inn—and one year since the brand's debut at Mission Chinese. "I launched with the intention that this is what I have always wanted to do—this is my passion and my dream, and this is finally the time I'm doing it, and let's see what happens!" Michelle says as we grab coffees around the corner from Academy. "I made all of the samples in my size in case everyone was like, 'Oh, this is complete shit; Get this out of my face.' [At least] I could be like, 'Well, I have some clothes that I like and I can wear!'" She now makes clothes in sample size, but DUNCAN's DNA is still the same—very sexy, very mysterious, very intense, and definitely not to be fucked with.
In this interview, Michelle and I discuss the history of her brand, creating for the truly multifaceted woman, and what songs were on repeat all the while.
Julia Cumming: I wanted to start with my favorite story, which is when we met. We were fans of each other online and decided to finally bring this mutual love into reality at some fancy Soho restaurant.
Michelle Duncan: We're sitting there having this weird moment where we were like, 'Oh, you're not actually an internet person. You're a real life person.' And then at some point I just said 'Oh, let's just go…do you want a Red Bull? Do you want to have a cigarette and a Red Bull in the park?' We were essentially on a first date.
Julia: Totally. I saw you put the cigarettes out on the table and I was just like, 'Oh my god, thank god.' I had been so excited to meet you, and I had been smoking like a chimney all day. I was like, 'I'm going to meet this fabulous woman and smelling like a smokestack.' Then after you said that I realized we are just New York City soul sisters. (To clarify, I have quit smoking very wholly since this experience and do not condone it! I still do love Red Bull.)
Julia: Something you discussed was the process, when creating the first collection, of starting something that you felt a little unqualified for, and having to prove yourself in a new area. Let's talk about your background, where you were starting from. I would love to know how that relates to everything DUNCAN has done, and to this collection in particular.
Michelle: I don't have a design background. I didn't come up in the fashion industry, but it was a dream I've always had. I was always sketching and designing and hand-making things myself in my bedroom. There was something instinctual in me at the time when, in 2019, I decided I was going to pursue this. It's something I wanted to do for me and all of the other women that are exactly like me in that way. I think so many people get stuck in a stereotype of themselves. 'I'm this kind of girl,' or to use New Yorker terms, 'I'm an Upper East side girl, I'm a downtown girl. I'm an artist; I'm a banker'—whatever. I think a lot of that is shifting away now. Women are so multifaceted in everything they do, and that's who I was designing for.
Julia: Yeah! People ask me all the time, 'Who exactly are you? What is it that you do? Obviously you're a musician, you model, but then you do activism.' Allowing yourself to be multifaceted—that's true freedom. Not putting yourself in a box is confidence in your ability to be an intelligent person, in trying to get to the top of all your potential capacities.
Another reference you've brought up for the collection is alchemy, or specifically, the process of making gold. I know gold is another staple in the collection, and it shows up in a few different areas, in your beading and embroidery.
Michelle: The pursuit of gold! It's not a reality, but it's the pursuit of something that's very intangible and magical in some ways. I feel the multi-faceted woman—whether she's a musician, an artist, a designer, whatever—is pursuing something. So there are a lot of pieces with gold. Gold eyelets, gold embellishments, beading—even some of the fabrics I'm using are threaded with gold. I originally started saying that I was designing armor for women, because of the way the clothes make you feel, and the confidence boost. You've probably experienced it, when you've worn something, and you feel like a different person, because you have so much confidence, and you feel like you can take on the world. The gold is another reminder of that.
Julia: Absolutely. The feeling of wearing something you're confident in can literally change your life. The right dress can make you feel invincible. Now can you tell me about going to Savile Row, and how it influenced the collection?
Michelle: I go to London fairly often. I like to snoop around, walk around. On Savile Row, there are shops that have been around for 100 years. If you really start talking to those tailors in there—they're so friendly. I started talking to one, and he started showing me some of his patterns he has for men, for the military, dating back to the 1800s. The patterns are still relevant today. If you really look at the clothing they were making for men, especially back 100 years ago, it's timeless. I don't feel that there's really an accessible Savile Row for women. Not that women want to wear the same thing over and over again, because we have so many options—but the idea of there being a place where you get bespoke tailoring done for yourself, with amazing fabric that lasts forever, inspired me to think about a lot of those designs from 100 years ago. So you can see in a lot of my pieces—in some morning coats and capes—that the idea of them dates back 100 years ago, yet they also date to 10 minutes ago. I think it's very interesting to pull from very far back in history, and bring it into the present. Plus, this idea of Savile Row for women….I don't know if we even want that, but it's an interesting concept.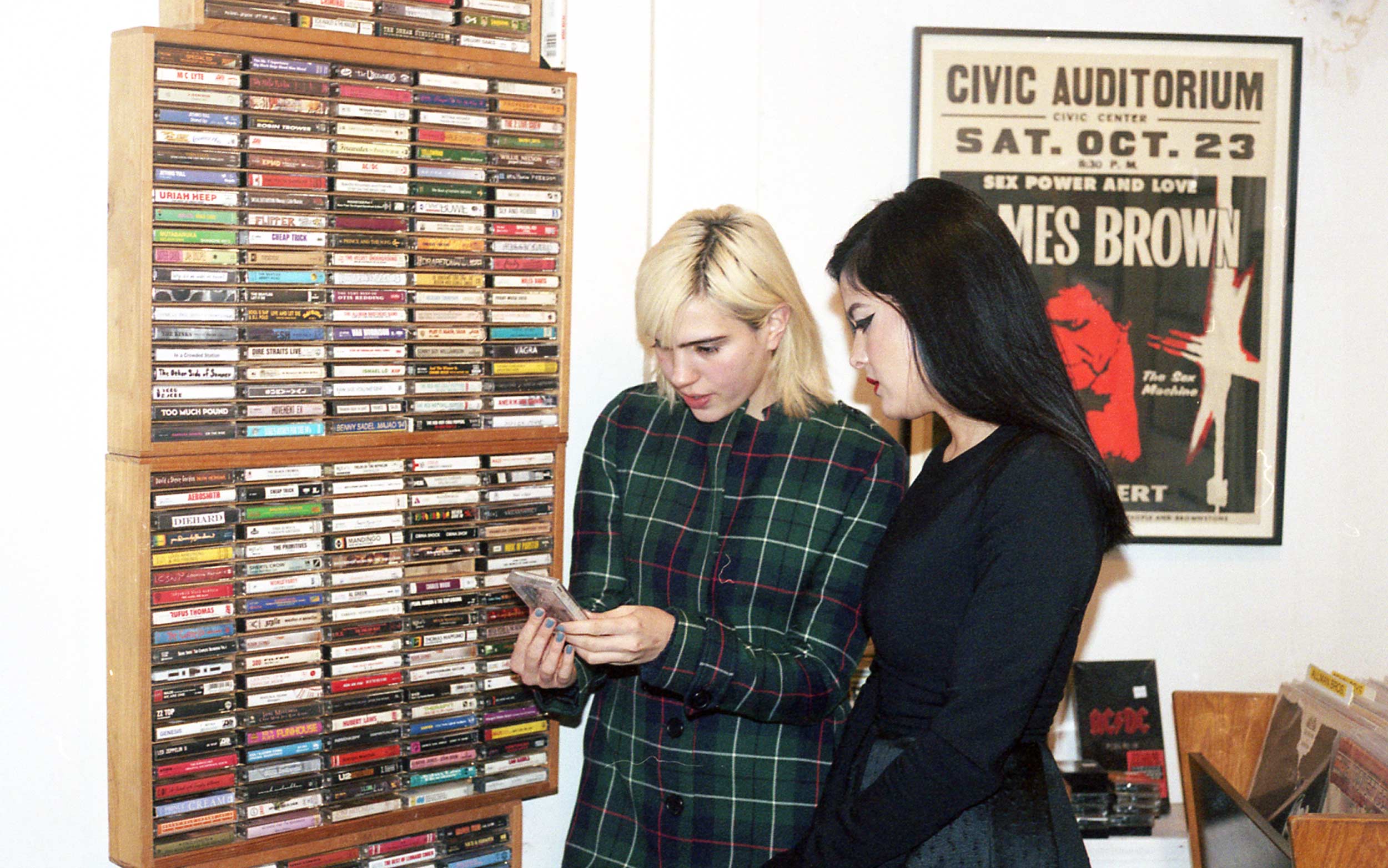 Julia: It's a status symbol for men to be able to present themselves in that way, with that level of care being offered, that timeless tailoring. And what you're doing now—it's very rock 'n' roll to me, to be inspired by something that represents status for men. You're saying, 'I am more than the man, I'm the woman–and I'm everything.' Also the idea that, 'Whatever you've done, I can also do it, and perhaps even do it better, newer, and fresher.' One of the most fun things about borrowing from history is being able to flip it upside down and say, 'It doesn't just belong in this time anymore, and it doesn't just belong to this gender anymore.'
Michelle: Everything comes and goes, becomes a throwback, and is inspired by another generation. Even the goth period—my brand has hilariously been dubbed the goth-girl-gone-corporate brand, like, that's the vibe—they were inspired by the Edwardian period. I wasn't even considering that when I was having a look around, just talking to people in London. The Teddy Boys, some of their inspiration comes from the Edwardian period as well. It's interesting how it all comes back in some ways.
Julia: Yeah, one hundred percent. And speaking of inspirations, because one of the things we've always mutually loved talking about is music. I know you're a very musical person. Especially with this collection, you were able to kind of lean into those influences. What were you listening to when designing this collection?
Michelle: I was thinking about this last night, and about how music is like a scent—it's amazing.
Julia: I just love that you said music is like a scent. Music is so inspiring on so many levels, not just auditory or visually. So saying it's a scent adds another layer to something I love so much. What do you mean by that?.
Michelle: Scents are very important for a lot of reasons in my life; I'm very attuned to them. Even when you walk past something, and you smell a candle, or you smell a fragrance, or you smell a food, it instantly catapults you back to another time in your life when that scent was around you a lot. Music also does that for me. One Radiohead album reminds me of when I was 16, and if I hear it somewhere, I'm like, 'Oh my god, I'm 16 years old again.' So for this collection, I designed it around Karen O.'s new album and Ladytron. I've listened to Karen O. and Ladytron probably for the past 15 years. A Yeah Yeah Yeahs song has always been sort of present through very important times in my life. Really for no reason, it's just there.
Julia: It's just one of those things that follows you and kind of defines your experience.
Michelle: Yeah. As soon as she put out this other album, I obsessively listened to that album. Now I start to do that when I'm designing. I listen to the same thing. Everything that both of those groups are saying in their albums just has such an effect. I don't know if you've ever listened to Woman, but what Karen O. is saying, her message—along with it sounding really good—is so on point with what's going on in the world today, and what it's like to be a woman in the pursuit of something. Her lyrics, 'If you want it / Then you take it… Girl, you'll make it / I'm a woman, what you see," were so influential in me designing what I think is my best collection for women to take on the world looking really good.
And as far as Ladytron—I just DM'd Helen Marnie, and I was like, 'Thanks so much, you were a huge inspo, and here's some of the pictures, thanks so much.' And she was like 'Ah, it's so great!' There's a lot of synth happening on the new album, like a synth explosion, and there's something about that. I can feel it pulsing through my body and my brain, and it just comes out, honestly, through my collection.
Julia: Yeah, and I know we've talked a lot about Interpol a lot, whom I was lucky to tour with in 2018. And when I think of the Interpol sound, I think of Karen O.'s sound, and I think of Ladytron. It all kind of reminds me of being, like, at a dark New York club, in which you might dance, if you're so inclined, in your own dark kind­-of fucked up way. But you also might just sit and take in the experience.
Michelle: And meditate on it.
Julia: Yeah, meditative dancing. I think the DUNCAN world is that element of dark and covered. But at the same time, it's very sexy, very mysterious, very intense—definitely not to be fucked with.
Michelle: Yeah. I think that's such a nice way to put it. It is like a dark New York club. I was somewhere talking about my collection a couple of days ago, and I mentioned Ladytron, and that person was like, 'Oh my god, I haven't thought about them since my wedding day in '99!' And I'm like, 'Great!' It brings you back to a time. None of that music is really that mainstream, and it just feels like a perfect New York thing that you can do.