From Douglas Fairbanks, the eccentric, old Hollywood celebrity to Casanova orchestra conductor Leopold Stokowski, discover whirlwind lives of the original Louis Vuitton carriers.
In the storied legacy of Louis Vuitton baggage, the best pieces live many lives—carried by jetsetting '20s film stars, Greta Garbo's lover, and an early 'King of Fashion.' For Document's Fall/Winter 2019 issue, we take a deep dive into the mythology of Louis Vuitton's luxuriously adventure-ready luggage by exploring the stories of the global adventurers behind the brand's best traveled trunks.
Douglas Fairbanks
The Roma Fitted Suitcase
They don't make celebrities like they used to. When in the early 1920s Douglas Fairbanks, the swashbuckling star of movie classics Robin Hood, The Mark of Zorro, and The Thief of Bagdad, built a complex for United Artists—the movie studio he had founded alongside Charlie Chaplin, D.W. Griffith, and his wife, the actor Mary Pickford—he requested a below-ground running track, so he could jog, naked, between scenes. The definition of Hollywood royalty, he and Pickford evoked hysteria wherever they traveled—in London, he had to grab Pickford's ankles to save her from being pulled out of their car. Perhaps that's why Fairbanks opted for Vuitton's relatively slim Roma suitcase with its sturdy cowhide exterior and built-in toiletries kit—light and efficient, it served a man in a hurry.
Pierre Savorgnan de Brazza
Copper Trunk
Explorers and adventurers are both romantic and complicated, and the 19th-century thrill-seeker Pierre Savorgnan de Brazza—for whom Vuitton created a water-tight copper trunk—is a case in point. He led a three-year expedition to Africa at the age of 23, navigating the Ogooué River (among the largest on the continent), and then returned to negotiate a land grab with the Bateke, placing the Congo territories under French rule. At home, he was known as the peaceful conqueror for winning territory without war, but it was the threat of war that secured it.
The capital of the Republic of the Congo, Brazzaville, was named in his honor, and many there still celebrate him as a founding father, but his legacy is contentious. Under French rule, 40 concessionary companies plundered the country's resources; de Brazza returned to lead an investigation into human rights abuses, including forced labor and massacres, and was returning with his apparently damning report when he died of dysentery in Dakar in 1905. His report was suppressed, and the Republic of the Congo remained under French rule for another 55 years.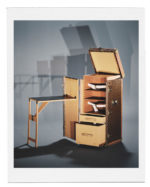 Leopold Stokowski
Desk Trunk
If you've watched Disney's 1940 classic, Fantasia, you're familiar with Leopold Stokowski, the London-born conductor who enjoyed a long and celebrated association with the Philadelphia Orchestra. It's Stokowski's silhouette you can see shaking hands with Mickey Mouse in Disney's famously experimental movie, in which eight animated segments are set to music conducted by Stokowski. The son of Polish-Irish parents, Stokowski became an American citizen in 1915, and he traveled extensively for work, often in the company of this special desk trunk commissioned in 1929, which was designed to accommodate books, sheet music, and scores, as well as a typewriter. Stokowski, who had a lively love life—including an affair with Greta Garbo and a marriage to the heiress Gloria Vanderbilt when he was 63 (and she was 21)—conducted more than 7,000 concerts in his long career and founded the American Symphony Orchestra when he was 80. To some it seemed his reign would never end. A year before his death, when he was 94, Columbia Records had signed him to a six-year contract.
Paul Poiret
Mail Trunk
Before the outbreak of the First World War, Paul Poiret was Steichen's 1911 photos of Poiret's dresses are widely considered the indisputable King of Fashion, an innovator who pioneered the to mark the dawn of fashion photography. That was also the year concepts of collections, showrooms, and licensing deals. He also when Poiret placed orders for more than 15 pieces of luggage with had a keen appreciation of the relationship between couture and Vuitton—including this mail trunk, pictured. Poiret temporarily homeware, designing carpets, lamps, and furniture, which he left his business to serve in the military, but when he returned in sold on the rue du Faubourg Saint-Honoré. A client of Vuitton 1919, the world had moved on. New designers like Coco Chanel had since 1905, the couturier modernized women's wardrobes by stolen his thunder, and his house rapidly declined. When he died, dispatching the corset and creating looser-fitting styles. Edward penniless, in 1944, his friend Elsa Schiaparelli paid for his funeral.