Document visited the São Paulo-born artist's Clinton Hill studio during Frieze Week in New York.
"When students ask, 'What is art?', I always say it is the evolution of the interface between mind and matter—between, you know, consciousness and the normal," explained the Brazilian artist Vik Muniz at his Clinton Hill studio. The artist was gracious enough to allow visitors in his studio during the hectic Frieze Week in New York at the beginning of May, to give an inside glimpse at the place where he creates his work.
Even though it was only 10am, glasses of Ruinart were being poured—not because Muniz likes to party, but to mark his recent collaboration with the Champagne house, for which he created artwork and designed a limited edition box. Muniz is arguably Brazil's biggest contemporary artist, and his work constantly crosses over into other disciplines. He worked with Guerlain nose Thierry Wasser to identify the raw ingredients used in its fragrances so that he could create artwork based on it. His 2010 documentary Waste Land, where he hired garbage pickers at the world's largest landfill located just outside of Rio de Janeiro to make art, earned an Academy Award nomination for Best Documentary Feature.
He also co-curated Glasstress, a group exhibition on view in Murano through the run of the Venice Biennale. \Muniz worked with Brazil's National Museum, which burned down last year, to recreate relics burned by the fire from their ashes, like the 12,000 human fossil affectionately called Lucy. "We're making them with the materials that were left from them," he said, emphasizing that the Brazilian government didn't seem too concerned. "And then we're going to show them to benefit the rescue efforts for the museum."
Muniz splits his time between Rio de Janeiro and Brooklyn when he's not traveling around the world. "When I'm here, I just wake up," he said. "I sometimes I work late at night, make a mess for the next day. I work together with two assistants for now. I work a lot by myself." Muniz's work often consists of some sort of trompe-l'œil effect that tricks viewers into thinking they're seeing a textured element that is actually a photograph, or vice versa. He also creates intricate collages that are one large portrait made up of hundreds or thousands of pieces. Museums trust the artist; for his long-running Verso series, he somehow convinced the world's major institutions like the Louvre and the Museum of Modern Art to let him photograph the backs of history's most important masterpieces, like Leonardo da Vinci's "Mona Lisa" and Vincent Van Gogh's "Starry Night."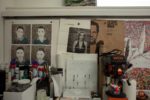 A Marcel Breuer Laccio coffee table by Knoll sits in front of a leather sectional. A row of large-format printers sit before a frosted glass window that peers into his living quarters. In another corner, a painting sits peculiarly on a trampoline. On one wall is the three-in-one relief—part sculpture, part drawing, part photography—he created from his Ruinart collaboration. Muniz found inspiration in the champagne house's 30-year-old stumps, which they cut for him so he could use them as a material in the series. "They look like bonsai," he said. "You know—very, very expressive. We you see them piled up you use for firewood, you don't realize how beautiful these shapes are. But when you actually photograph them, they're full of expression, texture, and they were like a little bit phantasmagoric."
When we sit down on the couch in his studio, I ask Muniz why it's so important to him to give back. "If you take that step and make that an example, you know, you may influence other people in more powerful positions to follow," said Muniz. "If an artist can change the course of events of a specific situation, other people can do the same."