On new album 'You Will Not Die,' the actor and singer embraces his sexuality and learns to reject universal truths.
At 31 years old, Nakhane doesn't know when he can go back to his hometown. His acting role in last year's Oscar-shortlisted film The Wound saw him face death threats for daring to depict a gay man from the South African Xhosa community on screen. "I can go Johannesburg," he says, "but not Eastern Cape."
As an actor, novelist, and singer, Nakhane says art is the only place he can be himself despite the fact that, at times, the world has done its best to stop that from happening. "Art is the only place I've felt completely free," he says. "I don't know why but it always seems like a space I could do anything. It's devoid of moralism or wagging fingers." Now, after moving to London, Nakhane is releasing a deluxe version of his debut album. You Will Not Die is the pure pop rebirth of someone who's been forced to face themselves in the cruelest of ways but has come out the other side all the stronger for it. "I knew that I wanted to be a lot of voices, because a lot of the album was concerned with my formative years; my family and Christianity—when I was a Christian and my apostasy," Nakhane says. "So those are the things that the album ended up being about."
Several years ago, Nakhane was sleeping on friends' sofas after being ostracized from the Baptist church and community he called home. Excommunicated for his sexuality, he's now a rising star, having just released a song with Anohni and being praised by Madonna on Instagram (Nakhane tells me he's known her for a while, after going to her house for private dinners). "It's fucking insane," he adds. "My psychiatrist keeps reminding me of all that I have achieved."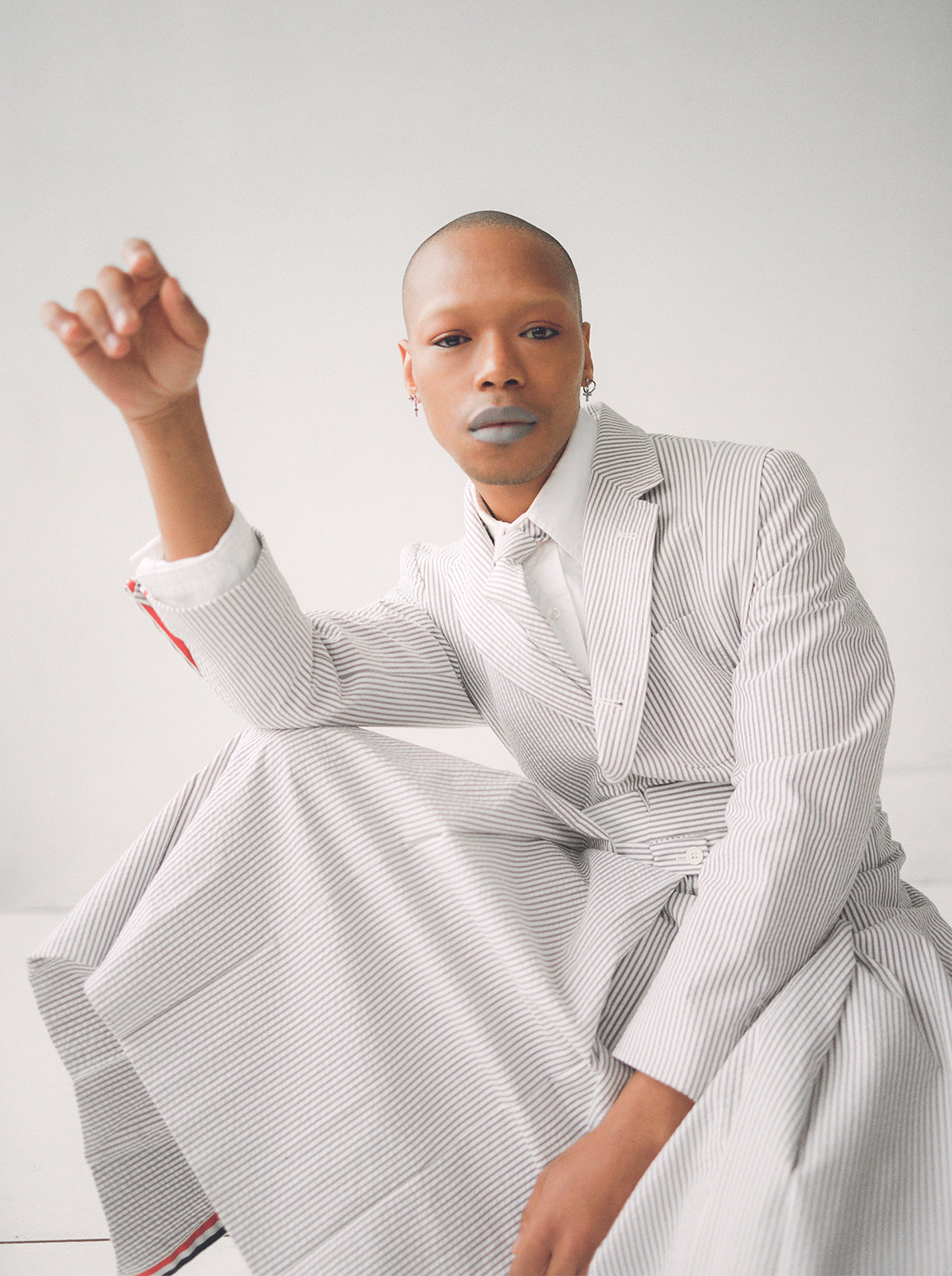 Raw and personal, the lyrics on You Will Not Die overlay religious references with the sentiment of someone who's beginning to find peace with themselves. Nakhane's first album faced criticism for not being authentic enough—he says a black man making folk music never sits well with certain people—but now he's stopped listening to expectations and it shows. "I mean, look at the history of pop music. It has become one of the most didactic spaces," he begins to tell me. "That's my problem with movements and cliques. There there's always someone up there making some sort of rules—a manifesto—and that's the moment there's some sort of essentialism, be it a political movement or an opera."
Nakhane worked with Bat for Lashes producer Ben Christopher on You Will Not Die, and felt they were on the same page from the get-go. "[Ben] asked me what kind of music I wanted to make. I said, 'Imagine side two of David Bowie's Low'. He said, 'OK, let's go and record some pop songs.'"
Despite having a "Christianized" childhood in growing up in the rural town of Alice in South Africa, it was during his first year of college studying film music, composition, and acting that religion took over Nakhane's life. After his father ran out of money and couldn't pay the tuition fees, Nakhane worked in a music shop. "That's where I really learned a lot [about music]," he says. "Because I could take DVDs and CDs home."
Then one day a man walked in and tried talking to Nakhane about the Deftones. "He kept going on about Satan running the music industry and gave me his business card if I wanted to find out more," he recalls. A few months later, during a depressive moment, Nakhane reached out and got sucked into a world of intensely devout faith—church twice a day on Sunday, bible studies three times a week. But then he went back to university to study African literature, and began exploring new ideas that were at odds with his pastor's teachings.
"At 25 my whole life collapsed," Nakhane recalls. "It just fell apart." At the same time, Nakhane starting to become a public figure in South Africa. He was living with people who were irreligious and part of the LGBTQ community, and his church told him it was them or his friends. "There was a huge void in my life," he says. "I was certain I was going to heaven and suddenly that certainty was gone. Who was I? It took me a long time to get over that."
In 2014, Nakhane won the Alternative Album category at the South African Music Awards. That same night, his pastor announced publicly that Nakhane was to be excommunicated. "He asked me if I know what it meant, so I replied, 'The bible says I'm being given over to the devil,' and he just said, 'Exactly.'" His friends say that whenever Nakhane's life is going well in some parts it has a tendency to fall in others. "They say it's the universe's way of keeping me humble," he jokes.
A similar thing happened when The Wound began gaining recognition. When the film about two closeted gay men in the Xhosa community opened at Sundance in 2017, reviewers were excited about its controversial subject matter. "There was a memorable rumble, but then it died out," Nakhane explains. "Then it went to Berlin and there was another rumble, but that died out too. Then it started winning awards and that's when it got negative traction. The better it did, the more people caught wind of it—it was like a forest fire."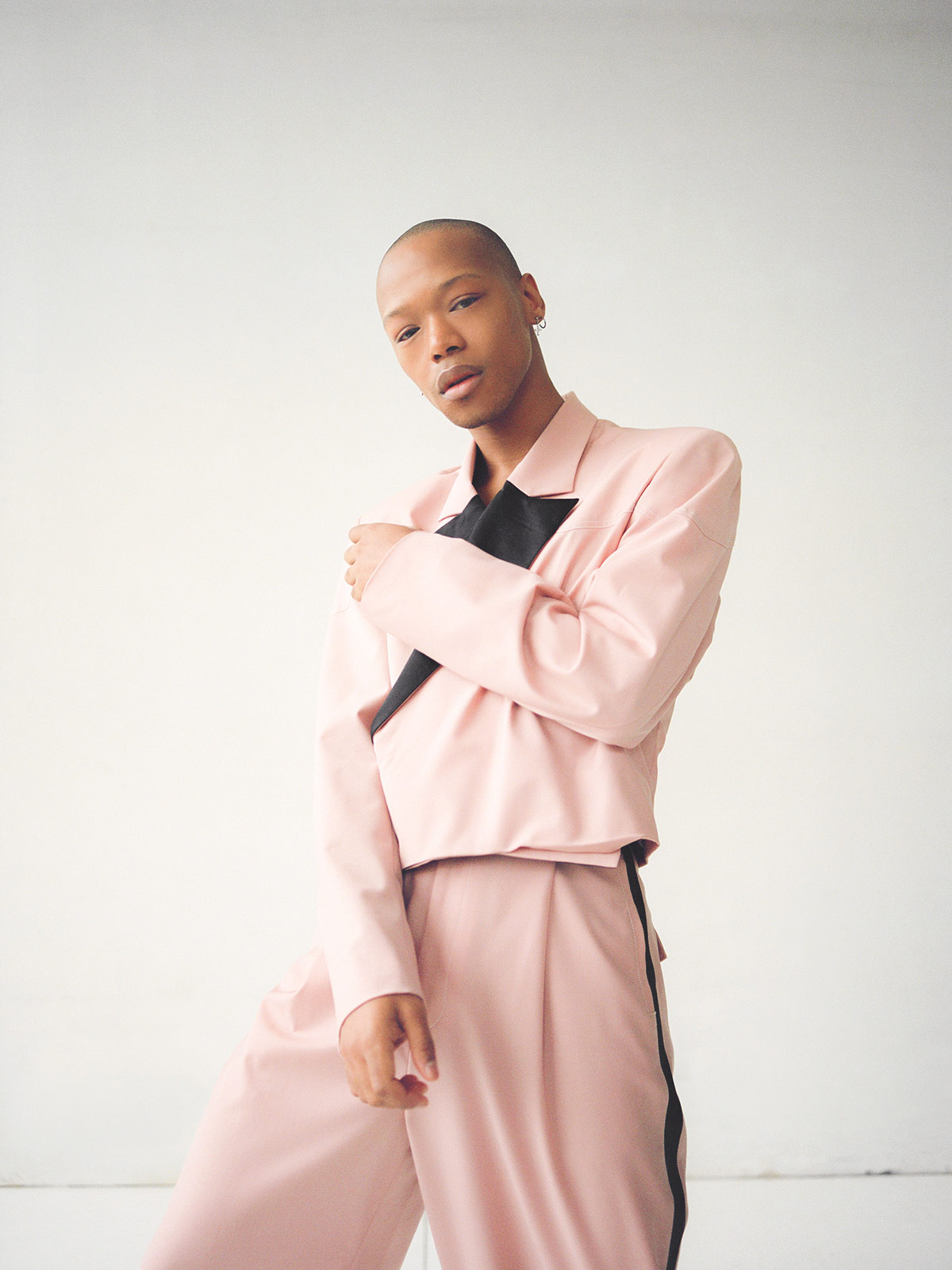 Again, he won an award—this time at the Durban International Film Festival—and this time the death threats started to pour in. Walking around a shopping centre in Rosebank, a suburb of Johannesburg, Nakhane's phone began ringing off the hook. "I'd never seen anything like that before," he remembers. "People were writing in surgical detail how they wanted to kill me." After going home to rest it off, he woke up and called one of the producers of the film: "I said "Fuck that. Let's go." And I knew from that point on that I had made myself up for some sort of war because I know those guys—those guys were like my uncles, my cousins. So I wasn't that surprised. But I was surprised by the velocity and the volume. I was surprised by how real the danger became."
Now he describes the backlash as an occupational hazard. Without underplaying what happened, Nakhane seems more determined than ever to fight prejudice and hatred. "Someone said to me, 'If you knew what was going to happen would you have still done The Wound?' I said, 'Without a shadow of a doubt,' because The Wound showed how important and useful art can be."
"People go to the theatre or go to the cinema or listen to a song or look at a painting or whatever and they see real human beings," Nakhane says. "They see themselves, they see their brothers, they see their sisters. And they realize that they're not alone in the world."