"How likely is it that only I am right in this matter?" asks photographer Wolfgang Tillmans through abstract ink prints, raw portraiture, and his artful reportage.
"How likely is it that only I am right in this matter?" Photographer Wolfgang Tillmans poses that question on a duo of abstract works he made with an old digital copier. The primary hues of cyan, magenta, and yellow, accompanied by black, briefly merge together in various lines and curves, dancing around the whiteness that is formed by the sharp, rectangular edges of a piece of A4 paper. It's also the title for his current exhibition, on view through October 20 at David Zwirner's West 19th Street location in Chelsea.
"It's not an invitation to or an open door to absolute relativism," the photographer explained at a press day for his exhibition. "I don't want to enter this open door with a…It's not about that. It's actually not also not purely a political angle this questions has. It's really about everything, and particularly, and as a title for a new exhibition I thought that it worked because I like to question what my eyes see."
Tillmans's exhibition traverses between figuration and abstraction, and the photographer even combines the two, turning figurative subjects into abstraction. It also looks at the more performative side of the artist's practice, through sound pieces—one is a monologue recorded 0n a cell phone—playing within two different installations in the gallery.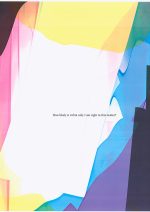 Viewers see a glimpse inside the way the photographer sees the world, through his travels over the Sahara desert during a rare daytime flight to Kinshasa over the almost extraterrestrial terrain, in the form of an otherworldly image of the waves in the sandy landscape. There's also a detail short of a sequence of lights taken at an LED shop in Hong Kong at a point that he shot at 1/4000 of a second, normally missed by the human eye. "I like to work at the limit of what's technically possible within a normal range of a consumer camera," said Tillmans. Then there's a photograph of part of a messy platform with a female condom in plain view, taken at a sexual health clinic at the Kakuma Refugee Camp in Kenya.
Tillmans's portraits range from notable musicians like Neneh Cherry, the Swedish rapper who made it stateside in the early '90s with the song "Buffalo Stance," and Nadezhda Tolokonnikova from Pussy Riot, to unknown individuals, like the nameless, middle-aged woman in a grey shirt.
Metal is another theme in the show, from the abstract "Silver Beyeler" series, which captures the patterns in an unknown close-up of metal fibers, and the "Silver" series, where paper was put through a soiled processing machine that churned out an image that was almost haunting. Even a sound piece he created in an outdoor studio where he created sounds with a special metal alloy triangle.
"I photograph things that I have an inkling of understanding of and you don't know what you're looking at," he said. "It doesn't mean that I understand everything." And that's the whole point of the exhibition—just to take it in—even though you may not understand it all.