South African performance art duo FAKA unleashed a soulful performance at Serpentine Galleries in Telfar's spring 2019 collection.
On a recent balmy summer evening in London, dozens of fashionable spectators milled around Serpentine Gallery's summer pavilion, eagerly waiting to see the results of Telfar's second collaboration with South African performance art duo of Fela Gucci and Desire Marea, or FAKA. Gucci and Marea founded the group in 2015 in Johannesburg, using music, performance and dance to refute queer erasure, celebrating the queer black body in a historical landscape which remains overwhelmingly hostile towards their community.
The event, part of Serpentine's Park Nights series, was titled Telfar Not for You, For Everyone, a captivating 45 minutes of acapella chorus, performed by FAKA and a group of their London contemporaries. Dressed head to toe in Telfar spring/summer 2019, the group occupied the gallery's outdoor pavilion, a space designed by Mexican architect Frida Escobedo. Built from industrial roof tiles stacked high to form a cage-like structure, Escobedo's pavilion mirrored the Telfar aesthetic, and not just in a metaphorical sense. The pavilion's polished canopy and wet floor reflected the performers moving around the space, creating a visual narrative of subversion and refraction.
The press release stated that the performance would "control and dissolve the relationship between spectators and performers." This meant that the audience was only able to view the show from outside the pavilion, clamoring to focus their eyes and iPhones between the gaps in the tiles. Bathed in red light, the performers moved intuitively through the space, dressed in Telfar's signature roll necks and denim, paired with what looked like jelly shoes.
The performance encapsulated different moods, beginning with a murmur and moving through periods of chanting, singing and moaning acapella, occasionally dipping into a more percussive, beat-box style sound. The pavilion acted as both a cocoon and a confinement, protection and separation from the general public. Given that both FAKA and Telfar concern themselves with the visibility of marginalized groups, one couldn't help but feel that this was some kind of allegory.
"Telfar were really important to us," said Marea. "Even before meeting, they had made it clear what role we could have in fashion, and how fashion can evolve."
The admiration is mutual. "They're doing something in their show. It's like an activity," explained Radboy. "There's something non-commodity about it, a thing that's happening in that specific time, that's happening to the musicians, that's happening to the audience, and that really blew my mind."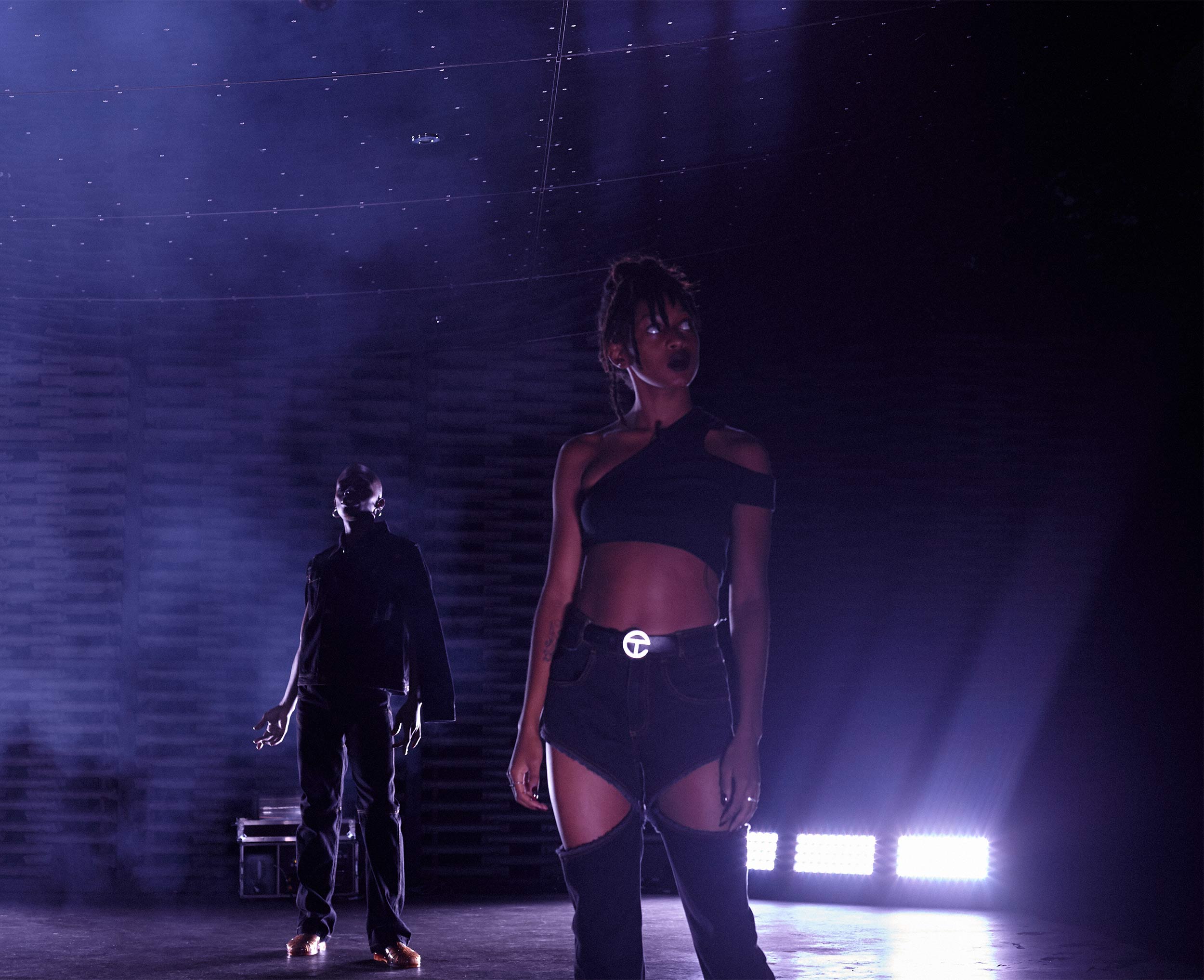 Telfar Clemens already proved himself to be the designer America needs right now (especially the 50,000 White Castle employees for whom Telfar recently designed uniforms.) Long before social activism became a lucrative bandwagon for retailers to jump on, Telfar was already subverting the industry's dusty hierarchy, celebrating universality with its unisex offering. "Not for you, for everyone" the label's strap line proclaims. Since winning 2017's CFDA/Vogue fashion fund, Telfar has become a household name. Begun in 2005 by Clemens, himself, it was the involvement of creative director Babak Radboy in 2013 that transformed Telfar's output. "The first thing I tried to do was for people to understand what the brand was, so to create a brand language," explained Radboy. "Because Telfar didn't have a logo and things like that, he was just doing clothes that he wanted to do."
"There were a lot of things that I was resisting, like integrating into the brand," said Clemens. "I just didn't want anyone to know anything about me. It's really exposing yourself to actually be like, This is me."