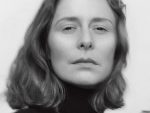 The creative director and model talk garage band merch, Antwerp pop culture, and the relationship between femininity and fashion.
Conceptually, Antwerp has defined a historical radicalism that has born and bred specific artist movements and even whole disciplines thereafter. For fashion, the Antwerp Six immediately come to mind, but perhaps more pertinent to today's conversations are their successors: the raw, young eyes who took notice of that first avant garde plunge and followed off the cliff soon after with newfound ways to return back to the ground safely (or simply to never land at all).
Inconspicuous in her approach, Nadège Vanhee-Cybulski took such a leap, beginning her career at Maison Margiela—perhaps the most successful incubator of intentional extremity conceptualized as clothing—before moving to Céline, rearticulating a new wave of minimalism under Phoebe Philo. After helming the design team for The Row, and introducing an unprecedented point of view to the Olsen owned brand, Vanhee-Cybulski was appointed artistic director of Hermès's women's collections in July 2014, the first female designer to hold the title at the house in nearly two decades. Perceived by many as soft spoken, the designer' kindredness to polite subversion has established a mobile elegance in her work: it's classical and yet it's ever so complicated.
Years before any of this happened, though, Vanhee-Cybulski was first introduced to Hannelore Knuts in the charged town of Antwerp. Famous for her androgynous profile and unconventional personality, Knuts was at the forefront of the early aughts' Belgian wave of models that infiltrated fashion. After seizing countless covers, she transitioned into the world of art, staging a self referential show at the Hasselt Fashion Museum in 2010 and working on special pieces with the likes of painter Michaël Borremans and digital artists Radio Soulwax since. Linked by shared deviances, the two remember their first moments of friendship and how life and luxury have changed along the way.
Hannelore Knuts—I believe that we met too late!
Nadège Vanhee-Cybulski—[Laughs.] I do too. Hannelore—You studied in Antwerp around the same time I did. When we met, you had this little string of pink hair hiding under your beautiful ginger locks! That's very mysterious to me [now], and I want to know what was Nadège like as a student, pre Hermès?
Nadège—It's funny that we met then. As a ginger, I was a bit ostracized by other kids when I was little, but the older women loved it. "Oh you have such nice hair!" I was annoyed, because I wanted to be attractive to the young boys, not them! [Laughs.]
As soon as I could, I turned it black, white, and pink—I've done a lot of different colors as a little heritage of my explorative life. I've always loved styling, fashion, and clothes because they could always express so many things about who I was. It was transformation and emancipation. You probably met me in Antwerp because I was in some little Flemish bar going to see garage rock. It was the time of Jack White and bands from Detroit. My friends and I would always try to sell shirts to them. We'd wack a bit of embroidery on rockabilly fabrics that we'd found at the old woman shops in Belgium, and go to the bands with charming French and Flemish accents!
Hannelore—Oh my God, we lived the same life, only you drove this way and I drove the other.
Nadège—That's probably why we didn't meet sooner: I was too busy creating garage band merch. The education in Antwerp was great, though. It was the perfect storm. The city is small enough to be affordable, but it's always striving. Historically, it has always been turned towards the world, and there are so many different communities.
Hannelore—And the schools are very international.
Nadège—Yes, at that time, we had a lot of people coming from ex Yugoslavia. All of a sudden you were with kids from Croatia and Serbia, and discovering a totally different kind of Europe that was even more mixed. It was great, I had a great artistic foundation.
Hannelore—Because Belgium is so small, we were obliged to look outside. I grew up in a small town, where you had to create your own entertainment—garage bands, there were plenty of them.
Nadège—We have a lot of pop culture in Belgium: comic strips, music, cinema, it's quite interesting. Coming from Antwerp, where I was amongst so many sculptors and painters, I became aware of the artistic form. I love a personal approach [in design]—I don't want to say artistic—but quite personal in terms of the cutting, draping, and also being aware of what a woman wants to wear. There is a lot of paradox with women; we want this, but we also want that; we want to be alone, but we also want to be with someone. We go left, then we go right…
Hannelore—We want to be comfortable, but…
Nadège—We want to have practical clothes, but we also want to have whimsical clothes. I really like to personalize clothes. I give them names or characters. In the fittings, the team sometimes looks at me like, "What is she talking about?" It's important for me to have those names and to relate and project into [the clothes].
Hannelore—What you're talking about now is a sort of luxury. It's not only the quality of the fabrics or the craftsmanship, but also about how you become one with the clothes.
Nadège—There is definitely that experience. [A piece] belongs to you so it makes one with you, but it also has the person that worked on it with their own hands, developing the fabric, etc.—the maker. I can tell you so many stories about each piece of clothing, why we did this on this and that on another.
Beyond generations, everyone has his or her own definition of luxury. Some people will tell you that it's sitting on the top of a hill in Tuscany and having a glass of wine. Another person will say it's a free Sunday where they can sleep in. There is something transcendental in projecting something outside of the object and having a good feeling [about it]. A luxury piece to me is an object with a soul.
Hannelore—The difference between generations is not so much in thinking, but that the younger generation still needs to gain experiences. They are still searching, and have more ideas of what luxury could be. It's more hectic. I'm happy that we're getting older and have had time to realize what luxury is.
Nadège—This new generation is processing information through the internet very quickly. I'm still from the time where if I had to look for vintage clothes, I had to take my car and drive 20 minutes across the border, be in Belgium, and change my money into Belgian francs just to go through the racks…[Laughs.] Now you go to Etsy, eBay, or 1stdibs and click! I can be in Malibu and see a selection from a great shop. There is a very fast and slow knowledge of research, but it's interesting how the new generation is also aspiring to a sort of longevity.
Hannelore—The classic beauty, if it exists what would it be? Do you feel it is a challenge to keep it modern, or does it need to stay modern, or is it just what it is?
Nadège—I really want to explore the classics and really—I don't want to say twist them—but observe them. It's a great paradox, because when you look at a classic it's always relevant but at the same time [it can be] very stuffy and boring.
Hannelore—Isn't it that tension that keeps it exciting?
Nadège—Exactly, because you can transgress it. You can keep it alive. I've always been interested in seeing subcultures and different groups use classics like the blazer or the check shirt or the pleated skirt. It's a great reference to dig into my inspiration and a tool for moving towards the future.
"Fashion magazines love putting you in a box. I just want to be a bit more actual."
Hannelore—Do you stay close to the classics when you create? Or do you pick a classic and step away or deconstruct it? I'm just trying to find your creative process, if you're willing to share.
Nadège—It's very difficult to synthesize the creative process because it can be a word; it can be a color; it can be a picture; it can be an action, like draping; it can be collecting works then applying them. I've been looking at a lot of artists from the 60s, and I love the way they translated the action of art, and how, instead of taking a brush and painting on a canvas, they were on the floor or standing on a platform. I want to design fashion like this, I don't want to just draw flat silhouettes and give it to someone. I think there are much more interesting ways of being a fashion designer, and I hope that different people can come up with different formulas of designing.
Hannelore—That way of working must feel comfortable in a house like Hermès, because you have the experience and craftsmanship.
Nadège—It's reassuring. Even though you know you want to break the rules, having someone say, "No, this is a rule," can be a great collaboration. Sometimes you have to be humble and say "OK," and let it go. It's great to have this new formula; there's both a rigor and spontaneity to it. It was the same when I was working for Martin Margiela. When I was assigned to design, wardrobe for women, I was like, "Oh my God, this is going to be so boring!" I was coming from Antwerp, where you had to twist everything; cut it out and pull it up, inside, and out
Hannelore—Your designs are not loud and noisy like "wahhhh!!!" but they say so much. A quiet whisper can be louder than an ear piercing scream, that's what I like about your work. It's clever and speaks for itself. It's for a woman that is strong, not in hiding; that wants to be seen in a very elegant way, not loudly.
Nadège—Nowadays, there are so many assumptions about fashion and femininity. It's funny that people tend to put tags on things. "You've got a Flemish name, you did Antwerp, you work at Hermès, therefore you're a minimalist, quiet woman." There's a much more complex approach. [Once], I went to see a doctor—a homeopathic—and I was like, "Oh I'm tired and have a lot of responsibilities. I'm designing and have a team and it's exhausting." He said, "Yes, but you chose it. You want to be there. You want to express something." Then, I was like "No, no!" but actually it's yes. It's really interesting that you say the clothes are not shouting but they are strong. I really think I am working with paradox.
Hannelore—You are! For me you are.
Nadège—It's really difficult to put an etiquette to it. Fashion magazines love putting you in a box. I just want to be a bit more actual, because right now we're in a society where I know exactly what can happen in Bombay [Mumbai] or Sydney or Lima. We have such a great global sense and there are so many individuals on the web expressing themselves that I think it's much more complicated now to say, "This is this tribe or this is that." This is why I think I am in the right place, because it's not about this woman or the "Hermès Woman." It's the plurality of women. I always feel very awkward when someone asks, "What is your woman?" It's a very strange corner for me.
Hannelore—That wasn't the question I meant to ask.
Nadège—No, I know. Women are just so complex. We're not in the 50s anymore, where you had those awful strict books that told you what to wear for cocktails, what to wear for a house party. I found some manuals that really tell you what to wear on Sundays, what to wear on Monday, after 6 pm…
Hannelore—Some days it would be practical to have a manual! [Laughs.]
Nadège—Yes, but it was to the letter! What to wear at 12 pm, 3 pm, 6 pm…for tea…I was like, "Woah!" The point is that nowadays you can play with the stereotypes of women, as you can also have a deeper exploration of personalities. The latest is more attractive to me.
Hannelore—Like you said, clothes still are your identity. I experienced that too. I was shy, so I used my clothes to tell people what I was and that I was different.
Nadège—People decide how to project you. You were a top model! You still are.
Hannelore—I know you as a very sweet person, and you're really a duality; you're humble and always so aware of things, yet you do all these things and you are screaming when you send out your girls. It's such a beautiful scream, and I really enjoy that moment.
Nadège Vanhee-Cybulski and Hannelore Knuts contributed this incisive conversation to Document's Fall/Winter 2016 issue.