The Italian artists on their fast friendship, why everyone complains about Italy, and what makes a modern woman for Document's Spring/Summer 2014 issue.
My first encounter with Valeria Golino and Francesca Marciano occurred on a bookshelf. At the time I didn't know how connected and complimentary these women were. Both are world traveling filmmakers, primordial beauties with intuitive and wide ranging intellectual lives, and they both work in English and Italian. Both live multiple lives with multiple identities. Valeria was born to a Greek mother, raised between Athens and Naples, and has travelled and worked all over the world as a model, then actress and director. Francesca was born in Rome, but lived great chunks of her life in Kenya and the United States. Both these women are stunning, seductive, and curious—outspoken and unapologetic. They were a gift from my parents.
I met Valeria much earlier than Francesca. It was in Los Angeles in '94. I was a teenager and she was at the height of her American success. She had starred in Rain Man as Tom Cruise's girlfriend and had been the female lead in the comedies Hot Shots! and Hot Shots! Part Deux. She had auditioned for the female role in Pretty Woman and was first runner up to Julia Roberts. I was immediately drawn to her warm voice and Mediterranean eyes—so sensual and inviting. She lived in a beautiful mansion up in the hills, where you might have found any member of the Huston family swimming in her pool at a given time. I wandered into her studio one day and found an entire library filled with amazing books. I was struck by Discipline and Punish—a book by the French philosopher Michel Foucault written in '75. Somehow I couldn't put the pieces together. What was a successful Hollywood actress doing reading an analysis of the social and theoretical mechanisms behind modern Western penal systems? I was used to seeing actresses in Los Angeles speak mainly about body cleansing, breast implants, and exercise. Another sign that Valeria was different from her peers was the fact that she ate. In a city where having a healthy relationship with food was taboo, in an era when Kate Moss' Obsession campaign glorified a skin and bones look, here was a woman who loved food, took second helpings with glee, and was still one of the first (gorgeous) faces to appear on screen each time I tuned the TV to a movie channel. I was intrigued right away.
Since those years, Valeria has acted in many Italian and international films, and has received several film awards including the David di Donatello Award, Silver Ribbons, Golden Ciaks, and several Italian Golden Globes. She received rave reviews for her role in Emanuele Crialese's film Respiro—a film that "so palpably captured the down to earth, flesh and blood reality of high spirited people living their lives without self-consciousness" as The New York Times put it.
"When a script is strong enough, you have the liberty to turn it into a sensorial experience."—Valeria Golino
It took me a little longer to meet Francesca, but, like with Valeria, I got my first real sense of her thanks to my parents, who had been political activists with her in the seventies, and thanks to a bookshelf at home where her novels stood in order: Rules of the Wild, Casa Rossa, The End of Manners. I was excited about this and asked my parents about her. They announced: "Francesca, of course. She writes in English and Italian, lives in Kenya with elephants now, but is touring the United States with her latest novel at the moment." Being a writer who works in two languages, I was in awe and immediately drawn to her. Who was this adventurous character and how could she pull off living in so many different realities? The New York Times commended Francesca as "a natural born storyteller" and I was hooked on her exotic stories from the start. I started following her screenwriter career as well: Don't Tell (nominated for an Academy Award in the category of Best Foreign-Language Film), I am not Scared, and Bernardo Bertolucci's Io e Te, to name a few.
I met Francesca officially in 2012, but it felt like I had known her for years. I went to her as I was starting my first novel. I had written a short story collection in English that she had read. I had sent it to her because I knew she wrote and read in two languages. I was tempted to write my novel in English even though it was for an Italian publisher, because it was the language I felt most comfortable with. Francesca sat me down and with a serious face, she said: "Write it in English. Don't make this mistake. You won't regret it and you won't have those Italian ghosts looming over your shoulder." She smiled and handed over a galley of her upcoming short story collection, The Other Language (Pantheon) out in April 2014, which coincidentally addresses similar issues: language, identity, and cultural exploration. I devoured it. Her stories are set in suggestive and striking locales and capture the thrill and alienation of being citizens of the world, of being everywhere and nowhere at the same time, embracing and fighting off multiple personalities. As Jhumpa Lahiri says, the collection is "a vision of geography as it grounds us, as it shatters us, as it transforms the soul."
As it turned out Francesca and Valeria had more in common than I thought, including a boyfriend and the fact that they had both been baptized in the film world by the Italian director Lina Wertmüller. It wasn't surprising, then, that their first cinematic collaboration seemed to stem from an intimate relationship between "sisters." Miele, directed by Valeria Golino, co-written with Marciano and Valia Santella, and based on Angela Del Fabbro's novel A Nome Tuo, deals with a female protagonist (Jasmine Trinca) whose clandestine job is to help terminally-ill people die by giving them dog poison illegally purchased in Tijuana. It was presented at the Cannes Festival in the Un Certain Regard section in 2013, received the Prize of the Ecumenical Jury, and was identified unanimously by critics as "not your usual Italian project" because of the direct way in which it dealt with the taboo subject of assisted dying and the modern take on its female protagonist. It made sense that it would not be considered your usual Italian film…These are not your usual Italian women.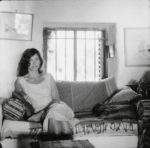 Chiara: How did you create such a modern character in Miele?
Francesca: We labored over the novel originally, because it was very strong. We had to tweak it a lot in order to get its essence out. It was very clear from the beginning that there was a lot of physical work the character Miele would do in order to release her tension. We were very taken by the idea that this woman spent a lot of time by herself, doing things—running, bicycling, having sex, being in control of her life as a single person. I think this is what made people think of Miele as a modern character.
Valeria: Also, besides changing a lot of the content in the book, we profoundly altered what went on inside our character. Angela Del Fabbro gave us a great starting point, and we changed the consequences of her original input. The book—which is very strong and assertive, had a lot of dialogue and we worked towards minimizing that. We almost went in the opposite direction. We took every word on the page and converted it into our own language.
Francesca: Assisted dying is the sort of thing everyone thinks about, but in the privacy of their bedrooms. It's a very hidden subject. Having a whole film debate this idea so openly felt like we were addressing a very present but concealed subject matter. But then, wherever we showed the film and had Q&As with the audience, they were grateful. We had given them the chance to discuss this subject publicly. I remember an audience member who obviously had lost someone, saying: "Thank you for putting this into words. Watching this movie was a relief for me."
Valeria: I'm thinking about the relationship between the script and the actual film—the script was more solid in its descriptiveness rather than its storytelling—more focused on the details. It was a very good script to read, very complete. It brought the right people to us and it also gave me, as a director, the possibility to break it apart. When a script is strong enough, you have the liberty to turn it into a sensorial experience. I was able to play around and take off. I chiseled the main work to get something else out of it.
Francesca: We also knew who our characters were. We discussed their background and took out a lot of explanations we had in the first draft of the script.
Valeria: I think that's what makes the film "contemporary."
Chiara: In terms of Miele as a character, specifically, I loved complex she is. I know, Francesca, you work with layering your female characters in all your fiction. Your women have a mix of vulnerability, stoutness, irony, and sexiness, and I think there are a lot of similarities with the characters you portray, Valeria. They can be wildly sexy and at the same time completely goofy. How did you bring in the layers for the character of Miele?
Francesca: I've known Valeria for a long time—since we were both were living in the States. I think we became fast friends because we found that we'd been on a parallel path in some ways. I recognized the way she saw the world, the way she is. We like the same kind of women: unusual characters. We're drawn to women who are smart and goofy, funny yet vulnerable, and whose primary interest is not just to fall in love or have a man. Miele is a woman whose major life themes don't revolve around men. She's in control. She is so young, and yet dealing with something so big. I think unconsciously we loved her from the beginning.
Valeria: The aesthetic of Miele's character was different in the book. She was more feminine on the outside and more masculine on the inside, but she was too masculine, too promiscuous. She spoke about sex like men do, in a way that bothered me. I gave her a more masculine exterior and made her softer on the inside. There was no need to generate a woman who was fucking around all the time. Her sexuality is absolutely important, but not dominant. We made her more solitary, more of a loner. With Jasmine Trinca as an actress, it was almost like taking a veil off.
"There's nothing I've lived that I'd want to repeat, or that I have nostalgia for. I don't. I just don't. Nostalgia doesn't belong to me. I almost remove the past now."—Valeria Golino
Chiara: Really, I think that's the most amazing part of the film— how you transformed her as an actress.
Valeria: And how she transformed herself. It's important for actors to do it. The director can only give suggestions. I couldn't have done the same job if she hadn't been ready for it.
Chiara: Valeria, you had this idea that you wanted to chop off all her flowing long hair, right?
Valeria: A year and half before the movie was made, I met Jasmine at a Prada fashion show. We were all there being photographed, and I turned to her and said, "Would you cut your hair for me?" She looked puzzled but she accepted. We went straight to my hairdresser and cut her hair. She suffered quite a bit in the process.
Chiara: Hair has memories, so you basically chopped off parts of her life. It can be rejuvenating, but it can also be a melancholic experience. I'm seeing a variety of films like Blue Is the Warmest Color, that are not afraid to present the emotional evolution of a female character, to be with her step by step. Do you think this is a new trend in cinema—to see women under a magnifying glass?
Valeria: The Dardenne brothers started these types of films twenty years ago. We're all their daughters and sons. The Dardennes and Lars von Trier are the parents of new cinema.
Francesca: Blue Is the Warmest Color showed that it's possible to present a whole movie like a sort of non story, i.e. the evolution of a relationship—as long as you're really, really close.
Chiara: When you first met each other, what were your reciprocal impressions of one another? What was the spark of your relationship?
Valeria: Well, we liked each other right away. Also we were sharing the same boyfriend so we kind of had to be intimate! Francesca was the ex-girlfriend of my boyfriend at the time.
Francesca: I was with Fabrizio [Bentivoglio, the actor], then we broke up and he was with Valeria. Instead of getting into that antagonistic state of new girlfriend and ex-girlfriend, we simply connected.
Valeria: Almost without layers of complication.
Francesca: Because we had respect for one another. I, of course, loved her as an actress, and there was mutual interest and curiosity. Valeria—Also, the fact that Francesca had broken Fabrizio's heart so badly made him very interesting to me!
Francesca: Our meeting was completely independent from Fabrizio, though. Valeria wanted to do a film adaptation of my novel Rules of the Wild. She said, "I want to make this into a film" and we followed that by working on our own relationship. For fifteen years we shared lots of other things too.
Valeria: We share Valia for example, Miele's third screenwriter.
Francesca: She is very, very important to us. It was a very healthy mix of people working on this film. Kind of miraculous.
Chiara: I really would like to speak about your multiple lives. Francesca's upcoming book The Other Language addresses this. Sometimes a different language can give us a different persona. How does having multiple personalities—plus, you're an actress, Valeria!—affect your art and vice versa?
Valeria: I call it ansia di molteplicità, or "multiplicity anxiety": to want to be many different people in many different places at the same time at all costs. It's a borderline pathology! Some of the people I transform into I don't even know yet. It's a contemporary virus both Francesca and I caught: being different people, speaking different languages in different places—yet wanting to be all those things at the same time.
Francesca: There's an enormous richness to being able to have different lives and maintain relationships with our friends, places, and countries. Another connection between Valeria and I is that living different lives in different places makes you long for where you are not. That's the most painful part, but even that is a richness. You always know there is "another way."
Valeria: For me all this multiplicity is a very personal and intimate experience, but it explains my level of neurosis. In the past few years I realized that as much as I want to constantly be in different places at the same time, I never want to live in the past.
Francesca: Me neither.
Valeria: There's nothing I've lived that I'd want to repeat, or that I have nostalgia for. I don't. I just don't. Nostalgia doesn't belong to me. I almost remove the past now.
Chiara: You have that as well, Francesca.
Francesca: Yes and I also hate the word, "regret." I hate to long for things in the past that I cannot have anymore.
Valeria: I don't even want them anymore.
Francesca: But I also know there are other places where I could be now…
Valeria: In the past few years I've seen children and gotten the feeling of wanting to be back in childhood, but not to my own childhood. I don't want to be Valeria as a child, I want to be some other child.
"I think we became fast friends because we found that we'd been on a parallel path in some ways. I recognized the way [Valeria] saw the world, the way she is. We like the same kind of women: unusual characters."—Francesca Marciano
Chiara: You're just ready for reincarnation! How do you know what part of yourself to access when you're creating?
Valeria: Well, as an actress, I try to access everything I've lived deeply in my own life—all the pain, all the fears. I don't talk in terms of psychoanalysis. I leave my bad emotions where they should be, so I can use them. If I resolve all my problems with a psychiatrist what the fuck do I do when I have to act? I don't use them in a "method" way, because that would also be abusing them, so I just wait for my feelings to hit me, suddenly.
Chiara: So it's instinctive.
Valeria: I don't have a technique. As a director, it's a much more complete and rational sensation, much less emotional.
Francesca: For me, I would say, when I write fiction I feel freer. I can really allow myself to access my "multiple personas." I always say: "To speak and to learn another language later in life is a betrayal of your parents, your home, your homeland. Tradurre—the Italian word for "translating"—is similar to the word tradire—the word for "betray." At the same time, I think speaking another language frees you from certain inhibitions and restrictions, a kind of censorship you always impose on yourself. Questions like: "Who will read me?" "Who will watch my film?" "Will they judge me?" They don't seem to emerge when you write in another language.
Chiara: Back to the "elsewhere craving" of those born into parallel lives: why do we complain about Italy so much, but in the end, we're all living and creating in the country of La Dolce Vita and La Grande Bellezza?
Francesca: I think we should absolutely stop complaining. We've complained enough. It's 2014. I think we've been complaining for four years.
Valeria: Four? Forty-four!
Francesca: I think we should make a movement to stop complaining. As you can see from La Grande Bellezza: it was loved everywhere, it won an Academy Award, and still Italians felt outraged because they couldn't bear to see the mirror of our troubles.
Valeria: I would say the reason we live here is because we are accepted. It's harder elsewhere. There's obviously something very "sweet" about Rome.
Francesca: I think we forget to see its beauty and that is, in fact, the theme of The Great Beauty—that we stopped seeing it. We take it for granted. Italians tend to be self-deprecating, but that can be a poison. If we live here, we need to stop being a self-loathing nation.
Hair Marco Braco at Kramer+Kramer. Make Up Junko Kioka at Joe Management using MAC. Stylist Assistant Amber Harris.
This article originally appeared in Document's Spring/Summer 2014 issue.