The king-sized son of nobility's hot, spontaneous self-portraits are collected in the upcoming book 'Peter Berlin: Icon, Artist, Photosexual.'
As Armin Hagen Freiherr von Hoyningen-Huene gazed into the camera, he began to fall in love with the image he created of himself: the legendary '70s icon Peter Berlin. The quintessential libertine in the decade between free love, gay liberation, and the advent of AIDS, Berlin embodied the very essence of sex itself. With his trademark blonde pageboy haircut that fell into his come-hither eyes, Berlin barely covered his exquisitely chiseled physique with skintight clothes that hugged every bulge, inviting all to partake in the pleasures of the flesh.
"My pictures are truthful; there is no fakery. They were made under the best circumstances and the image became a powerful thing," Berlin tells Document Journal from his home in San Francisco in advance of the publication of the new book, Peter Berlin: Icon, Artist, Photosexual. "The book is just like everything else in my life: it came from the outside. I completely live separated from the world. I always was doing my thing. I have a great time with my mind. I think about Peter Berlin. Why did I do what I did?"
Berlin's story begins as young Armin Hagen Freiherr von Hoyningen-Huene, the son of a noble family of diplomats and artists including celebrated fashion photographer George Hoyningen-Huene. Born in Łódź, Poland, in 1942, young Armin's father died during the war, and the family moved to Berlin, where he came of age in the 1960s.
"I was so glad I was gay," Berlin says. "I started to be recognized because of my way of presenting myself, very erotic. I always felt I wanted to express my desire of wanting to seduce and being seduced, looking for sex. All my friends did the same. Homosexuality was still against the law but we ran away from the police in the park. When the police left, we were all there. We had the greatest time."
Berlin moved to Paris and Rome before coming to America in the 1970s. He arrived in New York before decamping for San Francisco, where he quickly became an icon while cruising the streets looking for sex. But it wasn't until 1973, when he partnered with friend Richard Abel to make Nights in Black Leather, a feature-length hardcore gay porn film that the idea of Peter Berlin would come into focus.
"I was making a poster for the film and realized I had to put a name there," Berlin recalls. "My real name is not good for the marquee. I had a memory of a good-looking guy in Berlin that I always saw in gay clubs. His name was Peter Burian. I took his name and put that on the poster."
Little to Berlin's knowledge, Burian had become a model in New York and was incensed to discover his name was being used in a highly successful porn film. Berlin changed his name, and the rest was history. "Whenever I left the house I was Peter Berlin, I played that character and I played it very well," he says. "I realized very quickly that I had to separate Armin from Peter. People saw something I was not. Not that I tried to fool people but I realized how I was misread."
But nothing could stop Berlin from living as he wished. "What I did was not courage," he believes. "The only thing I did: I never stayed in the closet. When I made my first film, I knew immediately I closed all kinds of doors. It translated into money, and that's why people stayed in the closet. At that time you had to make a choice. If I am out as gay, my career has ended. So I never had a career. I only had the career of Peter Berlin."
It was an honest day's work and important choice. With the international success of Nights in Black Leather, Berlin went on to direct, produce, write, and star in That Boy (1974), a well as four other short films sold as 8 mm "loops" through the mail. In his self-portraits, he took on archetypes of masculinity, transforming himself into a biker, sailor, cowboy, and athlete, looking very much like a Tom of Finland drawing come to life.
Despite his success, Berlin was not possessed with the burning ambition of his contemporaries. "It wasn't a planned thing where I said, 'I want to be known as a porno star or a photographer,'" Berlin reveals. "I never saw myself as an artist. I just did the best with the photographs to make me look good. I look at my photographs as a visual diary: today I feel good, I feel horny—I'll take a picture. I never had intention beyond the next day. I never had what Robert Mapplethorpe had: he wanted to be rich, famous. When you know what you want, the blueprints are there, you just do it. I never knew what I wanted to be in life."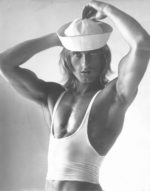 For Berlin, photography was as pure and simple as sex: an act of freedom and an expression of self. "Visualize Peter Berlin on the street at night—I completely stopped people in their tracks," he says. "I got off sometimes three, four guys, sometimes without even touching them. It was such a great feeling for me to get a man off. I always said, 'My God, look at that!'"
Now 76, Berlin says, "Now I'm 180 degrees different. I live now like an old woman, feeding the pigeons. My feelings are sadness. My thought is the whole misery of the planet is because men are not able to express their sexuality the way Peter Berlin did. That is where I feel I failed. In my fantasy, I always felt I could make it better, and then I realized we are going back in the Middle Ages. The human race needs education. I see myself as a teacher with certain ideas and experiences. I know the biggest problem on this planet is male sexuality."
Peter Berlin: Icon, Artist, Photosexual (Damiani) will be released on November 26, 2019. A book signing takes place November 21 at Bookmarc NYC from 6-8pm.