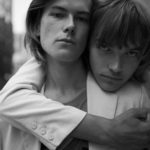 Sid and Stanley Simons rewind the clock with their Beatlemania soundtrack—tinged with Cohen and Dylan.
Brothers Sid and Stanley Simons of the alt-folk collective Girl Skin are soul-bearing musicians. They believe in telling honest stories and stripping down their sonics. Growing up, Sid and Stan's dad would load music onto their iPods and review the brother's most-listened-to songs. The verdict: Beatles mania.
While they haven't eschewed their Liverpool beloveds, Sid and Stan have also become students of soul and Americana music. Sid himself took a 12,000 mile road trip across the country, an intense musical and existential journey that included stops in Nashville, to Stax Records, and to Muscle Shoals Studio. Before their concert at Rough Trade NYC on September 13, the brothers offered a playlist that traces their influences, both past and present. It's an autumnal amalgam fit for the month of September—lingering summer days and faintly shivery night.