The Japanese House's debut album, 'Good at Falling,' chronicles several years of self-discovery, love, and a breakup for Amber Bain.
The Japanese House has always managed to ground me in times of anxiety: essay writing, someone boxing me in on the subway, hustling to an interview, returning home from a long day at work. I keep the video of her performing Swim Against the Tide from December in Williamsburg on deck, finding the introduction and her vocals and the gently bopping lights viscerally cleansing. It seemed fitting to repeat this routine as I sat waiting to call her, trying not to appear shaky as I spoke to an artist whose music I have been carrying with me for years.
Having released four EPs from 2015 to 2017, it feels like the time for Amber Bain to release a full-length album. Good at Falling showcases the growth and maturation of Bain's core talents, crafting semi-hypnotic melodies that she laces with meditative lyrics. At its core she describes Good at Falling as "a collection of very personal songs about very personal topics" noting the "weird juxtaposition between the lyrical content and the musical content" as songs sound musically buoyant and lyrically introspective. On Maybe You're the Reason she sings, "Should I be searching for some kind of meaning / Apathy's a funny feeling" over bright guitar and pulsing drums. We Talk All the Time begins soft and contemplative before moving into a light airy questioning, "We don't fuck anymore / But we talk all the time so it's fine / Can somebody tell me what I want?"
In spite of the appearance of Bain's ex-partner in the Lilo music video, Good at Falling is not a breakup album. Bain supposes much of this is chalked up to her writing process. "I never work chronologically, because I have such a bad attention span. I'll write a song, forget about it for a year, a month, five years, and then I'll come back to it and if I happen to catch a wave of feeling inspired by it, then I'll sort of ride the wave and try to finish it." Having spent two months in rural Wisconsin working on Good at Falling, the songs reflect the grounding sensation nature provides us with. While Bain is hesitant to claim nature directly inspires her work, she found resonance between going into the country versus living in London and her own duality. "I really do feel like there are two very clear sides to me. One that is kind of introverted, reclusive and aloof and sort of closed. The other half who's a performer and needs to be around people all the time. So I suffer and grow from being isolated. But then maybe that is a good way to make an album because of the lack of distractions."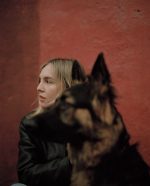 The Japanese House provides a queer voice to love and heartbreak. Reflecting on when her younger self did interviews, Bain shares "I remember asking, 'If my relationship comes up should I say that I'm with a girl?' or is that a weird thing to say, should I keep it private?" As the world has moved a wee bit forward she now feels "everyone should be over it… but I'm glad that it maybe helps people who it's still a massive thing for." Although other queer women have managed to rise in the ranks of popularity and recognition over the past few years, including Janelle Monáe and Kehlani, King Princess and more, it can still feel difficult to name songs where women sing about other women. For the Lilo video, Bain found "I didn't even think about the fact that it was with a girl because I was thinking more about 'Oh my god people are going to be talking about my ex.'" Her resolve to render love between two women beyond tropes and hypersexualization signals an opening up of the boundless ways to imagine romance.
At her December show Bain performed a selection of unreleased songs, an experience she describes as "quite terrifying. Obviously if I played one of those songs and you saw people turning their heads like 'What's this?' and I'm about to release it on an album, it's a massive risk." My friends and I can confirm, along with those around us at the show, that Good at Falling is bound to be full of blissful odes to figuring oneself out.
Good at Falling is released on March 1st via Dirty Hit.