The photographer concludes a decade-long project with the release of his first book on the family press.
15 years after the passing of his father, two books showed up on Chris Brooks's doorstep from The Brooks Press: the three-generation family publishing press he'd known only little about. These two books began Chris's decade-long project to unearth the history of the press and photograph the regions around his childhood home. In March, he will revive the family business with its first book since the 1930s, and his own first publication, The Brooks Press of Wirksworth. Comprised of photographs in his hometown of Derbyshire and archival materials collected over a 10-year span, The Brooks Press of Wirksworth examines family history, identity, and the craft of bookmaking for the 21st century.  
In 1898, Chris Brooks's grandfather founded The Brooks Press in the small quarry town of Wirksworth at the height of the flourishing private press movement. Rather than treating printed books as simple conveyors of information, private presses emphasized bookmaking as an artistic practice, producing smaller quantities of thoughtfully designed and decorative books. Printers often drew inspiration from Medieval illuminated manuscripts, hand-binding their publications and paying careful mind to formatting, typeface, and illustration.
The Brooks Press was no different, devoting itself to publishing small batches of handmade books and serving the printing needs of the Derbyshire region. The press published Samuel Coleridge's poem Christabel as well as works by local authors and self-improvement texts, including titles like Ideas and Ideals and The Reality of the Self. But the demand for a local, independent imprint diminished over the mid 20th century as consolidated, mechanized forms of printing gained favor. Brook Press closed in the mid-1970s, and B. J. Brooks, grandson of the founder and father to Chris Brooks, moved into the mass print industry.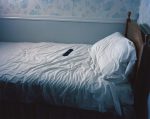 The Brooks Press will return to a ripe new audience of readers and collectors, primed to appreciate the craft of private presses by independent publishing houses, artbooks, and photography anthologies. Tying together rich personal and literary history with contemporary meditations of local and national identity, The Brooks Press of Wirksworth signals a return to old ground, but also an exciting and fertile new prospect in the bookworld.