This year's awarding of the Golden Lion for Best National Pavilion raised questions around the subjectivity of art and the evolving values of critics
How does an art jury decide what makes a great work of art? This is a vital question, as such systems define nearly every measure of success for artists: grants, residencies, university teaching positions, public commissions, and museum acquisitions. No jury is as prestigious or seemingly final on the question as that of the Venice Biennale. Three weeks ago, they announced the Golden Lion for Best National Pavilion at the 59th Venice Biennale. Every year, there are heads nodding in agreement on the decided winner, accompanied by griping about who should have won. But this year's announcement was met with more head scratching than past winners elicited, introducing a changing landscape of values in art.
The Golden Lion, with a jury seen as all-knowing, is hailed as a tastemaker award which shapes art history for years to come. Most of the 80 countries that come to compete have long-standing pavilions built in the early 20th century, one for each country, usually housing one artist, with occasional group shows. The awards date back to 1938 with the grand prize given to the likes of Henri Matisse, who in 1950 was hailed as a living master, described using terms such as "unique artistic vision" and "show-stopping." This prize was abolished in consequence to protests and student revolts in 1968, only to be reinstated in 1986 as the now-coveted Golden Lion. Single artists more often win the prize, again seen as singular masters—past examples include Daniel Buren for France in 1986, Jenny Holzer for the US in 1990, Hans Haacke for Germany in 1992. These artists are cemented in history for their works: Haacke, for example, hung a black-and-white photo of Adolf Hitler meeting Benito Mussolini at the Venice Biennale in 1934 inside the German pavilion. It was a stark reminder that the structure itself was rebuilt by Hitler, making explicit this dark narrative of history that the country was trying to keep hidden. A shocking and chilling reminder of the world the Nazis envisioned to rule, the single word Germania, written massively in black on the wall above the marble floor tiles, pounded into dust and shards, was something never seen before. We have come to expect innovation from Golden Lion winners. Where past winners' works were centered on forward-thinking art, this year's looked to the past as much as it did the future, drawing a larger arc to overlooked histories.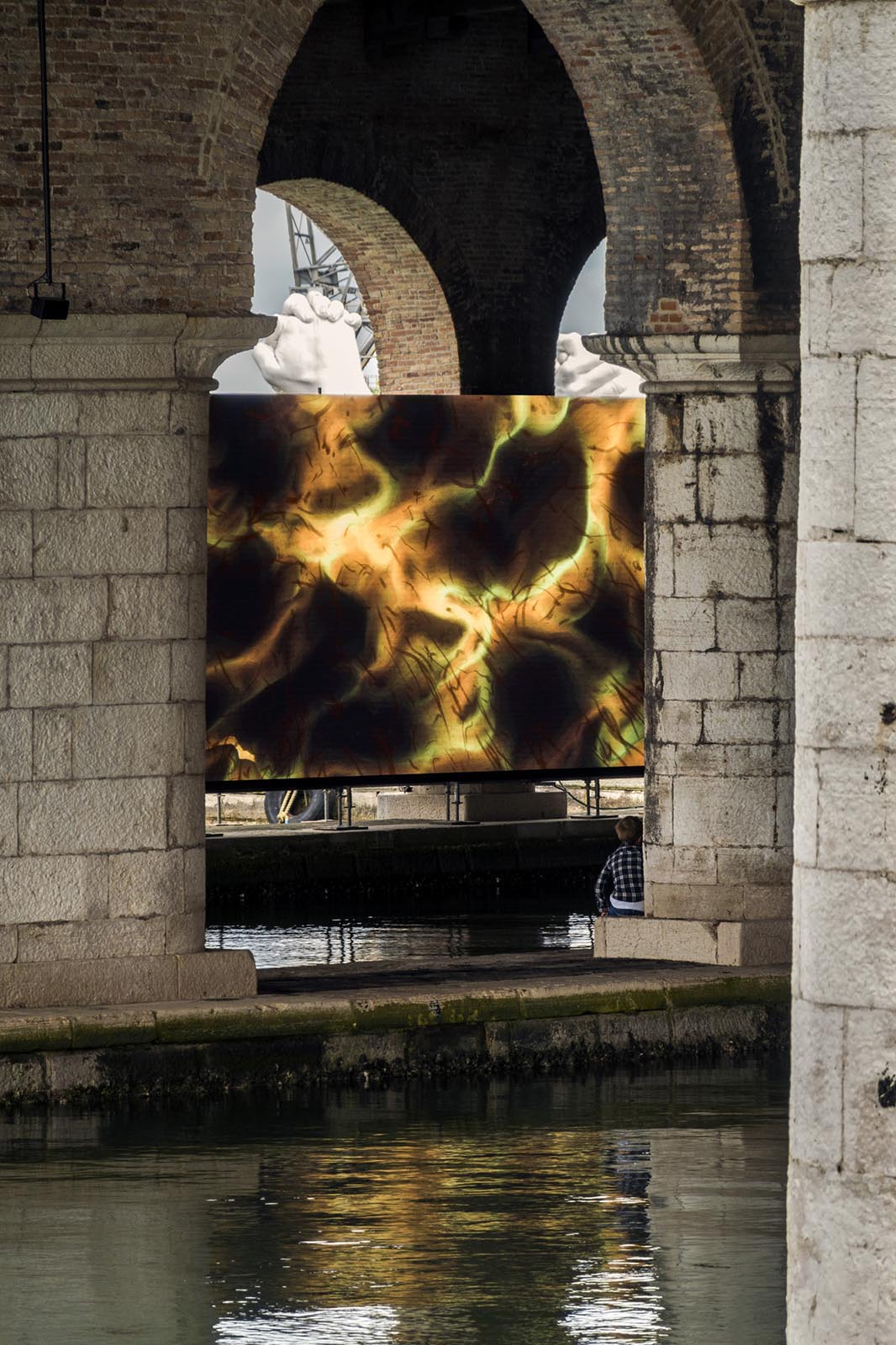 While the judging parameters are shrouded in mystery, those who are chosen as winners and those who are not provide insight into the evolving values of the jury. Australia's pavilion from Marco Fusinato, titled DESASTRES, was seen as too macho, masculine, and spectacular. He played electric guitar to ear-busting volume from a massive wall of amplifiers, set to seizure-inducing black-and-white images on a monumental LED screen; it was sourced from the dark underbelly of the internet, with one visual depicting a dog defecating. It was discomforting, again exploring death, doubt, and the dark and perverse parts of human nature we try to keep hidden, branding the artist as a "bad boy." This was a mode that brought triumph to Christoph Schlingensief, who won the award for Germany in 2011 with his Fluxus oratorio A Church of Fear vs. the Alien Within. Now more than a decade ago, the jury praised him, citing his "intensity" and "personal vision" which were marked by violence through taxidermied animals and crucifictions.
Spain's pavilion Corrección, by Ignasi Aballí, was completely emptied, so all the viewer saw was white walls and space. The Danish pavilion by Uffe Isolotto, We Walked the Earth, was equally disorienting. It bore a trigger warning that read "sensitive content, including scenes of life and death," and drew huge lines, which usually indicates being prize-worthy. Inside, Isolotto's universe included two hyperrealist centaurs made of taxidermied horses and prosthetic human wax bodies—the male hanging from a noose, and the female dead, crumpled, and crying. The Belgian pavilion from Francis Alÿs, named The Nature of the Game, was more heavily driven by conceptual meaning, positioning children's games on battlefields around the world, merging the bliss of childhood imagination with unimaginable horror. The Romanian pavilion did not have a trigger warning—but maybe it should have, as it addressed taboos around sex and bodies. You Are Another Me—A Cathedral of the Body set sounds of sex to a film starring a gay couple, a disabled sexual activist, a trans sex worker, and a horse.
Each pavilion offered innovation, but the Polish pavilion was most rumored to win for its cutting-edge aesthetic in Re-enchanting the World—an immersive work by Małgorzata Mirga-Tas, who was the first-ever Romani artist in Venice. Her work recalled frescoes of the Renaissance's palazzo paintings, and stitched together pieces of wardrobe from her community. It gave the audience a glimpse inside an outcast community.
This year, the Golden Lion was awarded to Great Britain's Sonia Boyce, and signaled these changing values: a new dominance of collectivity in both community and resistance, concerns for healing the past, and the emergence of sonic storytelling in contemporary art. Boyce's win reflects the rise of Afro-diasporic artists following the legacy of the British Black Arts Movement; therefore, it looked back to draw an alternative history—a Black radical tradition in art—while opening doors to a new trajectory.
"The pavilion did not need to be a coup de grâce or a smash hit. It offered a more expansive vision of how art might operate in the world."
Boyce's Feeling Her Way was a journey across separate color-tinted films, each appearing to wash the world in monochrome yellow, violet, blue, and red on four screens, making a kind of rainbow. The camera follows five Black female musicians and composers—Poppy Ajudha, Jacqui Dankworth MBE, Sofia Jernberg, Tanita Tikaram, and Errollyn Wallen CBE—as they meet for the first time and improvise together. Broken into six galleries, the exhibition is a fragmented experience with sublime moments of breaking out into song. The floor was lined with golden, jewel-like chairs that looked like they were from a sci-fi film. The pavilion had elements of Afrofuturism, full of possible worlds held together by optimism. The artist herself talked about elevating the process of rehearsal over polished, finished performance—again, not excellence, but experimentation, as a space for pluralism and possibility.
On one level, Boyce's work is continuous with contemporary innovations in performance and sound art that have previously won the Golden Lion. In 2017, at the German pavilion, Faust by Anne Imhof used choreography, tanztheater, painting, photography, and opera in an epic spectacle. In 2019, at the Lithuanian pavilion, theater director Rugilė Barzdžiukaitė, playwright Vaiva Grainytė, and composer Lina Lapelytė created a mind-blowing opera, Sun & Sea (Marina). Boyce's work maintains that tradition of merging mediums, but is a departure from her predecessors: Her work operates in a more communal, inward-looking, and open-ended manner. It seemed that the jury was intentionally turning away from the masculinity and bombast found in many past winners.
One viewer remarked that Boyce's pavilion looked like a department store window display, decorated with album covers (with marked-down price tags), collectibles, and second-hand cassettes. Some ambivalence and disorientation arose from the crowd in reaction to the way her work intentionally elevated communities and spaces too often forgotten, or worse, ignored by art juries. It was deliberately unpolished and non-singular in its authorship, and perhaps that is what most marks it as innovative, as it departs from the elitist norms of the art world that, in the past, rejected such approaches—failing to weigh conceptual and historical value over traditionally-accepted aesthetic norms.
In the three years since the last Biennale, painful conversations about race dominated mainstream culture, forcing many reckonings—one of which confronted the way in which art is valued, consequently encouraging the beginning of a changing canon in the art world. Roberta Smith wrote of the 2010s that it was thrilling to watch "the rising presence of Black artists of every ilk," and that as "new talent emerged, older talent was newly appreciated and the history of American art was suddenly up for grabs—and in dire need of rewriting." The awarding of this year's Golden Lion marked a similar desire to unearth neglected art-historical strands.
There is a moral dimension to such aims—and like any change, it's meeting some resistance. Jerry Saltz tweeted, "In our time when art about 'good causes' is automatically called 'good,' it feels like the anxieties and morals of the critical-academic-curatorial-mercantile class is imposing the definitions of these things on artists and limiting art to being 'responsible' according to its rules… This reduces art to being obvious while never being dubious, misbehaving, dodgy or mysterious reducing everything to cardboard stereotypes."
There are many competing notions of "good," and the tensions between are difficult to resolve. This year's award was a deliberate and, perhaps from some standpoints, willful choice to change the standards of what constitutes so-called "great art." But it is still worthwhile to examine the vision of "good" that animates the spirit of this Biennale. Chair of the Jury Adrienne Edwards said, "Sonia Boyce proposes another reading of histories through the sonic. In working collaboratively with other Black women, she unpacks a plenitude of silenced stories." They chose to emphasize the collective "call and response," a fabric of woven soundscapes. Through this work, the artist becomes a listener and a vessel for storytelling.
The bronze award went to the French pavilion, which featured an interview on film with Sonia Boyce. When jury member Bonaventure Soh Bejeng Ndikung spoke, he said, "In an ideal world we would have given a joint Golden Lion to Zineb Sedira and others in the spirit of building communities in the diaspora… in a practice of looking at… multiple histories of resistance in her work." Not merely an expression of egalitarianism, he implicitly questions the role of juries as gatekeepers of artistic success.
While accepting her award, Sedira said, "There is a dance floor in my pavilion waiting for all of you. Let's dance, dance, dance. Let's dance to the tempo of life." Throughout the night, instead of speeches, we heard a poem, a primal scream, dancing and song. Boyce stepped up to the stage in tears, explaining that her work was not about a single voice, but a choir of voices. Her words embodied the incomplete project of Black liberation. She continued, "The movement has gotten bigger and bigger and bigger. I am just so pleased, but we must not forget there is a longer arc of history beyond that we also see in Zineb—that we need to keep saying, they are here."
Her pavilion was almost anti-sensational in an explicit, visual sense—but it also felt part of something much bigger. As poet Ocean Vuong said, we tend to celebrate value through the lexicon of violence—like the normalized usage of "You're killing it," "Smash them," and "Guns blazing." The pavilion did not need to be a coup de grâce or a smash hit. It offered a more expansive vision of how art might operate in the world.